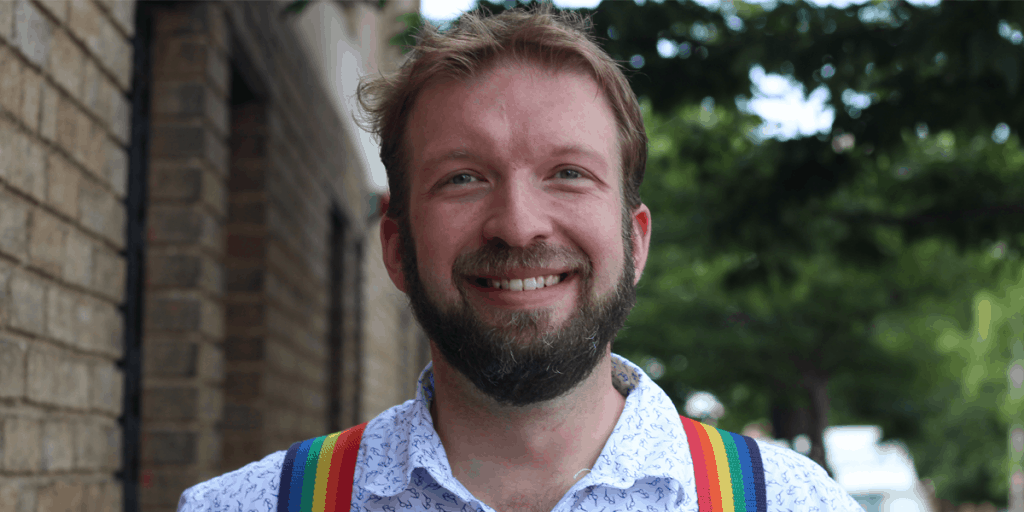 Hi. I'm James and I'm new here.
Prior to joining WABA as a part-time Bike Ambassador, I've been a lot of things. I've been a barista, a community organizer, and a truck driver. Recreationally, I've been a gardener, natural builder, and a musician. At present, I'm a yoga teacher, a religious educator working with high school students, and a seminarian training to become a Unitarian Universalist minister.
And all that time, I've always been a bike-rider.
I feel very fortunate to have grown up in Madison, WI, one of the best and safest cities for cycling in the country. Its downtown lies between two lakes, so shoreline nature trails are many people's paths to work. That, plus an extensive network of protected bike lanes made it relatively easy to become comfortable biking most anywhere.
For the last 11 years, DC has been my home. Through prioritizing being a good neighbor in my immediate surroundings in NW, I've also been lucky to explore most parts of the city rather extensively- and not only by bike. In addition to cycling, here I've spent nearly equal time as a driver and a train- or bus-rider. Coincidentally, a recent part-time job had me driving a vegetable truck for a local food access organization, and my route took me along one of my favorite cycling destinations beyond the beltway, adjacent to the Custis and W&OD trails, into the horse and wine country of Loudoun County, VA.
I see cycling as not only healthy, sustainable and affordable (though it is all those things!), but as a means of empowerment and social change. Learning that you can take yourself great distances on just two wheels, and with just your own two legs, offers an embodied experience that we are more free and more capable than we often think. In 2010, a friend and I rode to the UN Climate Talks in Cancun. Along the way we not only promoted sustainable transportation but also highlighted local efforts to transition to a people-powered global economy.
That and other such experiences are why it's important for me that safe, enjoyable cycling be available to everyone in the D.C. region. My belief in inclusion aligns with WABA's vision for the region. In fact, it's partly why I've been invited to join the team. I'm a fluent Spanish speaker, having spent time not only in Latin America where I studied and volunteered with social movement organizations, but also working as an organizer in Spanish-speaking communities back in the midwest and here in the DMV.
If you are also interested in expanding the accessibility of WABA's program offerings to Spanish-speaking communities, and have the language skills to assist, email me at james.ploeser@waba.org to let me know.
So that's me. I hope to meet many of you before and during upcoming activities, and that we'll continue welcoming more new folks into the lovely and growing WABAverse. 🙂