What's new with 50 States?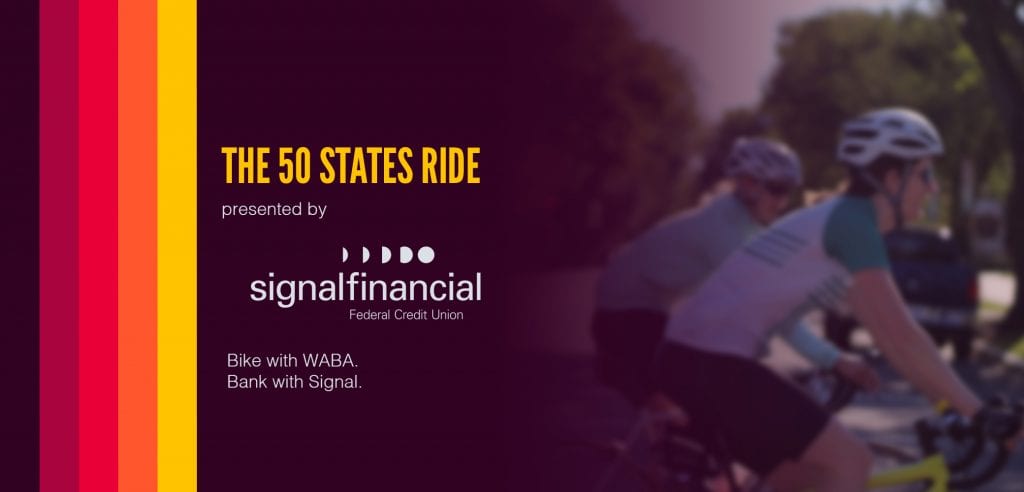 This year marks the 15th anniversary of WABA's legendary 50 States Ride. First started in 2003, the 50 States Ride holds many superlatives. It's WABA's longest-standing signature event. It's WABA's biggest and most popular ride. It's a local institution, coming in at #1 in Andrea Sieger's "
111 Places in Washington That You Must Not Miss
". For anyone new to the ride, it's best described as an "urban scavenger hunt, by bike".
The 50 States Ride is a well-loved tradition, but we think there's room for some updates to keep things interesting. So, this year, we'll be adding a few new features:
Route 66:
If you've already registered, you saw that we've added a third route option. Route 66 is a 35-mile route that tours the eight streets named for states that the original US Route 66 passed through. You'll ride these states in geographical order, east to west, without riding on any other state streets in the District. Route 66 is a middle distance option between the two classic routes, 50 States and 13 Colonies. But, don't worry, there are still plenty of hills. Welcome to the new American road trip! We hope you enjoy it.
"State Style" Costume Contest:
With Tour de Fat not coming to DC this year, there's a vacuum where silliness on bikes is concerned. We want to recapture some of that silliness, so we're running a contest: dress up in a costume, show off your style, or highlight your wacky or unique bike. The theme is *states*, so you can choose to show off your home state, or you can interpret the theme more broadly: state of mind, stately, etc. Full costumes may or may not be your thing—full costumes, team tutus, helmet decorations, or a simple state-themed jersey are all welcome*. Rules: To enter the contest, just post a picture of yourself, all costumed up, during the ride to Facebook, Twitter, or Instagram, with #statestyle #50statesride by 6pm on the day of the ride. We'll decide on the best costume, and the winner will get a free one-year membership, a 50 States VIP cycling cap, and a social media shoutout that will bring them everlasting fame and fortune. *Please don't dress up as anything offensive. This contest is for fun, and we'd really hate for you to bring the mood down for other people.
Scavenger Hunt:
The 50 States route has always been a bit of a scavenger hunt. You explore the city, get lost, and find your way again, seeing new places in the city along the way. But unless you have the world's greatest sense of direction, you don't always
really
know where you are, or anything about the place. We want to give you the chance to know the District even better and add another level of fun—through an actual scavenger hunt! The hunt will be included in your cue sheet booklet. It's totally optional, but it will be a fun way to connect with the neighborhoods you're riding through. Here's to the next 15 years of riding 50 States!