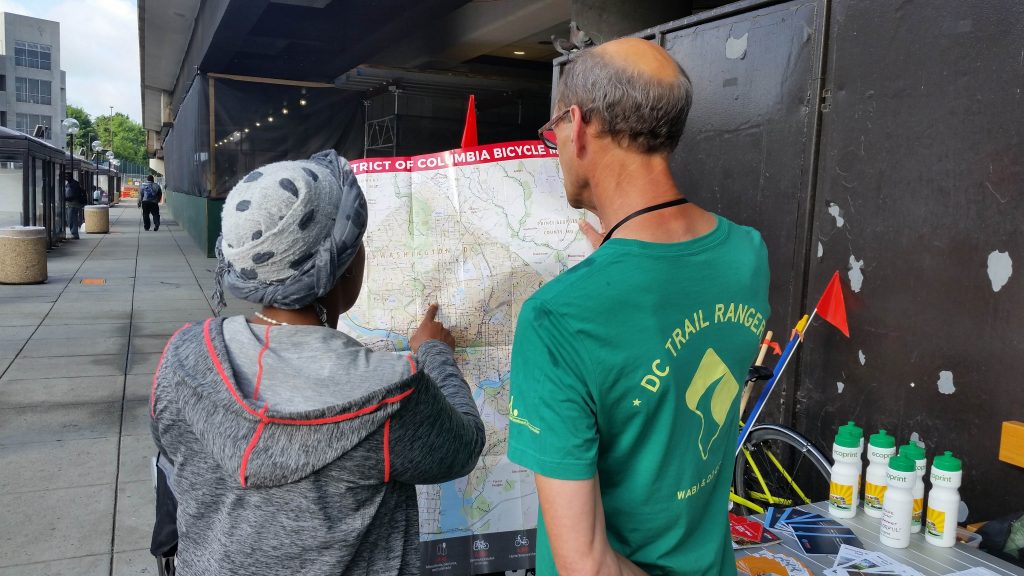 The WABA Trail Ranger team has been everywhere this summer! Well, everywhere near the Anacostia River Trail, Marvin Gaye Trail, Suitland Parkway Trail and Metropolitan Branch Trail.
But as a primarily roving field-based team, we're hard to find sometimes. Ever try to find two people in green shirts on 16 miles of one trail? Nah, thanks.
So we're delighted that we'll be at a bunch of different community events this month! A publicly announced exact location for a predetermined amount of time!
Need a 2018 bike map? Have a trail question? Come say hi!
Saturday August 4th – DC Bike Festival
12:00 pm – 4:00 pm
2241 Martin Luther King Jr Ave SE
Sunday August 5th – Capitol Riverfront Farmers Market
9:00 am – 1:00 pm
200 M St NE
Saturday August 11th – SW Community Day
12:00 pm – 5:00 pm
1098 Delaware Ave SW
Saturday August 18th – Quarels St Farmers Market
9:00 am – 1:00 pm
4404 Quarels St NE
Saturday August 25th – Downtown Anacostia Farmers Market
10:00 am – 2:00 pm
13th and W St SE