Getting from Columbia Pike to Pentagon City by bike is a roundabout and tricky ordeal. As part of Arlington National Cemetery's Southern Expansion plan, that trip will become a little more direct, but not much better.
The Army is working with Arlington County to reroute and build anew, three quarters of a mile of east Columbia Pike to make room for more burial sites. Their preferred plan would create a new 4 lane road with a 10 foot wide sidewalk for biking and walking on the north side.
We know we can do better.
This brand new Columbia Pike will be the only bikeable connection across I-395, so it must be great for people on foot and bike. With the Washington Blvd Trail expected to open this fall, new protected bike lanes coming to Pentagon City, and the Cemetery planning a new southern pedestrian entrance, this corridor will be buzzing with activity. A 10 foot shared sidewalk will create continuous conflicts between people biking and walking.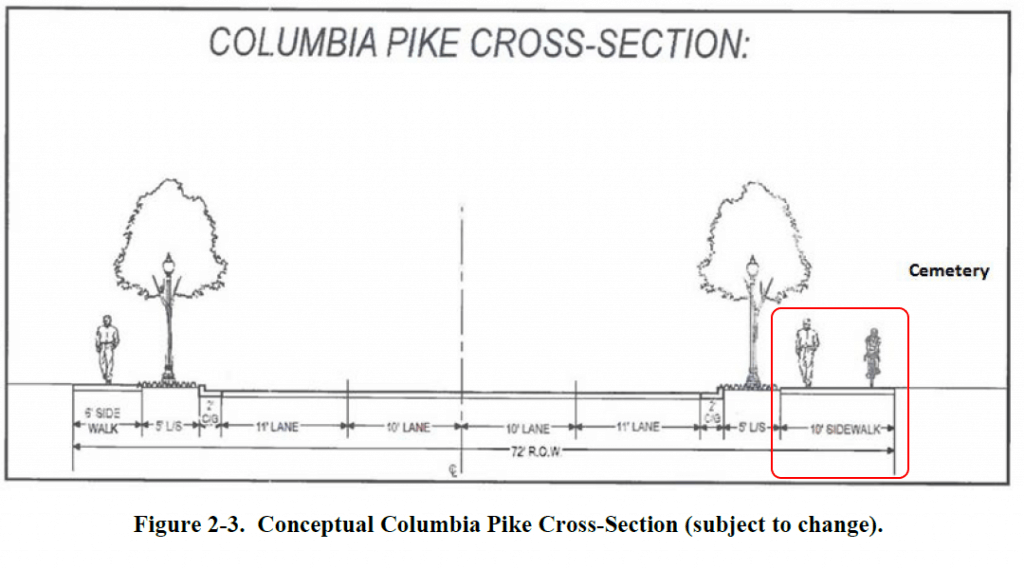 Instead, the new Columbia Pike should include separate spaces for all modes: sidewalks for walking, curb-protected bike lanes for bicycling, and driving lanes for cars and buses. This is not too much to ask for a new road, built from scratch. We only get one shot at getting this right.
For full details on the plan, visit the Southern Expansion project page.