Three bike projects coming to Downtown Silver Spring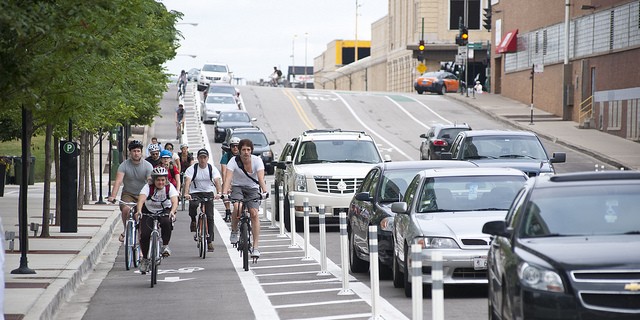 On Monday, February 4, please come learn about three bike projects coming to downtown Silver Spring. Montgomery County Department of Transportation staff will share plans and get your feedback on two small but important additions to the Silver Spring bike network and the first secure bike parking facility in the county!
Cameron to Planning Place Bikeway – a new north-south bike connection between the end of Fenton St at Cameron and the "Purple Pathway" leading to Spring St. and Woodland Dr.
Dixon Ave protected bike lanes – new north-south curb-protected bike lanes between Wayne Ave and Ripley St.
Silver Spring Secure Bike Parking – a secure bike parking room at Dixon & Bonifant will give Metro, MARC, bus and Purple Line riders, and area visitors a secure place to store their bike.
Silver Spring Bike Project Public Meeting
Monday, February 4, 7:00pm – 8:30pm
Silver Spring International Middle School
313 Wayne Avenue, Silver Spring, MD
To learn more about these and other county bike projects before the meeting, visit bikemontgomery.com. If you cannot attend but want to share feedback, contact Matt Johnson, AICP, Project Manager at 240-777-7237 or Matt.Johnson@MontgomeryCountyMD.gov by February 20.
---
Where are the 2nd Ave and Wayne Ave protected bike lanes?
Late last fall, MCDOT broke ground on protected bike lanes on 2nd Ave. and Wayne Ave. between Spring St. and Georgia Ave. which form the second major piece of the Silver Spring Circle. Unfortunately, construction hit a few major utility and weather snags which delayed much of the early work. It should be back on track in early spring. Stay tuned for a celebration.