Arlington County's Bike Plans Need Teeth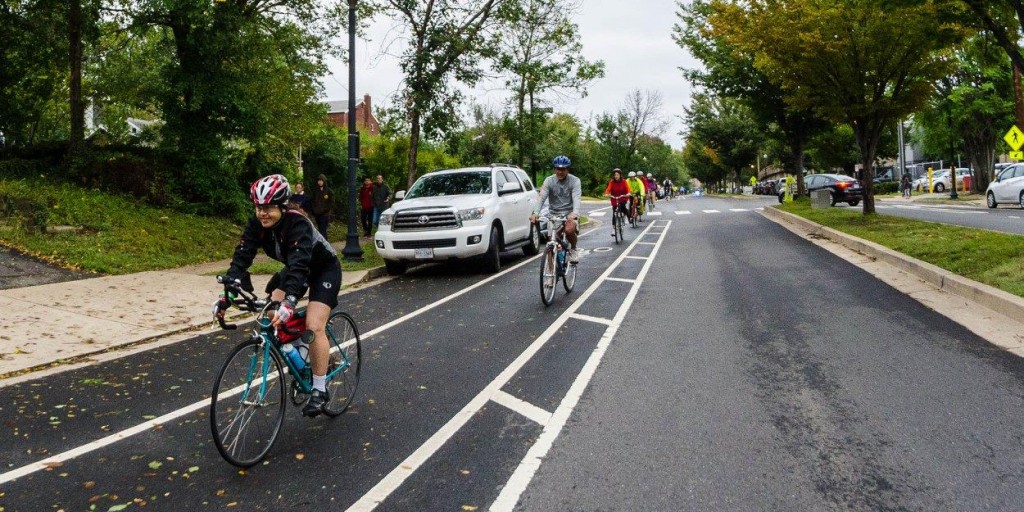 Arlington County is just one step away from adopting a new bicycle master plan and a new parks and trails plan for the county. Once adopted, these plans will guide the next ten to twenty-five years of bike network expansion, trail planning, and overall county policy supporting bikes as transportation, recreation, and more. On April 23rd, we have one final opportunity to suggest changes before the County Board reviews and adopts the plans.
Overall, both plans are a positive step, but we believe some important changes should be made before adoption. Read on for a summary of what is in the plans and our proposed changes and use the form below to urge the County Board to make some important changes.
Take action now:
What's in the Bike Element?
The Bicycle Element of the Master Transportation Plan was last updated in 2008. Since then, bicycling has exploded in Arlington and best practices have evolved substantially. So, over the past two years, county staff and a group of stakeholders crafted a major update to the plan. For more on the development process and to read the final draft plan, visit the project website.
The plan is broken into a few major sections. The goals and policies section outlines broad approaches to make bicycling more accessible, popular and safe. It lays out dozens of actions to implement each policy and specific metrics to measure success. The implementation section maps the proposed bicycle network, defines thirteen Primary Bicycling Corridors, and explores the process to implement them. Finally, Appendix D lists all bicycle projects to be built by 2040.
For the most part, The policies are excellent, detailed and worthy of praise. They could be made even better with some tweaks, but they present an overall visionary direction for bicycling in Arlington. The implementation sections and project descriptions, however, need attention and changes.
Overall, we see three major issues:
Specificity. The plans use vague terms like "enhanced bicycle facility" rather than calling for specific infrastructures, like protected bike lanes and trails. This language leaves the door open to installing subpar facilities which will not meet the plan's goals. Specific improvements should be called out as a starting point for future planning.
Prioritization. The plan needs to place low-stress bicycle networks at the top of the County's priorities for public space. A network doesn't work if it gets chopped into pieces to accommodate concerns about parking or trees.
Funding. Without funding, this ambitious plan is just lines on paper. The County needs to commit to funding the plan.
And we are urging the following changes through specific changes in language and priorities in the plan:
Build a low traffic stress bicycle network
Reference important, new FHWA Guidance for facility selection
Build a solution to the Four Mile Run Trail's Shirlington Road Crossing
Build a solution for the W&OD at East Falls Church
Build a solution for Alcova Heights
Provide access through nature on the Glencarlyn/hospital site
Connect the W&OD to Carlin Springs
Provide a bicycling route along the entirety of Army Navy Drive
Address parking in bike lanes
Address under- and misreporting of crashes
For the full details of our proposed changes, see our detailed comments here.
The Public Space Master Plan
This plan is a similarly ambitious document that attempts to guide the planning and management of the County's public space system, including all of the parks, trails, natural resources and recreational facilities. It contains a chapter on trails and includes many promising additions to the County's trail management practices and planning priorities. For more on the development process and to read the final draft plan, visit the project website.
Our suggestions for improvements highlight areas where the Public Spaces Master Plan and Bicycle Element overlap, but could be harmonized and made stronger. Specifically around land acquisition, trail design, trail maintenance, space to learn to ride bicycles, and consistent trail signage across jurisdictions. For the full details of our proposed changes, see our detailed comments here.
Ask the County Board for Changes
Use the form on this page to send a message to your County Board members. Let's make sure that Arlington's Master Plans are setting the County up to become a truly world-class place to bike.

On April 23rd, the Board will hold a public hearing to collect input on the plans starting at 3pm. This is an important opportunity to make sure your voice is heard. Take action using the form above and we will be in touch with details on attending the hearing.