Tales and Trails: The Parks of Capitol Hill
Sunday, May 26, 2019, 10:00 AM — Lincoln Park at the Emancipation Memorial (12th and East Capitol St NE)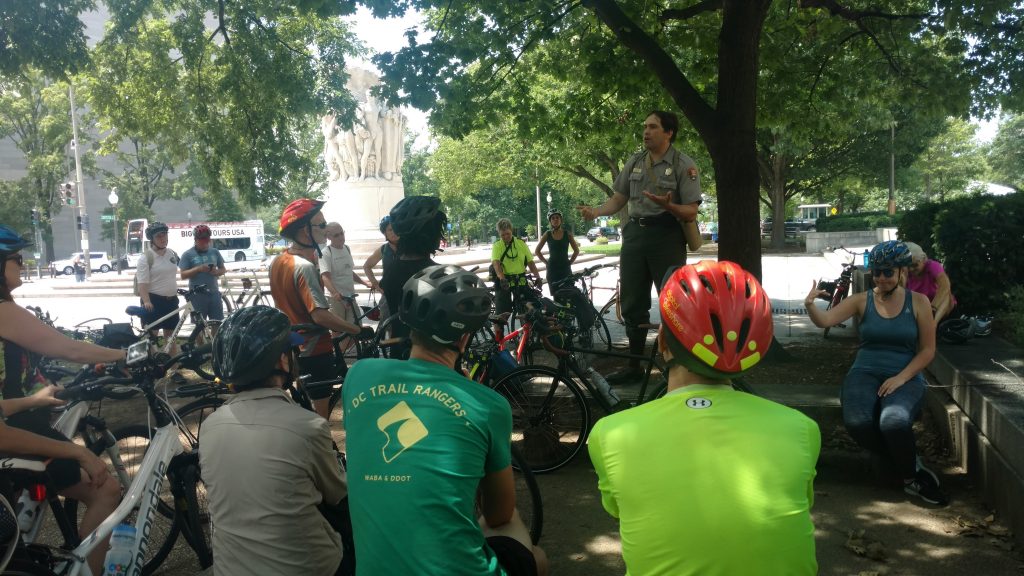 One of the fun things you learn hanging out with Park Rangers is that Capitol Hill has a lot of wacky history. We put together a ride to highlight some of the fun bits.
Explore the city parks that contribute to the character of the Capitol Hill neighborhoods. Known as "The Big Five of the East Side," Lincoln, Folger, Marion, Stanton and Seward each have a unique story to tell. Each park will be visited during the tour. Hear stories that tie together over 200 years of DC history!

Join the WABA Trail Ranger team, the National Park Service, and a team of ASL interpreters for a ride around Capitol Hill.
Additional Details:

We're bringing extra water and snacks but please bring a water bottle, helmet and a working bicycle. For insurance purposes, WABA requires helmets on all of our rides. We will be in the sun for most of the ride so please wear sunscreen, dress appropriately and bring plenty of water. Bring more food if you need more to keep going before lunch.

We will be primarily on roads in a large group and this will be a no-drop social pace ride primarily focused on history. We will be starting promptly at 10:00am to make sure we end on time – lots of history to cover! We'll also reimburse you for your usage fees if you use Capital Bikeshare for the ride.

If you are no longer able to make it, please let me know at ursula.sandstrom@waba.org. We want to make sure that all of our allotted spots are filled – turns out it is a popular ride!

Should there be substantial rain, the ride will be rescheduled.
Sign up below!