MoCo Planning Board Votes to Remove the Little Falls Parkway Road Diet
Update: WABA has written a letter to the Montgomery County Planning Board asking that they reconsider this decision. Sign the letter here.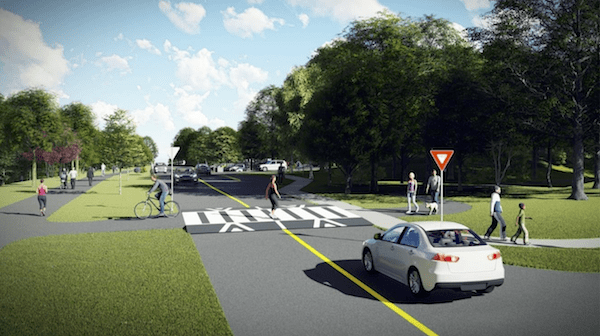 On June 13th, the Montgomery County Planning board met to review and approve a permanent safety improvement plan for the intersection of the Capital Crescent Trail and Little Falls Parkway where a bicyclist was hit and killed in 2017. In a shocking turn, the Planning Board voted 4 to 1 to reject the staff's recommendation. Instead, the Board chose to restore Little Falls Parkway and remove a successful road diet, detour the trail to the traffic signal at Arlington Road, and study an expensive bridge crossing over the widened Parkway.
This decision should have been a simple one. After a bicyclist was hit and killed here in 2017, the Parks Department sprung into action with a temporary plan to make this intersection safe by removing a travel lane in each direction and lowering the speed limit. In the 2.5 years since then, the interim road diet has proved to be an impressive safety improvement, with fewer crashes and safer driver speeds. Traffic studies showed that drivers experienced just 7 seconds of additional delay due to the road diet.
After a 1.5 year comprehensive study of 12 possible permanent configurations for this intersection — including a bridge, tunnel, removing the road diet, and completely closing Little Falls Parkway — Parks staff concluded that the safest and best-for-all option was a slightly modified version of what is there today. They recommended, and WABA supported, permanently reducing Little Falls to a two-lane road, lowering the speed limit, adding a raised crosswalk at the current trail crossing, and numerous other changes to add green space, improve connections and calm traffic. Coincidentally, this was also the least expensive and least environmentally impactful option.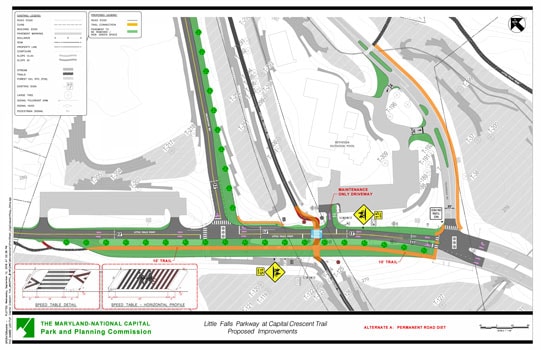 But at the hearing, the Board rejected that plan and instead made up a new plan on the spot, directing staff to restore Little Falls Parkway to four lanes and divert the trail to the traffic signal at Arlington Rd.
This decision undermines 1.5 years of careful staff work. It disregards objective data collected here and case studies from across the US that demonstrate that road diets cut crashes by up to 50%, decrease speeding, and create easier crossings, all without major traffic impacts. The decision contradicts the County's Vision Zero commitment and other policy goals by prioritizing moving cars quickly at the expense of people's safety.
We at WABA are adamantly opposed to this decision which we believe will have a dramatic, negative, and daily impact on the safety of the 3,000 people who use the Capital Crescent Trail each day. If you share our frustration, we encourage you to email the Planning Board (MCP-Chair@mncppc-mc.org) and email your County Councilmembers. For a thorough look at the options and repercussions of this decision, see Ross Filice's post on Greater Greater Washington.