Postponed
Bilingual Confident City Cycling – Clase disponible en español
Sunday, May 17, 2020, 10:00 AM — Jones Point Park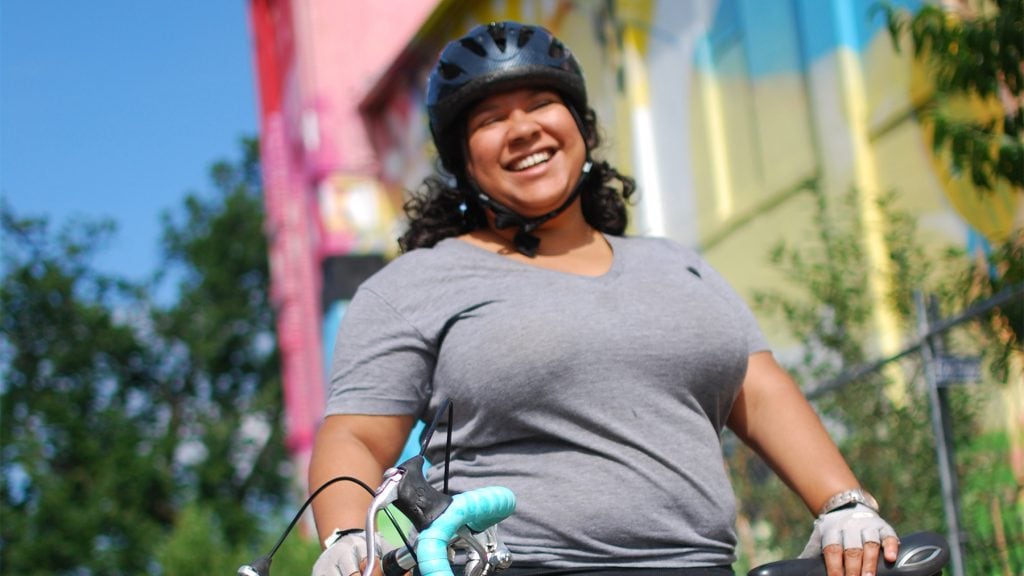 Overview
Confident City Cycling teaches you the skills you need to ride safely and confidently on streets, bike lanes and trails alike.
This class is broken into two groups to accommodate different skill levels and interests. The Fundamentals track focuses on practicing basic bike handling skills such as shifting, scanning, signaling, gradual braking and weaving. Instructors discuss the importance of trail etiquette while riding on a multi-use path and answer any questions participants may have about trail riding for commuting or recreation.
The Confidence track teaches hazard avoidance maneuvers necessary while riding on the street and in heavily-trafficked areas. Participants learn skills such as the avoidance weave, quick stop, rock dodge, and instant turn, and discuss considerations for sharing space with other road users.
Each track ends the class with an on-street or on-trail group ride, where participants put their newly acquired skills to the test. Have any questions? Email us at education@waba.org.

Class Details
Class Duration: 3 hours
Equipment: Participants are required to bring their own bicycle and helmet for this class. Bikes must be in good working order. Use a Capital Bikeshare bike and WABA will reimburse your usage fee for the duration of the class! Email education@waba.org for more details.
Cost: $10.00 and FREE for WABA members! Contact education@waba.org for a coupon code!
Registration Policy: Advance registration is preferred to secure your spot. Drop-ins are free (if space is available)! Be sure to show up for class 15 minutes before the start time.

Class Location
Jones Point Park
Jones Point Drive
Alexandria, VA 23242
Please meet underneath the Wilson Bridge overpass. WABA Instructors will be wearing teal polo shirts.
Driving/Parking
Parking is available at this location via S Royal Street.

Metro
King Street Station, accessible by the yellow and blue line, is the closest Metro station to Jones Point Park. From King Street, it is a 30 minute walk or a 10 minute ride to Jones Point.

Biking
Jones Point Park is on the Mount Vernon Trail. The nearest Capital Bikeshare station is about five blocks away on the Northwest Corner of S Royal and Gibbon Streets.
Register
En Español