2021 Annual Member Meeting
Tuesday, February 16, 2021, 5:30 PM
Wherever you are!
WABA Signature Event -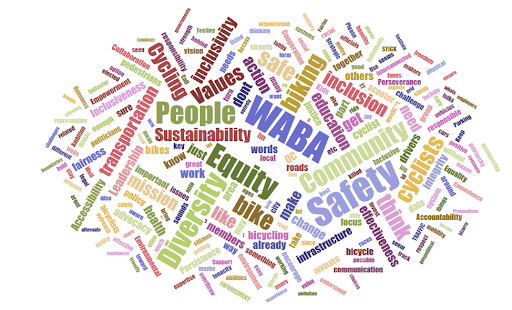 Join WABA for our annual member meeting.
Come learn how your membership dues make an impact on WABA's work! This once-a year event is a chance to hear how 2020 went for WABA, learn what's on the horizon, and meet and ask questions of WABA's leadership.
At the meeting, you and your fellow members will vote on the nominated slate of incoming board members, hear from our Board of Directors and Executive Director about our work, and have opportunities to ask questions.
Agenda:
2020 Updates & Wins
Transportation equity and antiracism at WABA
Q&A
Recognition of outgoing board members
Nomination of slate of 2021-2023 board candidates
Vote
The meeting will be closed captioned but not be recorded. If you're not able to attend and would like to see the presentation after the 16th, drop us a line at membership@waba.org.
Register
All current WABA members are invited to the annual member meeting. WABA launched a pay-what-you-can membership model last year, so any personally meaningful contribution makes you a dues-paying member for one year.
To register for the meeting, first confirm your membership by entering your email into the lookup box:
Trouble viewing this form? Click here.