Saturday Night Bike Club's Femme Fatale Ride for Womxn
Saturday, March 20, 2021, 12:00 PM
East Potomac Tennis Center
Partner Event - Ride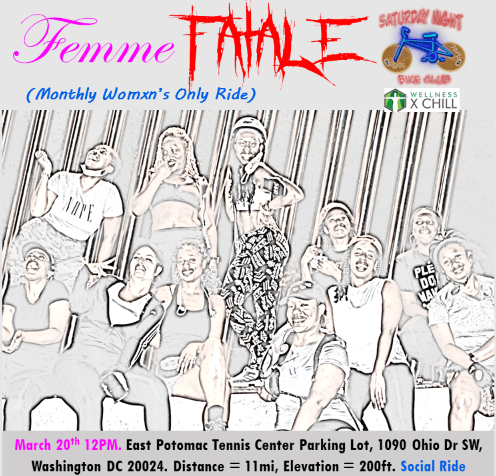 Join Saturday Night Bike Club for the Femme Fatale ride, the first of many in their monthly series of Womxn's only rides. This is a safe place when experienced cyclists can interact with less experienced riders, without the pretense.
The first ride is 11 miles with 200 feet in elevation gain. Bikeshare vouchers are available if you don't have a bike. See the route on Strava and check out Facebook for more information.
Registrations
Free! Let Saturday Night Bike Club know if you are coming on Facebook.
Location
Date: Saturday, March 20th, 2021
Time: 12:00 to 3:00 PM
Location: East Potomac Tennis Center Parking Lot
Address: 1090 Ohio Drive SW, Washington, DC 20024
Saturday Night Bike Club
A low impact, healthy method of enjoying the DC area. We use our bikes to explore the rich Black history of DC. All levels are free to ride with us, as we plan all of our routes around Capital Bikeshare stations & provide vouchers for said bikes.
"In our mission to further accessibility of biking & cycling, we recognize that the activity & sport are often dominated by males. This presents itself as a potential barrier for someone seeking to try out biking. This can also manifest as a barrier for improvement, especially when one considers the "bikesplainers" of the world." – Saturday Night Bike Club