Wheel Up Ward 7 Bike Rodeo
Friday, August 6, 2021, 5:30 PM
Woody Ward Recreation Center
Meetup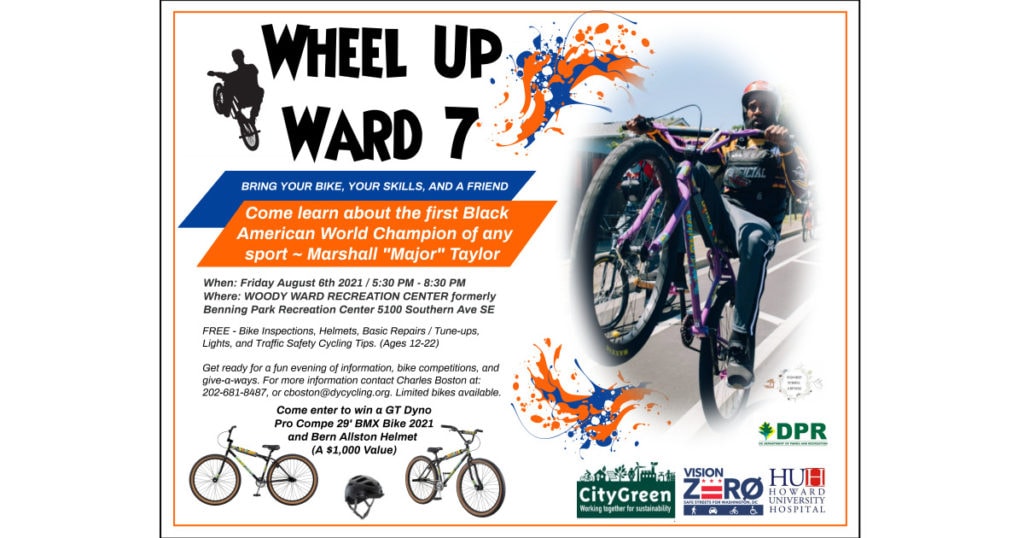 Join the DC Bike Ambassadors at Wheel Up Ward 7. Bring your bike, your skills and a friend! Come learn about the first Black American World Champion of any sport – Marshall "Major" Taylor.
When: Friday August 6th, 2021 / 5:30 pm – 8:30 pm
Where: Woody Ward Recreation Center, formerly Benning Park Recreation Center, 5100 Southern Ave SE
Free – bike inspections, helmets, basic repairs/tuneups, lights, and traffice safety cycling tips (Ages 12 – 22).
Get ready for a fun evening of information, bike competitions, and give-a-ways. For more information contact Charles Brown at 202-681-8487 or cboston@dycycling.org. Limited bikes available.