Call For Moderators for our Women & Bicycles Facebook Group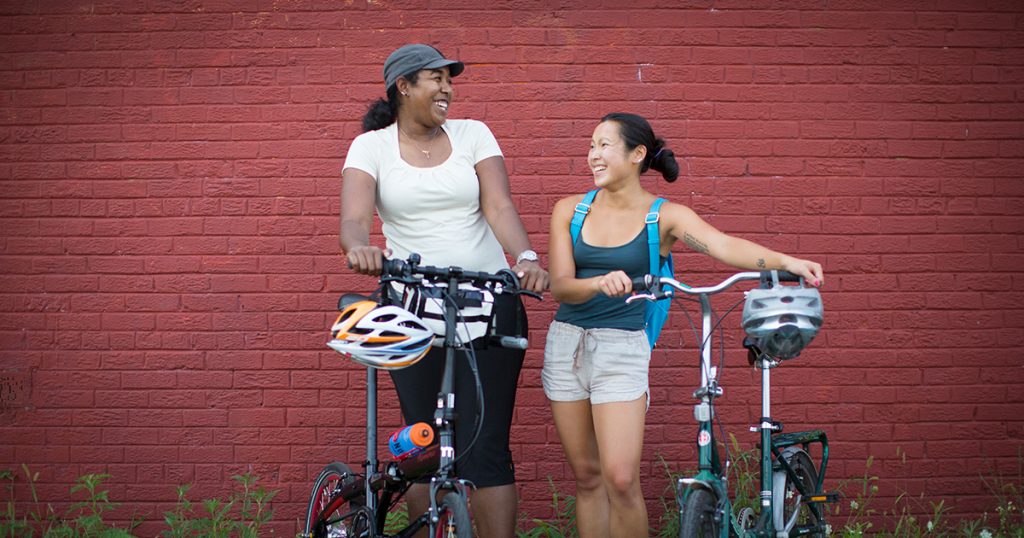 Application deadline has been extended to November 14
The Washington Area Bicyclist Association's (WABA)Women & Bicycles Program is looking for five volunteer moderators for the Women & Bicycles Facebook group. The 9,000+ member group is a virtual space for women/trans/femme/non-binary folks to ask questions and seek support about biking in the region. The group was created in 2013 and has continued to grow in size with ~3 member requests per day and ~9 posts per day. Since its inception, the group has been run by WABA staff and supported by volunteer moderators.
Moderators will be responsible for spurring conversation, moderating posts, and ensuring member adherence to the group guidelines. In addition to the support from other volunteer moderators, moderators will receive support from the WABA Outreach staff. Particularly challenging moderation will be reserved for WABA Outreach staff. Moderators are required to have some amount of capacity/time for online engagement and must serve a 6-month term commitment.
RESPONSIBILITIES –
The Women & Bicycles Facebook Moderators, with support from the WABA Outreach staff, will moderate the group with a thoughtful lens focused on supporting and growing the women/trans/femme/nonbinary bicycling communities in the Washington, DC region.
The five moderators will collectively:
Spur and contribute to group engagement in the online space.
Approve and admin of group membership requests on a twice a week basis. This includes direct messaging reminders to people who haven't answered all of the required questions.
Moderate posts and conversations in accordance with group guidelines. This includes notifying members who break group guidelines (commonly, compliance with housing availability, for sale posts, and job descriptions).
Notify the WABA Outreach staff in a timely manner (within 24 hours after seeing said engagement) when an engagement needs further staff attention.
QUALIFICATIONS –
Experience with Facebook and its capabilities.
Some amount of capacity/time for internet engagement a few times a week. We would like to have 2-3 people online Monday through Friday and 2 people online Saturday through Sunday. The specific time is not as important as general coverage of moderation duties Monday through Sunday.
Must be able to take on a 6-month term commitment (with the possibility of extension).
Some or lots of experience riding a bike for a variety of reasons including that we are looking for a moderator or two to join the moderation team who does not have much bicycling experience. We acknowledge that this is a great knowledge base for engaging with folks with similar experience levels.
Knowledge of intersectionality as a concept and framework for moderation.
Ability to read written conversations of a diverse community and be able to moderate with an understanding of how the context of power, privileges, and lived experience might be occurring in conversations. This is a shared responsibility and all moderators are expected to call out harmful behavior. *Caveat: really challenging moderation will still be staff only*
Experience with having conversations about race, gender, and mobility justice.
A strong commitment to WABA's mission, vision, and diversity, inclusion, and equity goals.
A commitment to respect, include, and be kind to all.
Useful experience and skills:
If you have this experience or these skills, let us know.
Experience with social media management.
Experience with online platform or group moderation.
Prior membership in the Women & Bicycles Facebook group.
Limited experience with riding a bike is a valuable knowledge base that we look for especially when connecting with those with similar experiences.
Varied experience with biking whether for transportation, recreation, employment, or otherwise.
Knowledge of some history and/or present realities of biking in the Washington, DC metropolitan region will be helpful for providing context to discussions about the built environment.
SUPPORT
There will be a mandatory virtual orientation for moderators in which the WABA Outreach staff will facilitate introductions, walk moderators through administrative duties, and discuss the level of thoughtfulness we expect when moderating.
The group guidelines provide moderators and members with a baseline of precedent for group operations.
The WABA Outreach staff will be available to help answer questions and provide comments when asked and ensure moderator tasks are intentional with respect to equity and inclusion amongst the group.
The WABA Outreach staff will handle responding to particularly heated or otherwise complex posts in the Women & Bicycles Facebook group.
Other moderators will be available to answer questions, provide comments, and carry out assigned moderator responsibilities.
The WABA Outreach staff will provide a schedule to act as a reminder and accountability tool so that moderators can share equal responsibility of approval and admin of group membership requests.
BENEFITS
At the end of the first month (of the 6-month commitment), moderators will receive a one-year WABA classic membership that they can use for themselves or gift to someone. Moderators will receive the same benefit after any additional 6-month commitments.
ABOUT
WABA empowers people to ride bikes, build connections, and transform places. We envision a just and sustainable transportation system where walking, biking, and transit are the best ways to get around.
HOW TO APPLY
Fill out this application and we will be in touch within two weeks of the application closing on *November 14. We anticipate virtual orientation being late November. 
If you have any questions or need additional support applying, please feel free to email Patricia at womenandbicycles@waba.org