Change for the better in 2022.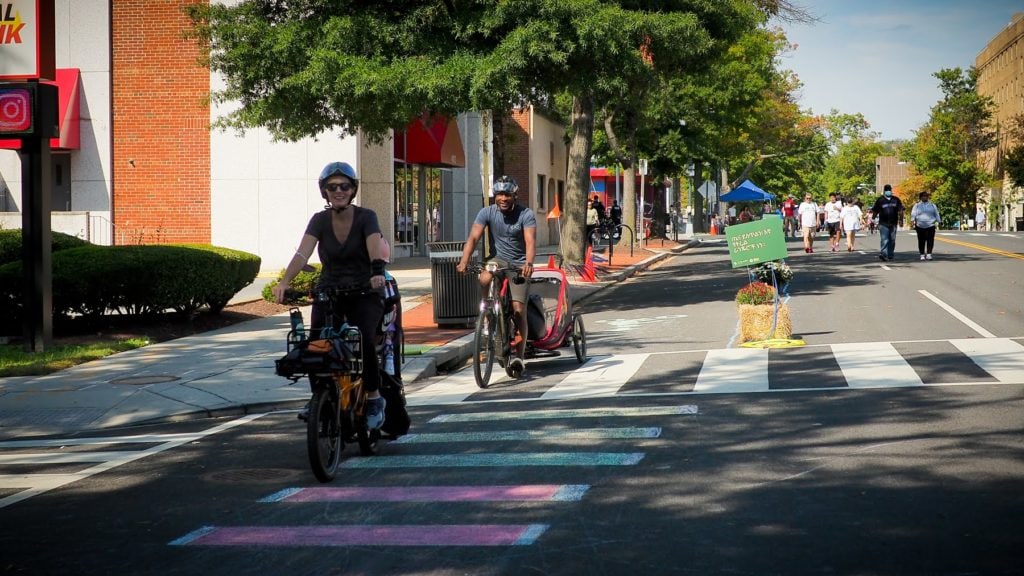 The evidence is all around us: together, WABA, our supporters, and our partners are transforming how our region thinks about its streets and how we use them—wider sidewalks, car-free roads, streateries, and sturdy barriers between bike lanes and motor vehicle traffic.
This change is the result of dedicated support and advocacy from our members, supporters, and partners across Maryland, Virginia, and the District of Columbia.
WABA saw incredible victories in 2021. We're going to keep up the momentum in 2022 and see even more bold change that puts people first. Here's what we're going to do in the year ahead:
Win more bike lanes that are connected, protected, and equitably distributed across the region.
Organize for change. No one knows better what a neighborhood needs than the people who live there, so WABA is supporting you and your neighbors to fight for the protected bike lanes and other safety improvements that will make your communities better, safer places to walk, bike, scoot, roll, and play.
Build support and secure federal and local funding for more trails, filling in the gaps to complete the Capital Trails Network.
Fight for policies that protect people from the trauma of traffic violence, by pushing for safety improvements, lower speed limits, and roads built for people.
Empower more of your neighbors to ride bikes by supporting people of all experience levels with resources to help them ride confidently, find community, and make bicycling work for them.
Ride bikes together! 2022 will bring more opportunities to ride together in Virginia, DC, and Maryland. From community rides to our Signature Events, we've mapped out miles of bicycling adventures in the year to come.
There are changes ahead for our region. But one thing won't ever change. WABA is going to keep fighting to make it better and safer to travel our region, and we're going to do it boldly, joyfully, and together.