Year-round DC Trail Rangers program coming soon! We're hiring!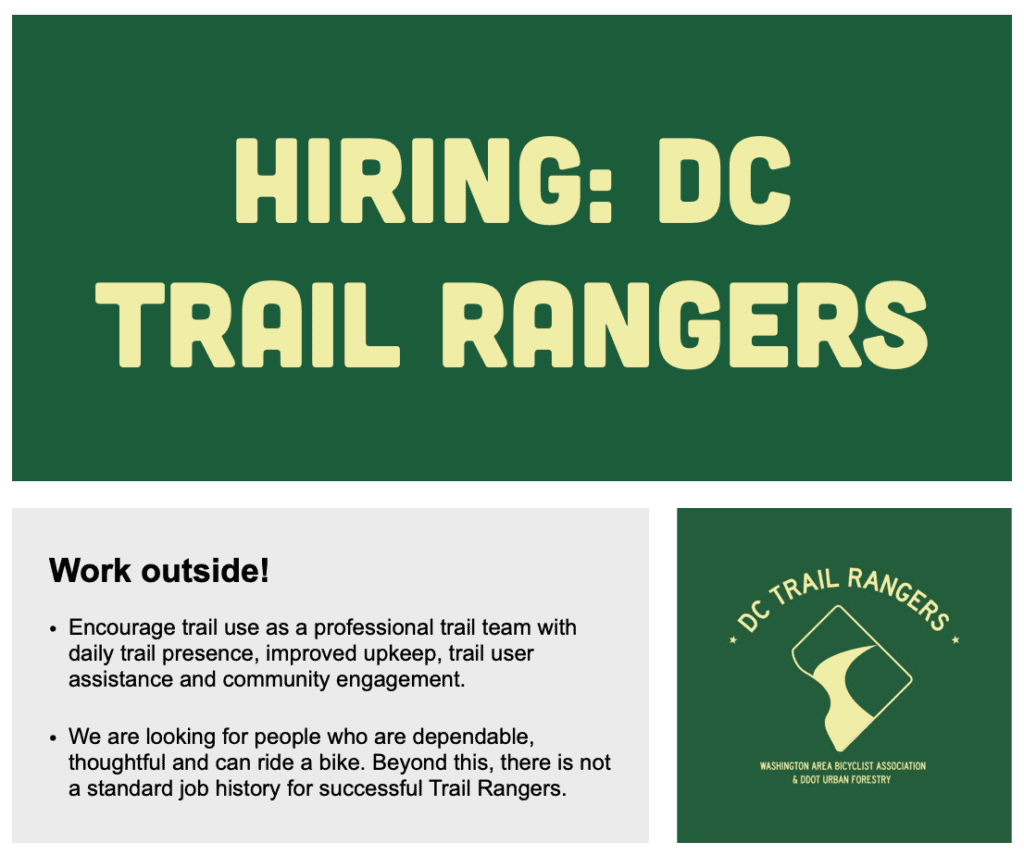 Coming soon – a year-round and full-time DC Trail Ranger team!
After running as a limited seasonal program for nine years, WABA and DDOT are proud to announce that the DC Trail Rangers are expanding to year-round starting 2022! This expansion means permanent living wage, green jobs as DC Trail Rangers, year-round programming and trail presence, and the opportunity to do cool long-term projects.
As such, we're hiring! We are looking to hire six dependable and thoughtful people who can grow into their roles. There is not a standard job history, experience of biking, years of experience or skills set that made previous Trail Rangers successful. These positions (and program!) include a lot of different knowledge areas — we are not expecting new staff to know it all at the beginning, and the skills and strengths of everyone on the team will shape some particulars of how the program is run.
Apply
DC Trail Rangers (Full-time, $45,760 annual salary with benefits)
Trail Ranger Operations Manager (Full-time, $54,000 – $60,000 annual salary with benefits)
About the Trail Rangers Program
WABA's Trail Ranger Program aims to make the District trails welcoming and inclusive to all residents, frequently used, and in a state of good repair. The program encourages trail use through daily trail presence, community engagement, trail maintenance, and trail user assistance. Trail Rangers cover paved multi-use trails within the District, including the Metropolitan Branch Trail, Anacostia River Trail, Marvin Gaye Trail, Oxon Run Trail, and connecting street routes. Trail Rangers act as trail ambassadors, offering a consistent and friendly presence to make the trails more enjoyable, inclusive and dependable for transportation and recreation.
Starting in 2022, the Trail Ranger Program will have full-time, year round staffing and operations (the program was seasonal for the previous nine years). Year round operation will enable WABA to have a professional trail team with ongoing training and skill development.
WABA's Trail Ranger Program contract with the District's Urban Forestry Division goes through 2024, with possibilities of extension beyond 2024. These positions are contingent upon annual funding renewal.