Walk the Takoma DC Met Branch Trail with DDOT and ANC 4B
Friday, February 11, 2022, 3:30 PM
Van Buren & Blair Rd NW DC
Meetup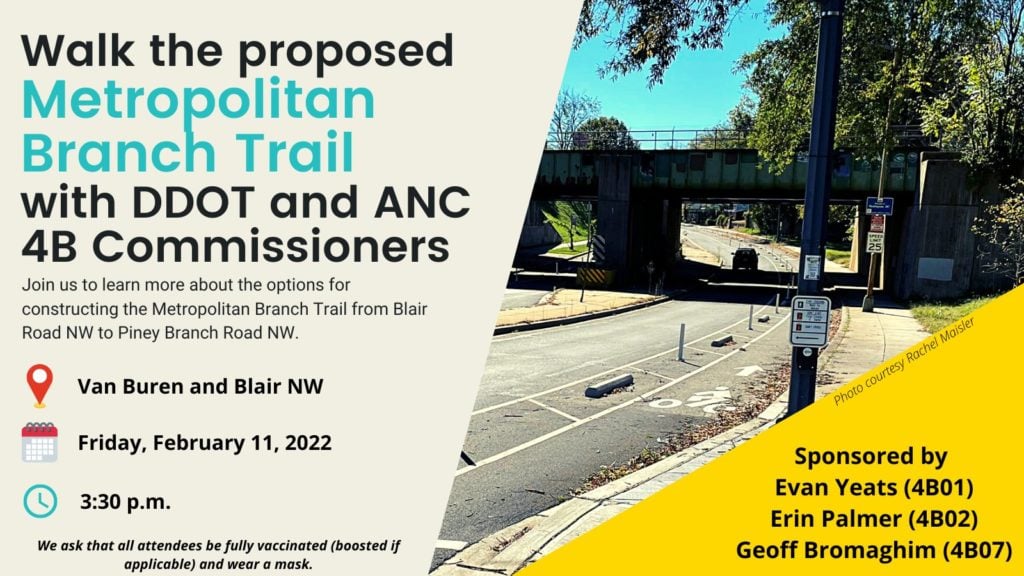 Please join ANC 4B Commissioners, DDOT Trail planning staff, and members of the Takoma DC community for a walkthrough of the proposed Northern segment of the Metropolitan Branch Trail to learn more about options for constructing the segment from Blair Rd to Piney Branch Rd and give feedback.
Meet on Friday, February 11 at 3:30 pm at the intersection of Van Buren and Blair Rd NW. Sponsored by Advisory Neighborhood Commissioners Evan Yeats (4B01), Erin Palmer (4B02) and Geoff Bromaghim (4B07).
The hosts ask that all who attend be fully vaccinated (boosted if applicable) and wear a mask.