In case you missed it, a few weekends ago ARTCRANK DC came to DC's 1776 venue (right on the 15th Street cycletrack, conveniently). With prints and posters from more than 20 local artists on display and for sale, the event brought together bicycle lovers, art lovers, and of course beer lovers for an awesome poster party for bike people.
We'd like to extend a HUGE thank you to Oskar Blues Brewery for donating the beer for the event so that WABA could take home the proceeds from all beer sales during the show to help fund our ongoing regional advocacy and outreach efforts.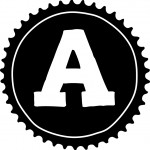 WABA would also like to say a big bicycle thank you to the ARTCRANK team for coming to DC for their first ever show in our Nation's Capitol and for selecting WABA to be the non-profit cause partner of the show. Thanks to ARTCRANK and Oskar Blue we raised over $2,300! We can't wait till they return in 2015.
And a huge thank you to all of our beautiful volunteers!