Celebrate WABA at DC Bike Ride!
Join WABA at the DC Bike Ride Finish Festival to help riders celebrate car-free streets, tell them about WABA's work, and sell merchandise.

A note from our friends at DC Bike Ride:
On May 18, join WABA and the DC Bike Ride and take advantage of your only opportunity to cruise safely through the streets of DC without the worry of cars and enjoy seeing the most iconic views of the city.
A portion of proceeds benefit WABA and our Vision Zero advocacy and community outreach programs.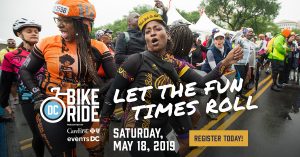 To find out more about DC Bike Ride, follow the event on Facebook, Twitter, and Instagram. Join the conversation by using #dcbikeride.
—
WABA is a DC Bike Ride Founding Partner and a nonprofit beneficiary. The
organizers of DCBR are paying for promotion of the ride. In addition, DCBR organizers are making a grant to support WABA's advocacy work and community organizing for Vision Zero. So, while we are not directly involved in the operation of the event, we're thrilled it's taking place and invested in its success. You should sign up. It's going to be great.