Wealth of the Watershed (WoW) Camp!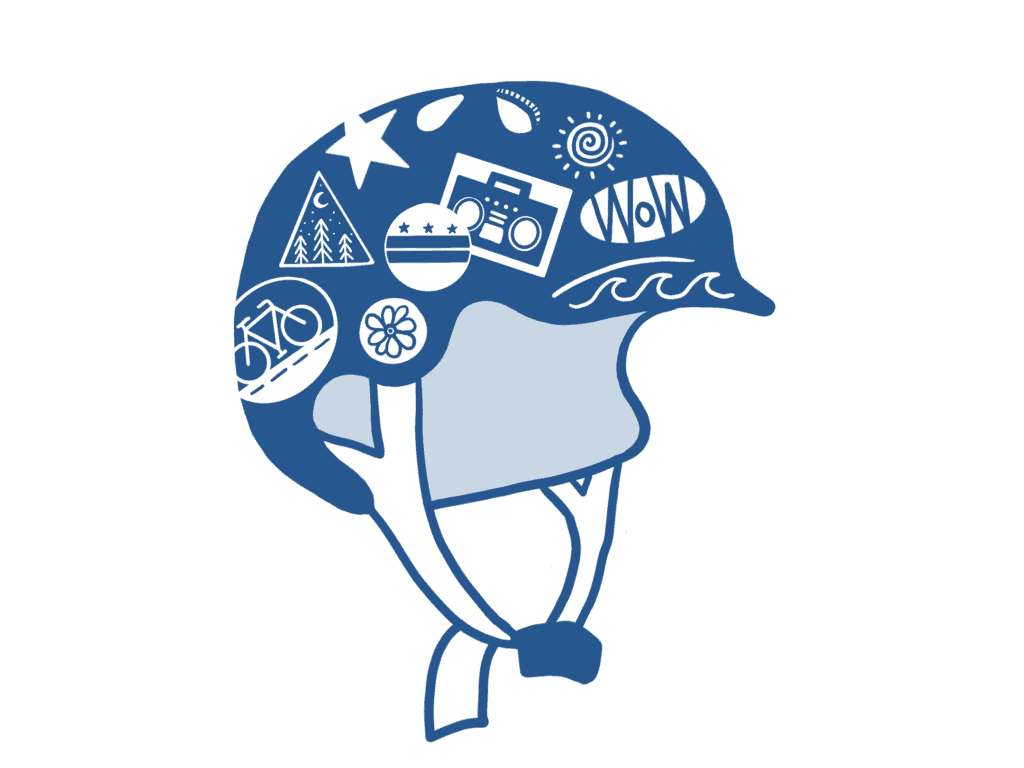 ---
About the 2022 Program
The Wealth of the Watershed (WoW) Camp is a summer bicycle program designed to introduce young people to all of the wealth the Anacostia River and its surrounding watershed communities have to offer. Camp will run during three weeks in July, from 9:00 AM – 3:00 PM starting and ending at the DC Dream Center located at 2826 Q St SE, Washington, DC 20020. Each day we will adventure through the watershed by bike and explore the environment, history, art, and people that define the area and its culture.
WoW camp is an opportunity for young people to show up as they are and share their passion, creativity, and curiosity with others as we work together to celebrate the wealth of the watershed.
Camp Sessions:
Each session has a specific age range.
*We recommend campers sign up for either the weeklong camp or both day camps, as some activities will be repeated between the two camps.
Week-long Camps
Day Camps
Throughout the program campers will participate in activities that include:
Exploring the watershed daily, by bike, working our way up to as much as 20 miles per day.
Learning basic bike safety and maintenance skills.
Reflecting on the history, and continued evolution of the Anacostia watershed and considering how issues of race, equity and justice have and will continue to impact its revitalization and conservation.
Interacting with the ecology and land of the watershed and learning about its ability to provide not only a home for a wealth of wildlife, but also emotional and physical nourishment for the folks who live in its communities.
Exploring and creating art that showcases the culture, brilliance, and beauty of the environment and the people who inhabit it.
Connecting with local community changemakers to learn more about the power people have to shape the watershed.
Participating in volunteer, story telling, and community engagement activities that allow them to make a personal contribution to the wealth of the watershed.
This camp is great for young people who know how to ride a bike, and are interested in gaining a new perspective on the world around them.
What's Included
A bicycle and helmet will be provided for use throughout camp for any camper who needs one at no extra cost

Campers may bring their own bike and helmet with them to camp

Breakfast, lunch, and snacks will be provided to all campers each day
Entry or participation fees for all activities will be covered.
Concerned about transportation costs to and from camp each day? Email us at youth@waba.org for assistance.
---
COVID Information
Due to the ongoing effects of COVID-19, all participants are expected to adhere to WABA's health and safety guidelines for in-person events:
Health and Safety
Participants should not attend in-person events if they feel sick or show symptoms of illness. Please notify WABA by emailing youth@waba.org in the event that the camper can no longer attend.
WABA youth education programs are mask optional. WABA does not require participants to be vaccinated in order to attend class although we strongly encourage all participants to receive the COVID-19 vaccine. Those who have not been vaccinated are required to wear a CDC approved facemask for the duration of class. Anyone who has received the COVID-19 vaccine may choose to forgo masks. WABA respects anyone's decision to wear a mask and encourages all people to advocate for themselves. If you would like to wear a mask during class and would like to maintain social distancing we highly encourage you to do so! WABA will not tolerate any disrespect towards WABA staff or participants who choose to wear a mask for their own safety and peace of mind.
Participants will be expected to follow the mask guidelines of any indoor locations we visit for programing or activities.
Participants will provide their contact information at event registration. Participants consent to WABA contacting them and/or releasing their contact information to necessary authorities if there is a need for contact tracing following an event to contain an outbreak of COVID-19.
Cancellation Policy
If you are unable to attend camp and would like to cancel your registration please send us an email at youth@waba.org as soon as possible, so that we may cancel your registration. Each camp is capped at 15 students so we would like to make the spot available to other campers.
---
Frequently Asked Questions
Frequently Asked Questions
What age groups are eligible for camp?
For WOW middle school camps, students who are entering 6th-8th grade are eligible. For WOW high school camps students who are entering 9th-12th grade are eligible. If a student will be entering grades 5 or below, or has completed 12th grade, they are not eligible to attend WoW Camp. Students must attend the camp that is suited for their age group.
Does my camper have to know how to ride a bike to attend camp?
Yes, in order to attend WOW camp, students must already be able to ride a bicycle for at least 30 minutes uninterrupted.
Should I register a camper for both the weeklong camp AND both day camps?
In an effort to reach as many different campers possible and accommodate peoples diverse availabilities, we will be offering some of the same activities at both the weeklong and day camps. To avoid campers repeating activities or rides, we recommend that campers sign up for either the weeklong camp OR the day camps.
I would like to register a camper that is not a DC Resident, can they still attend?
The Wealth of the Watershed camp is funded by the DC Department of Energy and Environment (DOEE) as such, the camp is aimed at serving DC students and residents. If you have further questions about registration, email us at youth@waba.org.
Will campers be riding on streets? What precautions will be taken to keep them safe?
We will ride on streets and trails, many of which have protected bike facilities. Campers will learn how to follow the rules of the road, and how to navigate different traffic situations. When necessary, we will ride on the sidewalk or walk our bikes. Campers will always be surrounded by WABA staff, and/or volunteers. We will always ride as a "bike train", with adults in the front and the back of the formation. For us, the best decision is always the safest decision, so our rides are designed first and foremost with camper safety in mind.
Do campers bring their own bikes? What if a camper doesn't have a bike?
Campers are encouraged to bring their own bikes to camp. If your camper will ride their own bicycle during camp, you must have the bike checked over by a qualified mechanic before camp starts. After registration, you'll receive a Bicycle Inspection Form that you can use to have the bike checked out by a qualified bike mechanic. Most bike shops will perform an inspection for free, however, repairs will require payment. If you don't know how to find a bike mechanic, we can help.
If the camper does not have a bike, or the cost of needed repairs to get the bike in working order is a concern, WABA will provide a rental bike at no additional cost. If you indicate that your camper does not have a bike in your application form, we will do our best to match them with an appropriate bicycle to use during the program.
What should campers bring to camp every day?
A bike that fits properly and is in working condition
A helmet
A backpack to carry their lunch or other items while biking.
Closed-toe shoes and appropriate clothing for biking
What will happen if there is inclement weather on a camp day?
Our ability to ride bikes each day is weather dependent. In the case that inclement weather occurs during a ride, if it is safe to do so, campers may need to ride for a short distance in the rain to reach basecamp or a scheduled indoor activity.
If the inclement weather that occurs during camp is too severe to safely ride bikes, we will have alternative activities planned for campers to complete inside.
It is possible for a day of Wow Camp to be canceled due to inclement weather. Cancellation will occur by 7:30 AM on the morning of camp. All campers will be notified by Wow Camp staff.
My camper has never ridden their bike on city streets, trails, or for 20 miles before, can they come to camp?
Yes! We will begin with a ride safety class that introduces riders to the skills needed to ride safely in different settings, as well as within groups. Our rides are also planned to accommodate riders of varying confidence and experience levels and we will be taking breaks.
However, to participate in camp, students must be able to ride a bicycle for at least 30 minutes uninterrupted.
Is this a competitive sports camp?
No. WoW Camp is an inclusive community-building camp that focuses on fun, self-development, and exploration. Our rides are designed with the abilities of the slowest rider in mind, and we aim to use bicycling as a vehicle for exploration, self-reflection, and civic engagement.
Who can I contact if I have a question that is not on this list?
Email is the best way to reach us. You can contact us at youth@waba.org
Alternatively, give us a call at (202) 970-4424 ext 62.