Weekly Newsletter: January 27th, 2023
Welcome back to WABA's weekly newsletter. Don't forget to subscribe, and be sure to email me if you've got a tip I should include next week. Read to the end for a fun route recommendation for the weekend.
Moar e-bikes
Earlier this month, DC Councilmember Brooke Pinto introduced a bill to provide a rebate on e-bike purchases from bike shops in DC. My wife and I bought an e-assist cargo bike a few years ago, and, look, I know the word "transformative" gets thrown around a lot, but it's real! If you're looking to go car-lite or car-free—for climate reasons or just because it's easier to park—go test ride an e-bike. They're convenient and green, but they also bring a lot of unexpected joy to tedious parts of your day. My absolute favorite biking experience around here is probably the Seneca Ridge Trail while the redbuds are blooming. But a close second is definitely puttering home from the store on the Anacostia River Trail with the week's groceries, my daughter sitting behind me singing Frozen loud enough to scatter trailside waterfowl. And I get to do that one every week.
All this is to say: creating more accessible, affordable alternatives to driving and car ownership are great policy goals. Also in e-bike news, DDOT has clarified its rules about e-bikes on trails. Short version: you can still ride your Class 1 or Class 2 e-bike on DC's trails.
WABA out and about
Have you met sangam 'alopeke, WABA's new Vision Zero Outreach Coordinator? They're out and about across the city, helping folks speak up for safer streets.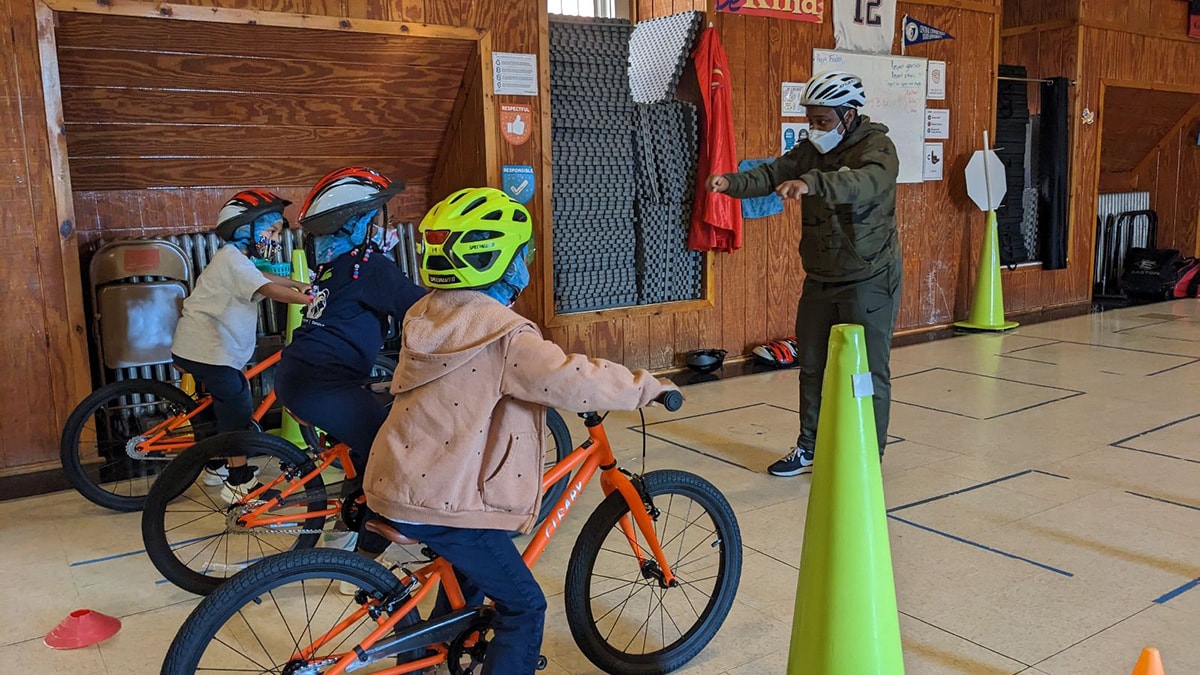 DC Public Schools now teach every second grader to ride a bike, but DC Charter Schools don't have the same universal curriculum. But WABA can help—we have a contract with the District to provide bike and pedestrian safety education to students in grades 2 through 8 at no cost to any DC Public Charter School! So if you have kids in a charter school, send this link to your administrators or teachers, or have them get in touch with us at youth@waba.org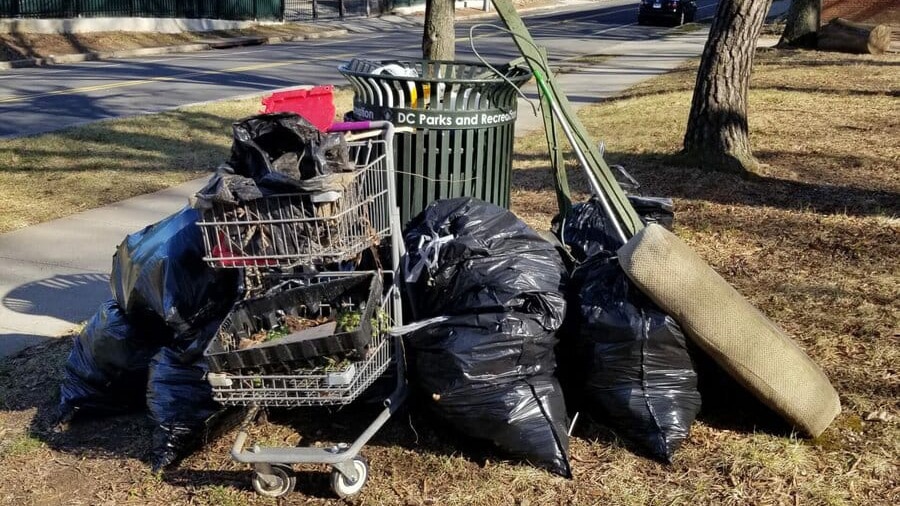 Last week, the Trail Rangers teamed up with the Deanwood Citizens Association to host a cleanup on the Marvin Gaye trail. They hauled out 50 bags of trash!
Things to do:
Montgomery Parks is hosting a meeting on February 15th to lay out the next steps for the Little Falls Parkway linear park—reclaiming two traffic lanes for walking, biking, picnicking, and all sorts of fun space activation. Nextdoor will surely respond with equanimity. Show up on February 15th to support the project.
Don't forget to speak up for the proposed Cemetery Wall Trail on Route 110 in Arlington.
Support Protected Bike Lanes on Q&R St NW.
Come talk to WABA's staff and Board of Directors at our Annual Member Meeting on Feb 15th.
If you live or work in Virginia, go meet Kevin.
Things to look forward to:
Coworker Jeff reports that the bike signals on the Kenyon St NW protected bike lane are being installed this week. This will make crossing Georgia Ave a bit less stressful.
Word in Fairfax County is that the new trail along Grist Mill Road will be complete this spring. This trail closes a gap between the southern end of the Mt Vernon Trail and the new-ish trail along Route 1. It means you'll have a relatively low stress connection from Mt Vernon to the Fairfax County Parkway trail, the Franconia-Springfield Metro station, the Meadowood mountain bike trails, Pohick Bay Regional Park, and Mason Neck State Park. If you've never ridden in that area, I'd recommend it, it's beautiful.
Enjoying this so far? Subscribe!
Starting in February, you'll need to be a member to subscribe to this weekly newsletter, so sign up now while it's free! Though, membership is pay-what-you-can, so you can get all this content directly in your inbox for a few bucks a year, if you want.
Construction is underway on the protected bike lane on Route 1 that will connect the Northwest Branch Trail to the Hyattsville Trolley Trail. This will create a seamless, low stress connection between Mt Rainier, Hyattsville, Riverdale, and College Park. Also a critical connection for anyone who's ever needed a neon hula hoop or novelty fly swatter from Franklin's.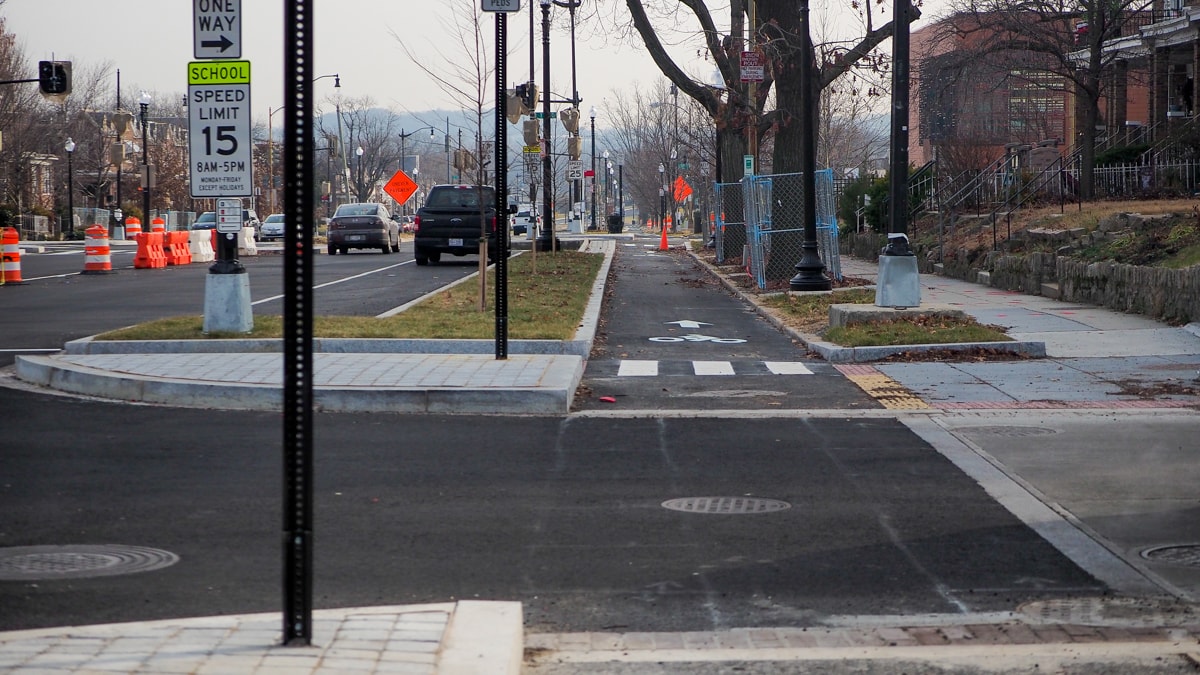 DDOT's overhaul of C Street Northeast (pictured above) isn't quite done yet, but it's looking incredible. Go check it out if you're in the neighborhood.
DDOT also issued a Notice of Intent for a new protected bike lane on M St SE, from First Street to 11th Street, and they're looking for feedback. If you ride in the Navy Yard area, take a look and use the email on that page to share comments or just a note of support.
Here's a fun route idea for the weekend:
Cross the Frederick Douglass Memorial Bridge, take the yet-unnamed new trail along 295 to Blue Plains and pick up the trail into Oxon Hill Farm. If you're feeling ambitious, head south from there towards National Harbor and take the Wilson Bridge into Alexandria for some coffee before getting back on the Metro.
Thanks for reading! Don't forget to subscribe!
-Colin