A Safer Suitland Road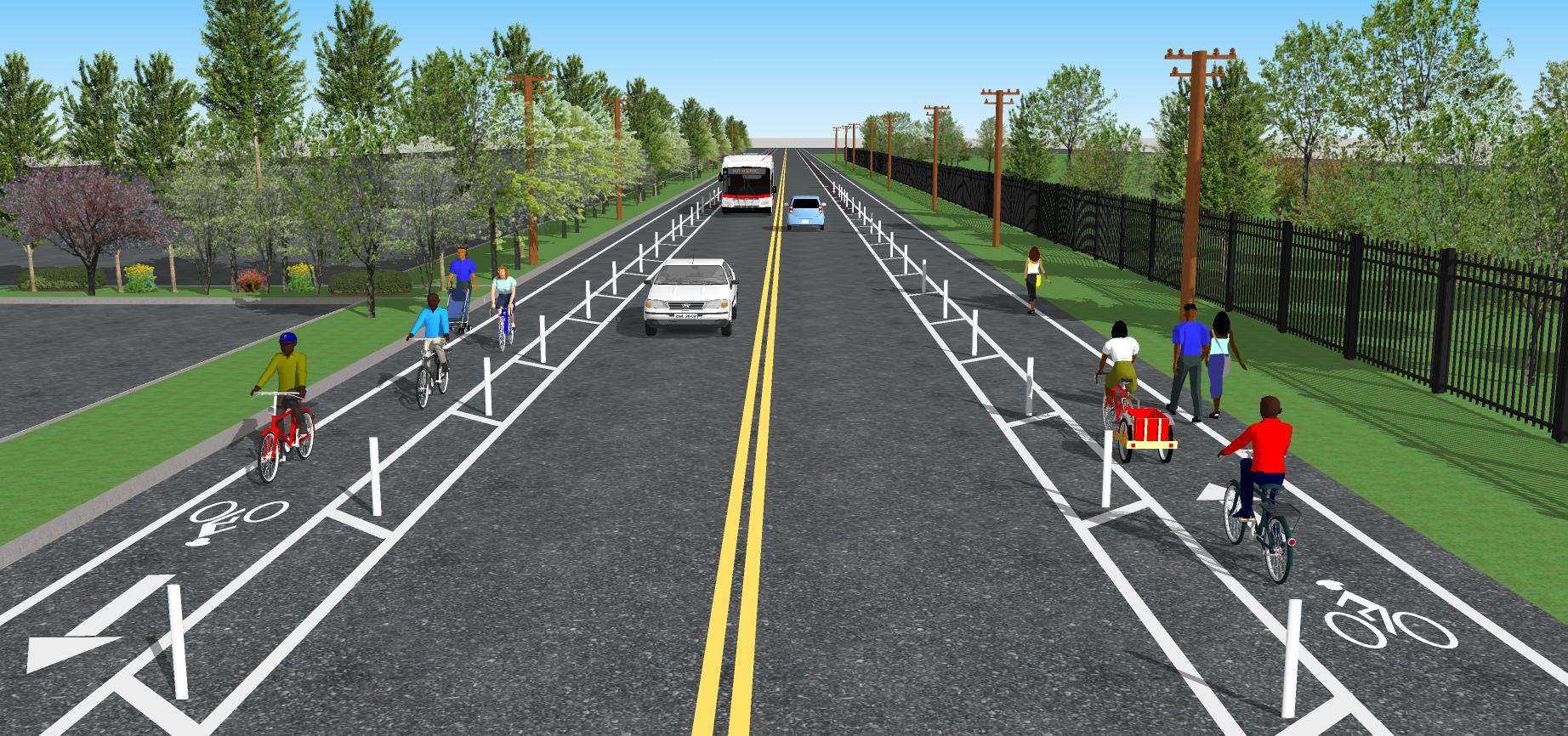 Connecting Communities and Creating Safe Streets in Prince George's County
An Ideal Place
Suitland Road (MD-218) runs from the District line to Silver Hill Road (MD-458) and the Suitland Federal Center, paralleling the Suitland Parkway. In combination with other planned improvements, protected bike lanes are a cost-effective addition that will make this road safer and more welcoming for everyone: cyclists, pedestrians, bus riders, and drivers who live, work, go to school, and shop in the neighborhood.
More Options for Our Community
There is a growing need for transportation options, especially for bicyclists and pedestrians, within the Suitland community. Planned bike lanes in the District of Columbia will connect Suitland Road to southeast DC's expanding trail network and the Metro. The addition of protected bike and pedestrian lanes is an affordable addition to enhance safety and access without adversely affecting automotive traffic. Construction of these lanes could take place without reducing driving lanes and will add to the neighborhood's appeal.
Protected Bike and Pedestrian Lanes
Building protected bike and pedestrian lanes would separate fast car traffic from bicyclists, decrease street crossing distances for pedestrians, provide protection for vulnerable road users, and create a less stressful street for residents, employees, commuters, and visitors to the area
Since much of Suitland Rd is one wide lane in each direction without parking, adding protected bike lanes would have minimal impact on car lanes or travel time. Protected bike lanes would encourage more predictable driving and increased adherence to speed limits.
Protected bike lanes would serve as an additional buffer between pedestrians and car traffic in an area without sidewalks where families live, work, and shop.
Protected bike lanes would compliment the existing and planned regional bicycle network by connecting with the interim extension of the Suitland Parkway Trail and region's expanding trail system.
Protected lanes would also allow for access by cyclists and pedestrians to Metrorail and bus stations.
Quick Facts
Protected bike and pedestrian lanes on Suitland Road will reduce speeding, provide a dedicated space for people on bicycles and foot, and provide more transportation options for local residents.
Bike lanes are planned for Suitland Road SE in the District, which will connect with the 38th Street SE and Alabama Avenue lanes—and, ultimately, the rest of DC's growing transit network. Completing this connection on the Maryland side would allow Suitland residents and commuters from the District to access this system.
Protected bike and pedestrian lanes offer an alternative to driving short trips and could bring customers to local businesses while making Suitland Road safer and more appealing for all users.
Prince George's County is the deadliest county in the region for bicyclists. This protected lane—the first of its kind in the county—would be an important first step in making improvements that protect the lives of our neighbors.
The average number of cars on Suitland Road has been declining since the early 2000's. This is the time to make improvements to Suitland Road for people to walk and bike along this street.
While not directly on Suitland Road, students at Suitland High School would benefit from access to the nearby bike and pedestrian lane when going to and from school.
Updates
Progress on Safer Suitland Road
 November 13, 2015
Strong Turnout, Great Ideas at Suitland Road Walk
April 21, 2015
It Wouldn't Cost Much to Make This Prince George's Road Safer For Everyone
March 30, 2015
Why Protected Bike Lanes?
Protected bike lanes provide a low stress space for bicycling that is separated from car traffic by a buffer zone, plastic posts, or even a curb. Protected bike lanes encourage new riders, help make streets more pleasant for walking, and can help local businesses. Read more
here
.