Bike Friendly Ballston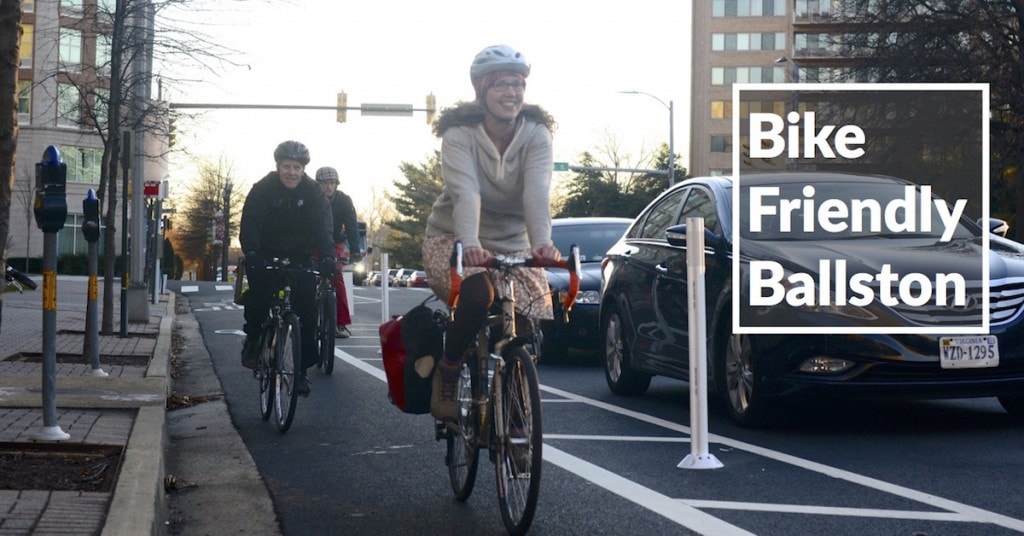 Opportunity, for Mobility and Commerce
Ballston is a vital retail, residential and office center for Arlington County.  Home to over 8 million square feet of office space, a million square feet of retail space and more than 8,000 residences along with Arlington's Central Library, Quincy and Mosiac Parks and Washington-Lee High School, Ballston is both a major destination and home to many Arlington residents. On a nice day, two thousand people will bike past Ballston, just a few blocks away on the Custis Trail, but less than four hundred will use the existing Quincy Street bike lanes to come to Ballston to grab lunch, play at the park, shop at the mall or check out a book at the library because the existing bike lanes do not feel safe or inviting.
The Problem: Safety
The existing Quincy Street bike lanes are uncomfortably close to frequent and fast moving traffic. The bike lanes disappear at a major intersection (Washington Blvd) forcing people on bicycles to merge with drivers already navigating a tricky intersection.  Delivery vehicles and double parked cars frequently block these lanes creating more merging conflicts as drivers and bicyclists try to share the same space. Furthermore, the lanes are difficult to access from the Custis Trail because there are no stop signs or traffic lights to help south-bound cyclists cross the street. While bike lanes may be sufficient for experienced cyclists, they are not the kind of protected, inviting infrastructure that we need to get more Arlington residents to feel comfortable getting around by bicycle.
The Solution: Protection
A redesigned Quincy Street with protected bike lanes would be much safer and more inviting, encouraging many more people to ride on it, especially young families.  In a protected bike lane arrangement, bike lanes are placed next to the curb and car parking separate vehicle traffic from bike traffic. A buffer zone with bollards both makes space for opening car doors and prevents illegal parking and loading.  Read more about the benefits of protected bike lanes
here
.
Everybody Wins
Ballston businesses benefit from the increased bicycle traffic on Quincy.  People who arrive to a business on bike typically spend less per visit but visit more often, resulting in higher overall spending per month.
Ballston residents get a safe, inviting connection to the Custis trail and all of the destinations it serves, providing new opportunities for active transportation and fitness.
Ballston workers would enjoy a safe, inviting connection to the Custis trail and other regional trails, allowing new opportunities for active transportation and fitness.
Washington-Lee High School students gain a safe, low stress bike route to school.
Arlington residents from across the county gain better bike access to the Central Library, Quincy Park, Mosaic Park and Ballston businesses.  It could even be the start of a new continuous north-south bike route connecting north and south Arlington via George Mason Drive, Henderson Road, Quincy Street and Military Road.
Drivers gain the confidence of having cyclists safely protected, no longer worried that they may be forced to merge into the travel lane.
People on foot benefit from fewer bicyclists on sidewalks and more separation from cars on Quincy Street. Moving on street parking closer to the travel lanes visibly narrows the roadway, which generally leads to less speeding
Updates
This campaign is brought to you thanks to WABA's Arlington Action Committee. Get involved! Come to our next Action Committee Meeting (the 3rd Monday of the month at 7pm at the Clarendon Presbyterian Church and join our email discussion group (
more info
).