---
Join WABA for our second annual Bike to Anywhere Week, May 17th-23rd! Bike to Anywhere Week captures some of the magic of bicycling in our region and reminds us of the incredible community we have in our fellow bicyclists, whether in person or online.
See the daily themes
Where is this event? Well, it's anywhere: around your block, on the way to the grocery store or the park, from the comfort of your home, or with us virtually. You get to choose how you celebrate Bike to Anywhere Week, but we have plenty of ideas!
You've got two ways to participate, and both come with a year-long WABA membership, the chance to win lots of goodies, and good vibes that extend beyond the week.
At $5 or more, we'll mail you a BINGO card in the mail filled with fun activities for both on and off your bike, and set you up with a one-year Digital Membership. Purchase before May 1 to have it in hand in time!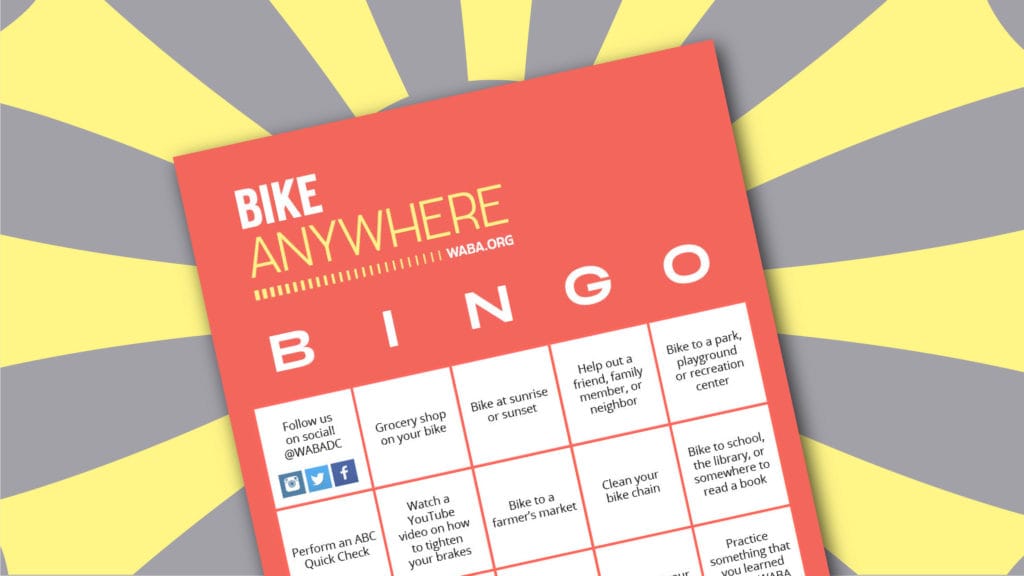 At $50 or more, we'll throw in a limited edition tote bag and a discounted Classic Membership.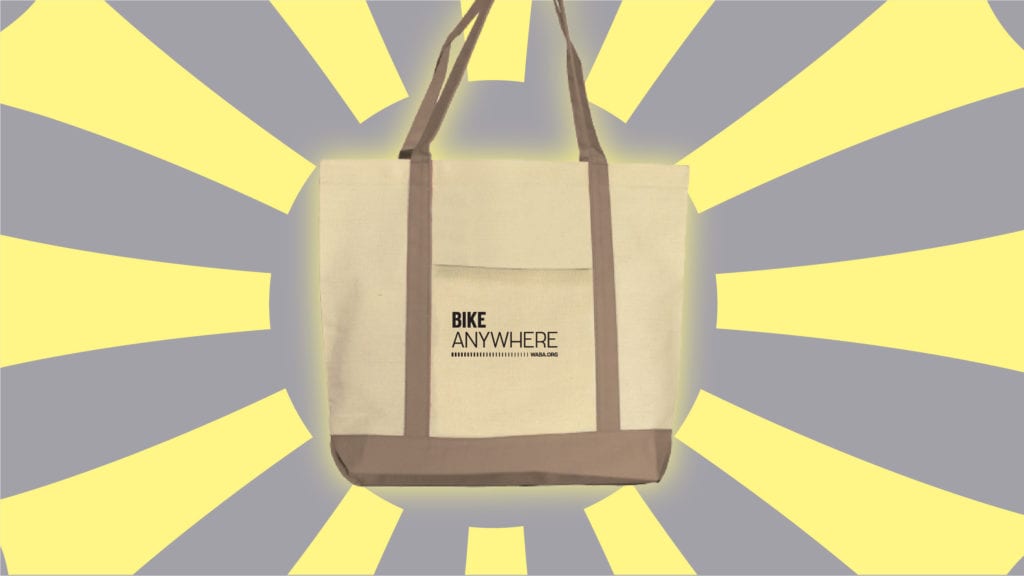 If you're already a WABA member, thank you! The pay structure is the same, and we'll extend your membership for one year, or, you can drop us a line at membership@waba.org and you can gift your membership to a friend or a new rider ( you decide what to do with the tote 🙂 ).
Order by May 1 to have your BINGO card in hand before Bike to Anywhere Week kicks off. We will mail you your tote bag by mid-June, just in time for peak picnic weather.
Keep us updated with all the fun you have during Bike to Anywhere Week by using #BikeAnywhere or by tagging @wabadc on Instagram, Twitter and Facebook. Got a question? Drop a line at membership@waba.org.
---
Join Today!
Trouble viewing this form? Click here.
Sponsors and Partners:

Bike to Anywhere Week is entirely independent of any other organization, and all activities are appropriate under current CDC guidelines.
---
Last updated by Jeslyn Zakes on April 13, 2021.