A Great Saturday Ride Along Oxon Run
(An update from Alex Hutchinson, WABA's East of the Anacostia Bikes Program Manager.)
On Saturday July 14th, WABA staff, residents, and volunteers gathered in Oxon Run Park. Nestled between the neighborhoods of Bellevue, Congress Heights, and Washington Highlands, Oxon Run features wetlands, ball fields, BBQ pits, and naturally where WABA comes in, a beautiful bike path.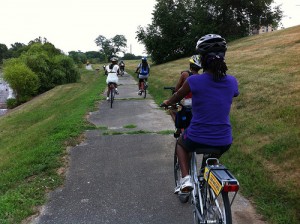 Despite flirting with Mother Nature's rains early in the morning, by the start of the event pockets of blue sky began to peak out from behind the clouds. With much-appreciated assistance from Capital Bikeshare, Bike & Roll DC, and the District Department of Transportation our ride was supplied with 45 bikes and helmets for all ages and sizes. We even had some brave young riders go out on an attached tandem bicycle before they traded it back in for something a little simpler. The event was a huge success in no small part due to the help from local community groups such as the office of Councilmember Marion Barry, ANC commissioner Dionne Brown, and the 7th District Metropolitan Police Force. Commissioner Brown was pleased to have her bike repaired, then proceeded to cruise up and down the trail several times before the mid-July humidity finally got to her. "I prefer this to spinning" Brown joked. Community members remarked on the therapeutic effect of cycling along Oxon Run. Many doctors are beginning to prescribe "park prescriptions", a program where doctors send patients outdoors for physical and mental benefits. One of the objectives of this ride was to make residents aware of this fantastic park, a resource some don't realize exists right in their backyard. Additionally, local community members learned to get more comfortable on a bike after a prolonged absence with the help from WABA educational instructors. The Oxon Run ride provided a valuable forum for community members to learn about who else is riding in their community and provided WABA insight into residents' feelings about cycling safety and benefits. A number of bicycle commuters came out to talk about their challenging rides along the Suitland Parkway–a trail that is currently in need of cleanup due to a large amount of broken glass and overgrown limbs along the trail. Other neighborhood residents came with their toddlers in tow, disappointed they didn't hear about the event sooner to inform more of their students and neighbors.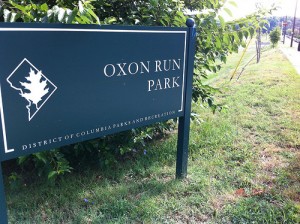 The Oxon Run event was WABA's first ride this summer as part of our East of the River initiative after several mobile bike repair clinics and classes to get everyone ready to roll. Other rides slated for later in this summer include a bike carnival and tour of the St. Elizabeths Historic Campus and the first annual Lion Ride through historic Anacostia and Anacostia Park.