St. Elizabeths Bike Carnival: Getting There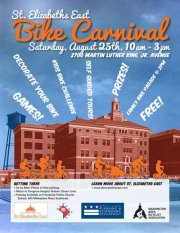 Riding to the
St. Elizabeths East Bike Carnival
? We are pleased to report that our friends at
BicycleSPACE
and at
Kidical Mass
are each leading rides to the event!
KIDICAL MASS RIDE 
If you are riding with kids, ride with Kidical Mass at any of these locations to ride along with parents and kids.  It's a great chance to not only convoy to the carnival, but also to share tips on biking with children in the city. You can catch up with the group in:
Edgewood at 10:45am (8th St. NE & Franklin St. NE near Chocolate City Brewing Company)
Eckington, 11:00am (R Street NE @ Met Branch Trail)
NoMa, 11:15am (M Street NE @ Met Branch Trail)
Capitol Hill 11:30pm (Stanton Park @ 4th Street NE)
Estimated arrival at St. Elizabeths: 12:00pm
BICYCLESPACE RIDE 
Our friends at BicycleSPACE are also leading a ride, starting at the WABA office in Adams Morgan. We promise a good time, they're a fun-loving group of like-minded bike people! You can catch up with the group in:
Adams Morgan Leaving at 11am, WABA Office, 2599 Ontario Rd., NW
Mt. Vernon Triangle  11:30am, BicycleSPACE, 1019 7th St., NW
Southwest Waterfront Leaving at Noon, Yards Park (the pavilion with the sail awnings)
Estimated arrival at St. Elizabeths: 12:30
METRO
And for those who want to come by Metro, the event is a very short and safe walk from the
Congress Heights Metro stop
, and signage will direct you from the Metro to the festivities.
PARKING
Yes, there is parking at theFriendship School, but it is limited, and Metro is likely an easier option.
EVENT INFORMATION
When you get there, you'll find open streets to bike on; bike-themed carnival games for prizes or raffle tickets; the Ward 8 Farmer's Market; the East of the River Drum band; a kids' bike skills challenge; bike decoration station;
City Bikes
providing free minor bike repairs on a first-come, first-served basis; and much more. At 1:45 we'll gather for the raffling of four brand new bikes–two adult bikes and two youth bikes.  Everyone who comes and plays the free games will have a chance to win–but you must be present to win, so don't leave too soon. And finally, at 2pm, we will start the St. Elizabeths Bike Parade, in which everyone–including those who have visited the bike decoration station–can show off their bikes as we parade around a 0.3 mile loop perfect for picture-taking and fun. Thanks to BicycleSPACE and Kidical Mass for leading the convoys, and to City Bikes for providing the repair station.  Come see us, have fun, and say thank you to them tomorrow at St. Elizabeths East.