St. Elizabeths Bike Carnival Recap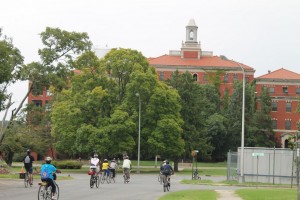 This summer, the historic campus of St. Elizabeths was opened to the public for a summer-long series of community events. On August 25th, WABA hosted  the St. Elizabeths bike carnival, an event to promote cycling East of the Anacostia River and beyond. Attendees from across the street and across the region took advantage of the rare opportunity to tour St. E's by bike. Over 300 guests attended, and this was clear when seeing people all across the serene, historic locale.  The closed streets provided groups of families and friends a chance to explore the over 180-acre grounds of the idyllic campus at a comfortable and leisurely pace. Participants explored bucolic knolls, shady alcoves, and historic buildings all by bike. The day culminated in a family parade around the "maple quad" where kids at the event sped off turning the event into a high-speed race. In addition to self-guided tours, City Bikes provided bicycle maintenance free of charge on rusty chains, flat tires, untuned cables, and more.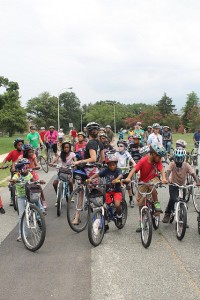 While families waited for their bikes to be repaired many played bike-themed carnival games that included pin the tail on the bicycle,  water bottle knockover, ball in the bike basket shootout, bike pump races, and a ring toss that required WABA staff to drink soda around the clock the week in advance! The more games guests played the more raffle tickets they earned to enter into the running for 4 new bicycles and accessories provided by City Bikes. One lucky family actually won 2 new bicycles! A bike decoration station allowed more artistically inclined guests to spruce up their 2 and 3 wheelers.To add to the carnival atmosphere, talented make-up artists painted faces. Youngsters got a chance to hone their cycling skills on the Bike Rodeo course where they performed maneuvers to improve their abilities, a program WABA brings to area elementary schools. WABA asked residents where their bike destinations were and respondents placed stickers on a huge map of the Washington region. Attendees also rubbed elbows with Public Health Advocate and Miss District of Columbia, Sarah Hillware as they answered the reasons why they liked to bike. This carnival helps to redefine the iconic destination of St. Elizabeths and the relationship with Ward 8 and the DC region at large.