Women & Bicycles Tip: Downpour Preparedness
This entry is part of our Women & Bicycles Bi-Weekly Tips series. Women & Bicycles is WABA's outreach and encouragement initiative to build a stronger women's bike community and get more women on bikes. With the help of Roll Models, the program's volunteer mentors, we're providing a space to learn about and experience the joys of bicycling through workshops, bike rides, meetups, and our online forum. Click here to learn more and get involved.
Some people say that when it comes to bicycling, "There's no such thing as bad weather, just bad gear." Well, those people are pompous show-offs, and get a kick out of suffering and looking cool (and yes, sometimes I'm one of these people). We can all agree certain weather situations dictate our decision to commute by bike. Thundersnow? Freak winter hurricanes? Golf-ball sized hail? No thanks! I'll sacrifice my bicycling freedoms and take the dry, air-conditioned (albeit hardly freeing) Metro. Sometimes it's just too hot or too cold, too wet or too snowy, you're too lazy or not too sober, or you just aren't up for riding—and those are great days to stay off the bike. That said, I'm a big fan of rain riding and of being prepared for rain riding especially because there's a good chance you'll eventually participate in this precipitous pastime whether you like it or not. When you're prepared to be out in the rain your experience can be refreshing, relaxing, and downright adventurous. So here are some tips for torrential downpour preparedness: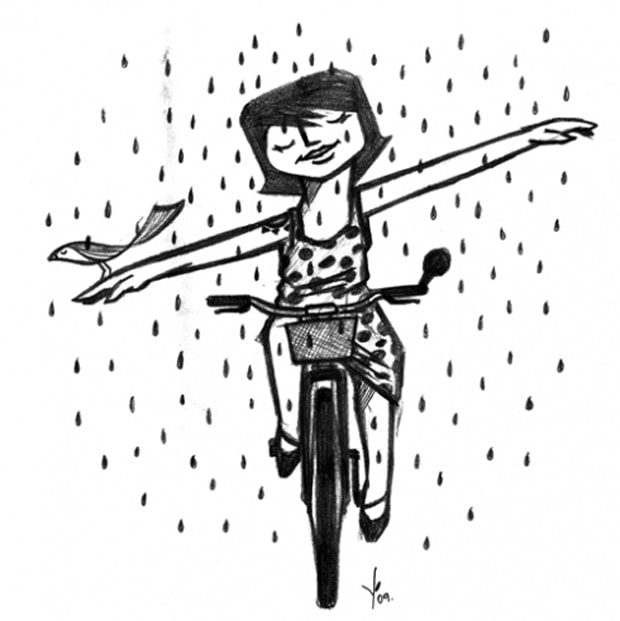 GEAR
Fenders:
These plastic shields frame your front and rear wheels and single-handedly prevent many wet hineys and soaked shoes. Tangentially, always keep your tires pumped up, especially during rainy days.
Second change of clothes and toiletries:
At minimum, pack a second change of clothes, including underwear, bra, socks, and shoes. And pack anything you may need to freshen up your hair and make-up once you arrive. I pack wet wipes with me wherever I go just in case I need to wipe down before meetings.
Rain jacket or poncho:
You can pick up a cheap poncho to store in your bike bag, or invest in a lightweight rain jacket (this option avoids heat-trapping plastics). The more breathable, the better because you can pretty easily get more wet by sweating than by the rain; pit-zips are a plus. Specifically designed rain ponchos, often called rain capes, provide better opportunities for airflow, but are still compact. I like 
the Iva Jean Cycling Rain Cape
. Rain pants are a major plus, especially because these can be used in cold, snowy conditions as well. If you aren't up for buying a new pair of rain pants, and it's warm out, try out athletic shorts that you can change out of once you get to your destination.
Cycling cap:
If you want to keep your hair dry, try out a cycling cap under your helmet or a cover over your helmet.
Glasses:
 Clear-lens glasses shield your eyes from heavy rain and help with visibility.
Breathable shoes or shoe covers:
You can purchase some cheap booties that cover just about any kind of shoe, and still give you the grip and range of motion you need. I myself wear Chacos, an athletic sandal. They excel at keeping my feet happy in the rain because they were originally designed to be worn in rivers.
Bag:
Consider investing in a waterproof bike bag or pannier to keep your everyday essentials dry and cared for. I have officially converted to panniers, the bags that attach to your bike rack. It was a significant financial investment for me, but has had a major payoff in my bike satisfaction. My back is much happier without the weight of  backpack or the heat and sweat from a backpack.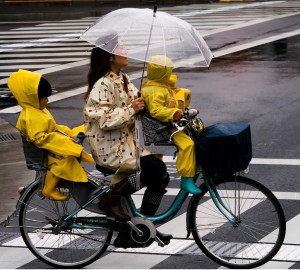 VISIBILITY
Brightly colored clothing:
 This is where the bright neon colors and reflective accessories in your closet can come in handy. A lightweight reflective vest is a low-cost accessory that's easy to carry with you at all times.
Lights:
Front and rear lights are required in D.C. even in sunny weather, but in the rain it's even more important to have your bike lit up as much as possible.
Lane placement:
Most of your visibility power is in your position on the road and how you communicate with other road users. Do what you can to make yourself the most visible and most predictable with your fellow road users. Unfortunately our standard M.O. is to assume that we're invisible to everyone. If there are no bike lanes present, position yourself in the middle of the lane. If there are bike lanes present, ride to the far left-hand side of the bike lane to avoid the door zone. If you're on a trail, always yield to walkers and joggers. When communicating passing and turning to drivers, other bicyclists, and pedestrians do your best to use hand signals make eye contact, and use verbal cues if necessary. This is all basic bike know-how, but having it under your belt can make your rain-riding experience even better.
TECHNIQUE
Be cautious:
if you haven't already, over time you will figure out your rain riding style. It may mean you need to ride a little slower to feel more alert and in control. This is a personal aspect that takes some time and practice.
Avoid slippery surfaces and puddles:
Do your best to avoid street car tracks, gutters, grates, white street markings, piles of leaves, and anything that becomes slippery when wet. You do
not
have to worry about bike lanes that are painted green: The green paint is not the same as slick thermoplastic white street markings and has instead a granular texture to help prevent slipping.
Lightly use your brakes:
 Also called "feathering your brakes" which means, avoid quickly pulling your brake levers too hard. Instead lightly use both front and rear brakes equally with consistent pressure as needed.
Follow your Gene Kelley intuitions:
 You will probably find yourself singing more in the rain, and you may hear the occasional, "WEEeeeeeEEE!" and some "WoooIiiPEEE!'"s  Because as usual, your bike ride should be fun. If it's not, you're doing it wrong.