Women & Bicycles Tip: Go Intermodal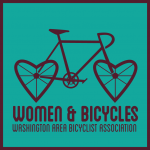 This entry is part of our Women & Bicycles Bi-Weekly Tips series. Women & Bicycles is WABA's outreach and encouragement initiative to build a stronger women's bike community and get more women on bikes. Click here to learn more and get involved.
This Wednesday, I'm presenting on overview on how you can incorporate other forms of transportation into your bike routine. Intermodal bike trips make your work commute a little shorter, your ride home a little faster, or your rainy day a lot less soggy. Plus, it's good to have backup transportation options. We're fortunate to have so many transportation choices in our toolkit (and our region), and it's all about finding the right tools for the right job.
Park and ride:
Bike the last leg of your trip! Pack your bike, drive, and leave your car parked at a nearby Metro station or a friend's house.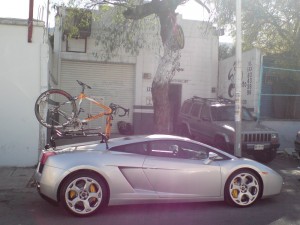 Metro:
Thanks to a WABA victory, you can take bikes on Metro during non-rush hours, at no additional charge. Metro's rush hours are from 7-10 a.m. and 4-7 p.m. I became a folding bicyclist because thanks to
another
WABA victory, folded bikes are allowed on Metro cars during all hours of service, and don't need to be stored in a bag. Some things to keep in mind: You must use the station elevators, never the escalators. If the train is full, wait for the next. Always give priority to passengers in wheelchairs. Bikes aren't allowed at the center doors of a train, so find a spot at the front or rear of the Metro train, where you can hold onto the railing and your bike. If you don't want to take your bike on the Metro, check to see if your area's station has bike lockers. Most stations have lockers you can rent for $200 a year. Check out
WMATA's bike page
for more information on riding the rails.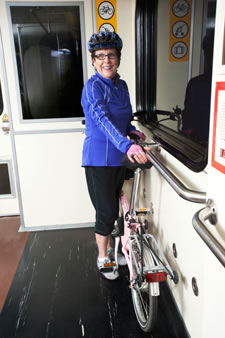 Buses:
Buses are a simple option for multi-modal bike commutes throughout the region. Bring your folding bike inside the bus, or store your non-folding bike on the bus' front bike rack. The process of loading up your bike on the bus rack can be intimidating at first, but all it takes is some practice. 
Click here
 for the bestvideo tutorial on bus bike racks.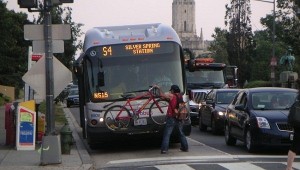 Trains:
For those who regularly use commuter trains like
Amtrak
, MARC, or 
VRE
, folding bikes are allowed on all trains in lieu of luggage. On Amtrak and VRE, non-folding bikes can be taken on board if the train has walk-on bicycle service (in certain instances there's a nominal fee). Be sure to check your chosen rail line's website before planning your trip for details.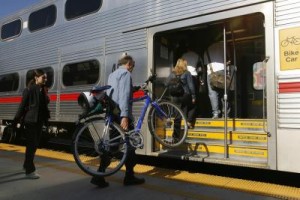 Combining bikes with other forms of transportation certainly isn't difficult—and it isn't cheating! It's a way to fully maximize your time. The choice to make your commute more easy, affordable, and enjoyable is a good choice, and that's, in part, what biking is about: celebrating good choices.