Women & Bicycles Tip: Add These to Your Shelves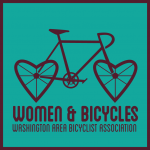 This entry is part of our Women & Bicycles Tips series. Women & Bicycles is WABA's outreach and encouragement initiative to build a stronger women's bike community and get more women on bikes. These tips certainly aren't exclusive to women, but they're produced with and through the Women & Bicycles' programming and staffing. Click here to learn more and get involved.
Recently, we posed this question to the WABA staff: "What books have enriched your understanding of the power of bikes and your approach to bike advocacy?" Here are some titles we heard in response. They're a well-rounded look at planning and advocacy for the curious reader, and could make for great holiday gifts! That said, this list is in no way comprehensive. Do you have a favorite urban studies, planning, or bike-related book? Tell us on
Facebook
or
Twitter
(or leave a comment on this post).