It Is Time for "Vision Zero" in D.C.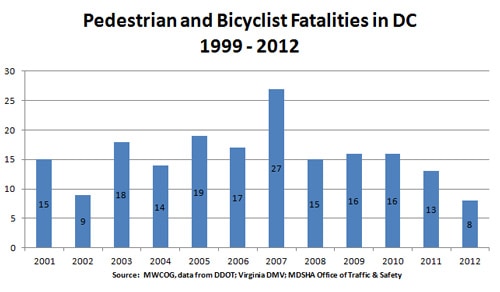 On Friday, I will be testifying on behalf of WABA at the Committee on the Judiciary & Public Safety's annual oversight hearing on the efforts of the Metropolitan Police Department. On Monday, I will be testifying at the Transportation & Environment Committee's oversight hearing on the efforts of the District Department of Transportation. It's time for me to say something different on behalf of the District's bicyclists, and I need you to say it with me. I sat down yesterday to write my testimony for these important hearings, and I realized that these agencies simply are not making the progress they need to make. They are not keeping up with the growth of bicycling in the District and region. I'm not going to go back into those hearings again—for a third year—and say the same things: the Rock Creek Park Trail isn't done; the Met Branch Trail isn't done; protected bike lanes take forever to design, then are downgraded to simple bike lanes when someone objects; police don't interview bicyclists when they're involved in crashes; and the police department refuses to enforce the three-foot passing law and other safety laws. All those things are still true. But saying them last year didn't get us anywhere, and saying them again this year won't either. We need to try a new approach.
Let's think bigger.
Recently, several big U.S. cities like New York and Chicago, as well as that often-cited bike utopia Portland, have publicly adopted "Vision Zero" policies, dedicated to ensuring that
no one
is killed on city streets. "Vision Zero" means that there will be
zero deaths or significant injuries due to traffic crashes.
D.C. pays lip service to this goal
with a little-known website stating it
, but has done virtually nothing to make it happen.
Let's make it happen.
For D.C. to truly embrace "Vision Zero," it can't just put up a website and call it a day. Key agencies like DDOT and MPD need serious restructuring designed around that goal. Planners need to talk to engineers at all stages of project development. Officers need to be assigned to focus on traffic crime. Budgets need to focus on projects that protect pedestrians and bicyclists. Good designs need to be constructed rather than watered down at the first whisper of pushback. Public employees need to be trained on the importance of bicycling and walking, and how to protect the safety of those who bike and walk. Vision Zero is more than a slogan. It is more than just a goal.
It is a philosophy of prioritizing the protection of the people who use our streets, trails, and sidewalks and organizing the activities of our local government in a manner consistent with that level of priority.
We can do this. The District can be a leader in creating safe streets, trails, sidewalks, and public spaces. The demand is there. People want safer streets. But we need our government leaders to do something bigger than complete a single bike lane or pass a single law. We need them to change their priorities and govern accordingly.
Help change the conversation.
In my testimony before these committees, I will push for precisely this prioritization of people, and the implementation of a Vision Zero policy. I want you do to the same. Tonight, there is a mayoral debate featuring all the major candidates and the public can submit questions. Let's hold the candidates accountable to prioritizing safe streets and ask them how they plan to do so.
Click here to submit your question to be asked at the debate.
Don't forget that residents are always welcome at council oversight hearings to discuss the work of District agencies.
The MPD hearing is this Friday, Feb. 28, at 10 a.m., and you can sign up to testify by calling 202.724.7808.
The DDOT hearing is Mon., March 1 at 11 a.m., and you can sign up to testify by calling 202.724.8062.