Looking for a fun ride? Try the Marvin Gaye Trail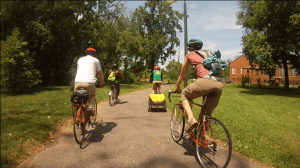 Live anywhere long enough, and sticky habits will develop.  We end up at the same grocery stores, weekend hangouts, and parks.  One morning's commute can look just like the rest, and even a fun bike ride can look a little too familiar.  We all need to branch out once in a while, so this weekend, our Trail Rangers lead a small community bike ride along the Watts Branch creek on the Marvin Gaye Trail.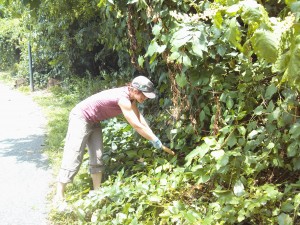 Starting in Lady Bird Johnson Meadow, near the Minnesota Ave. Metro, we took a relaxed ride along the trail and through the nearby neighborhoods of Deanwood, Lincoln Heights, and Hillbrook towards DC's Eastern corner.  Along the way, we passed a few historical landmarks just blocks from the trail, enjoyed a few hilltop views, and even found the easternmost boundary stone where Eastern Ave. meets Southern Ave just two blocks from the end of the trail. Some of the Marvin Gaye trail's most enticing features are the tree canopy, restored creek beds, and green space it passes through.  Around every corner we found perfect spots for a picnic.  It takes constant work, though, to keep all that green in check, so  we put on some gloves and grabbed our tools following the ride.  With some sweeping here and trimming there, the trail is looking great! Every bike ride is better when followed by a hearty lunch, and thanks to our friends at Chipotle Mexican Grill,  everyone who came on the ride and helped out with the cleanup enjoyed a burrito when we finished.  Thanks Chipotle! If you missed out on Sunday's ride, but want to try it yourself,
here is a map
of some of the spots of current and historical significance.  We'll be back for another community ride in a few weeks too!  Need convincing, check out some
photos
.