How to Go Multi-Modal
Have no fear—just because you can't bike the
whole
way doesn't mean you can't ride at all! If your commute is long, if you live in an area that doesn't have great bike infrastructure, or if you can't find a comfortable route to pedal from point A to point B,  you can still go multi-modal. (That means using more than one mode of transportation to get you where you need to go). Check out these tips: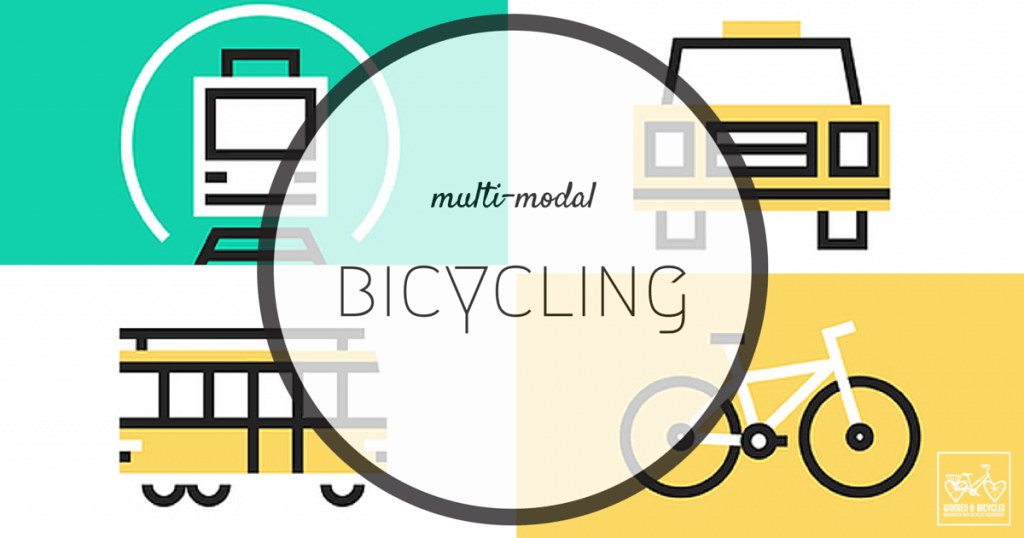 Metrorail
Taking your bike on Metro is easy. Just make sure you are familiar with these basics:
Avoid rush hour. Bikes are not allowed on trains during weekday rush hour times (7am-10am and 4pm-7pm). Also be sure to check about bike allowances on special occasions, such as holidays.
Folding bikes are SUPER Metro-friendly. Folding bikes are convenient, cool, and are allowed on Metro ANYTIME! If you will be traveling multi-modally on the train, investing in a folding bike may be well worth looking into.
Use the elevator. It's easier and safer than trying to get your bicycle up and down on the escalator. Be sure to be courteous and respectful of other elevator users, particularly giving first priority to seniors and persons with disabilities.
Do not use the center car doors. Instead, enter and exit using the first or last door on the train car. *Bonus tip: The first and last cars of the train are usually the least crowded!
Do not block aisles or doors. Maintain control of your bike and try to stand in a place that does not block access to doors and seats.
Bike storage lockers. If you're riding to the Metro station, it might be a good idea to look into renting a secure bike storage locker.
For more details and information on bikes and Metro,
check out WMATA's website here.
Bus
Yes, it can be intimidating to use the bicycle rack on the bus for the first time. But when you try, you'll find that it is not too difficult and just takes some practice. Don't be scared to try or to ask for help from the driver if you're having trouble. And be sure to check out this
awesome video tutorial
so you can be a bus bicycle rack pro in no time! Note that all Metrobuses and local service buses across the region have racks.
Drive and go!
You can always bike the last part of your trip! You can pack your bike in your car and drive to a Metro station or other secure spot and simply ride from there. If a bike rack seems cumbersome, try 
Capital Bikeshare
for the second leg of your commute. Check out their website for station locations and other info
here
. Also, for all of you Arlington folks, be sure to check out this cool, online multi-modal trip planning tool
here
. Going multi-modal is certainly not cheating. It's a fun and efficient way to get around—and you still get to ride your bike! With just a little planning and knowledge, you can become a routine multi-modal commuter.

This blog post is part of a weekly Women & Bicycles series of tips and helpful information that will answer frequently asked questions, provide helpful advice to common problems, and make bicycling a more accessible, widely-chosen means of transportation, exercise, and fun! To learn more about WABA's Women & Bicycles program,
click here
to learn more and get involved.
---
Women & Bicycles is proudly supported by The Potomac Pedalers Touring Club; hosts of the region's most robust all-level group ride calendar and bike tailgates, Chipotle our delicious dinner party sponsors, and we're supported by all our friends who donated through the Hains Point 100 ride.