Let's build protected bike lanes on 6th St NW!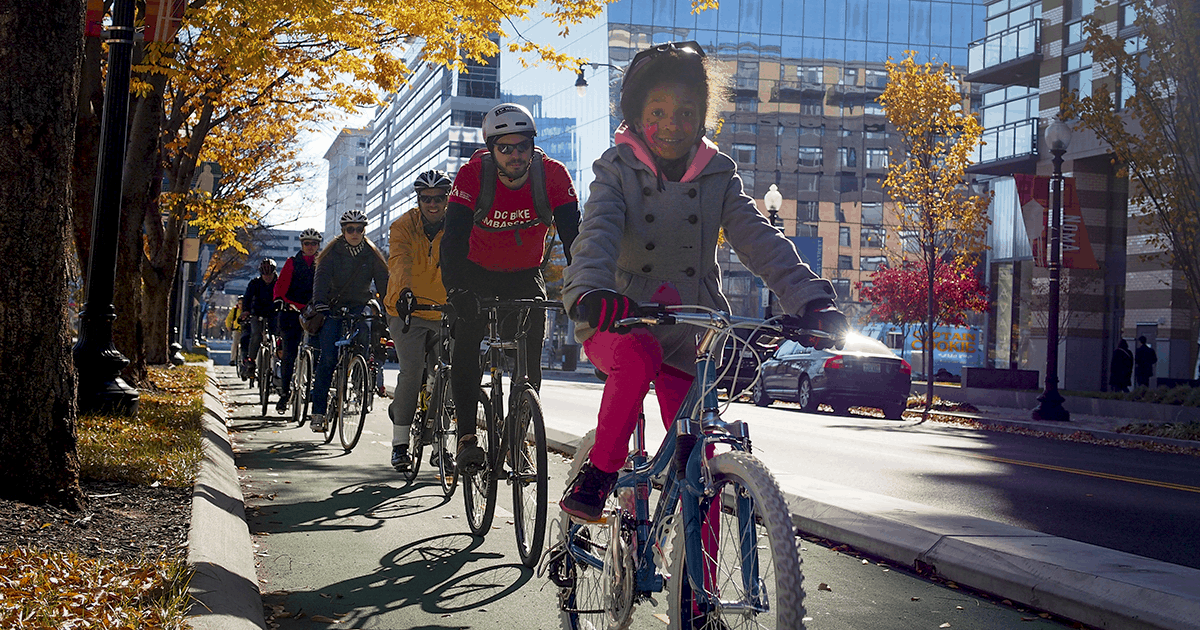 There's been a lot of press in the past few days about a local church's threat to sue the city over proposed protected bike lanes on 6th Street NW.
Here's the Background.
In February 2015, as part of MoveDC, the District Department of Transportation (DDOT) began a multi-step process to create a north/south protected bike lane linking the eastern part of DC from the Ledroit Park/Howard/Shaw neighborhoods to Pennsylvania Avenue and downtown. While there are multiple east-west dedicated bike lanes across the city, currently, the only contiguous north-south protected lane is 15th Street NW.
In the first phase of the process, DDOT considered each of the streets from 4th through 9th for the bike lane project. 4th and 8th Streets were eliminated because they were not continuous to downtown. 7th Street was deemed a "high impact" option, because of a host of factors, including transit operations, events, and loading zones. From there, DDOT put together 4 preliminary design options for 5th, 6th, and 9th Streets. DDOT is now at the end of a 3-month multi-stakeholder outreach and feedback process to affected communities along the proposed bicycle corridor. DDOT officials have met independently with every church along the corridor.
This objection is about parking spaces.
The United House of Prayer objects to the bike lane proposal because it would reduce some (not all!) of the parking space available near the church. Currently, on Sundays, the city allows diagonal back-in parking on 6th Street between P Street and L Street. The proposed plan would modify parking on the west side of 6th Street to the standard parallel parking found throughout the city. In a letter to the Director of DDOT, UHOP's lawyer claimed the plan infringed upon the church's "constitutionally protected rights of religious freedom and equal protection of the laws."
While the magnitude of this claim strikes us as rather extraordinary in the context of a bike lane project, we will leave the Constitutional law arguments to the experts.
What we do know: 6th Street NW needs a safe place for people on bicycles.
1. There is a huge demand for a safe bike route linking the eastern part of DC north to south. Initial studies show that more than 10% of commutes from the U Street and Shaw neighborhoods are made by bike. And if people who want to bike felt safer on the roads, this percentage would almost certainly increase. (For a point of reference, approximately 300-400 cyclists/hour use the 15th street protected bike lane during peak hours).
2. Safe bike routes make getting around and living in the city more affordable for low-income residents and those who can't afford the expenses associated with car ownership, like fuel, registration, insurance, maintenance, and repairs.
3. Reducing traffic lanes can make streets safer for motorists, pedestrians and cyclists alike. Moving to fewer lanes—right-sizing the road—will shorten crosswalks for pedestrians and encourage safer driving speeds at or below the speed limit.
4. WABA learned from a recent Freedom of Information Act Request to the Metropolitan Police Department that in 2014 alone, 12 crashes involving bicycles and motor vehicles occurred on 6th St NW between Florida Avenue and Pennsylvania Avenue with enough significant injury or damage to property to warrant a police report. This number does not include unreported crashes, or crashes that did not result in a police report.
5. CityMarket at O (on 8th Street) has more than 200 secure parking spaces available every day.
6. The Mt. Vernon/Convention Center Metro (with direct service to Maryland and Virginia suburbs) is one block away on 7th Street NW.
7. Creating circuitous detours around any single objecting party ignores the way people on bikes travel, as well as the goals of the project, which already considered those routes in a broader, city-wide context, and eliminated parallel street routes for legitimate planning and safety reasons.
8. 6th Street carries less than 20,000 cars per day, as measured by DDOT in multiple locations, which is acceptable under Federal Highway Administration guidelines for reducing the number of travel lanes.
To show your support for protected bike lanes on 6th street:
Attend a public meeting. DDOT will hold an open house for public input this Thursday, Oct. 22 from 6 p.m. until 8 p.m. at the Watha D Daniel/Shaw branch of the D.C. Public Library. We recommend getting there early; space will be limited.
Write a letter of support to the Bike Lane Study Project Team.
Become a WABA member or renew your membership. Our members provide the resources to engage in campaigns for safer streets. If you join or renew this week during our membership drive, you'll also get an awesome "Stress Less" t-shirt!