Resounding Regional Support for Trails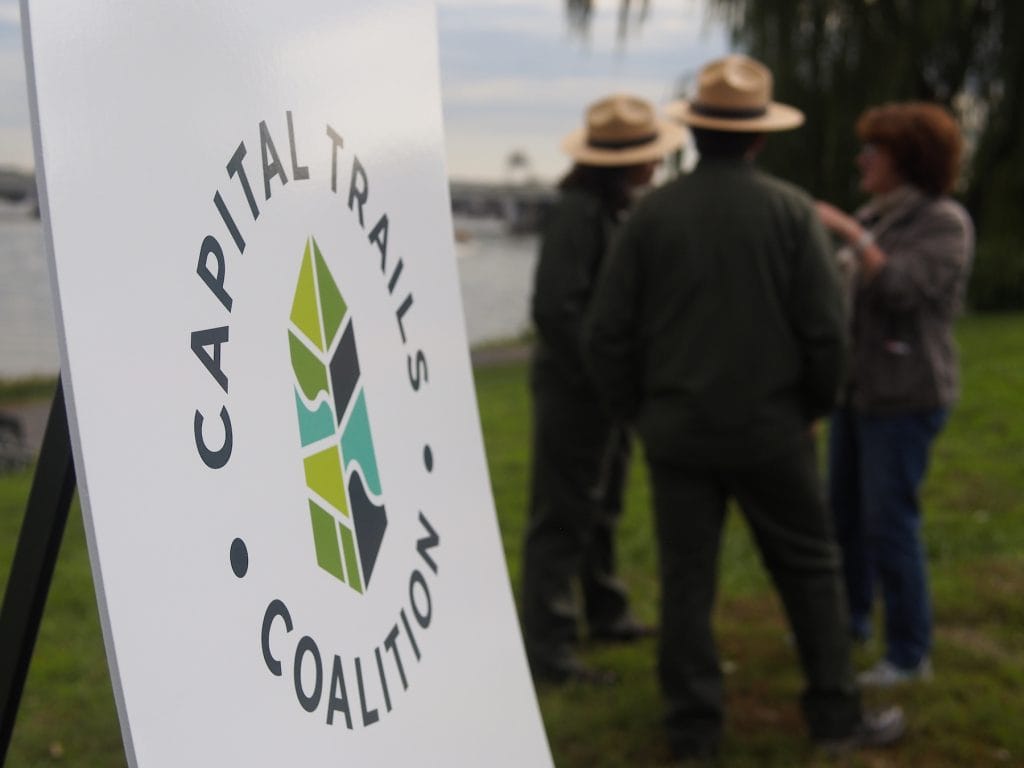 The Announcement Ceremony for the Capital Trails Coalition was held on October 13 (more information
here
). We were joined by a few fantastic speakers, including Congressman Don Beyer, multiple National Park Service leaders, a representative from REI, and transportation leaders from Maryland and DC who spoke to the importance of coordination and collaboration in the Coalition's effort to connect the region's trail network. Here's a recap:
---
Beth Porter with the National Park Service's Rivers, Trails, and Conservation Assistance (RTCA) Program, who has been an integral part of the Coalition's creation over the past year. We heard from Deputy Superintendent Blanca Stransky, who welcomed us to the George Washington Memorial Parkway (GWMP) and touched on the importance and the heavy use of the Mount Vernon Trail. She mentioned the challenges that come with that heavy trail use (including speed enforcement, snow removal, overcrowding of the trail, and overall trail safety) and welcomed GWMP's involvement with the Capital Trails Coalition. According to Stransky, "By us working together, we'll find solutions to these complex problems, and start planning for future trail users." We couldn't agree more! After the Deputy Superintendent, we were honored to have Congressman Don Beyer come to the podium. Congressman Beyer, who represents Virginia's 8th District, understands that biking and walking are essential to how Northern Virginians get around.
"We can't consider biking a secondary mode of transportation. This is now a primary mode of transportation for many, many people in this area." -Congressman Don Beyer, Jr.
Congressman Beyer gave a shout out to important trail connections, like from the Mount Vernon Trail to Memorial Bridge. He noted that "…In the past, we've invited NPS and WABA to check out the problem spots together. These discussions help people to plan, react and take things to the next level." We were so pleased to hear the Congressman mention that collaboration, because that's one key piece of why the Capital Trail Coalition exists. By having all stakeholders visit the gaps in the system, and build consensus about strategies to fill those gaps, we will build a more robust network that will serve the needs of our entire community. Congressman Beyer also noted that trails are what the residents of Northern Virginia are asking for. In the
2016 Needs Assessment Survey
 in the Public Spaces Master Plan in Arlington VA, paved, multi-use trails were the most desired outdoor facility, with 87% of respondents indicating that their household has a need for trails! As he notes, those statistics "…speaks to their role as a transportation asset AND community necessities. Walkable, bikeable communities are more livable communities." Peter May, Associate Regional Director – Lands and Planning with National Park Service noted that the announcement of the Capital Trails Coalition means "…our work to furthering a regional trail system can jump into high gear." May mentioned the recently completed Paved Trails Study, the regional vision and goals that will strengthen and expand the paved trails system in the National Capital Region. And yet that planning is happening in other jurisdictions, too, and for regional success, collaboration is paramount.
"The only way to establish a truly regional trail network is to work together with local governments and trail partners. And this is where the Coalition is a game-changer. The Coalition can be a cohesive element, bringing us together and providing a forum for planning and sharing resources, coordinating activities to strengthen and expand the trail network throughout the Washington Area." -Peter May, Associate Regional Director for Lands and Planning, National Park Service
We heard from Captain Sara Newman, Director of the Office of Public Health for the National Park Service. She encouraged the Coalition members look at trails and parks in a new role, "one in which they are solutions for many of the social service needs of the American public," such as preventative chronic disease.
"…existing parks, trails, and green space in the DC area are the largest healthcare facility that we have." -Captain Sara Newman, DrPH, MCP, Director of the Office of Public Health, National Park Service
Matt Liddle from REI told the inception story of REI's involvement in the Capital Trails Coalition, from funding Trails Symposiums in 2014 and 2015, and seeing how important trails are to the DC region. He announced that REI is investing $500,000 in the project over the next three years, and explained that REI is investing in this way because they know they're members in this region want this work to be done, and will benefit in both the short and long term. We heard from two transportation professionals, Charles Glass from Maryland Department of Transportation and Sam Zimbabwe from District Department of Transportation. The message was clear: trails are transportation, and coordination is vital.
"The District is a key part of this regional puzzle. The Capital Trails Coalition can help us make sure everyone in the DC and region as a whole has access to this incredible resource." -Sam Zimbabwe, Acting Chief Project Delivery Officer, District Department of Transportation
Keith Laughlin, President of Rails-to-Trails Conservancy (RTC), explained that one of the reasons the national trails organization is investing time and energy with the Capital Trails Coalition is because of the demonstration effect:
"What better place than the nation's capital to demonstrate what this kind of system would look like. The Washington DC region gets over 20 million visitors per year. Imagine if some small percentage of them can experience this trail network and can take those ideas back home and say 'We want that too.'" -Keith Laughlin, President, Rails-to-Trails Conservancy
And the demonstration doesn't stop at visitors. It also applies to members of Congress who can learn from what is done in the region and implement similar projects in their home districts. (You can find RTC's coverage of the event
here
.) Greg Billing, WABA's Executive Director provided the closing remarks. He reminded attendees that we have many questions yet to be answered, including how many miles of trails need to be built and what the price tag of the network will be. We don't know those answers yet, and this is the perfect time to get involved in the process to help shape the vision of the network.
---
If you represent an organization or agency and would like to be involved with the Capital Trails Coalition, you can find more information
here
. For more information, and to sign up for updates, visit
www.capitaltrailscoalition.org