February Advocacy Roundup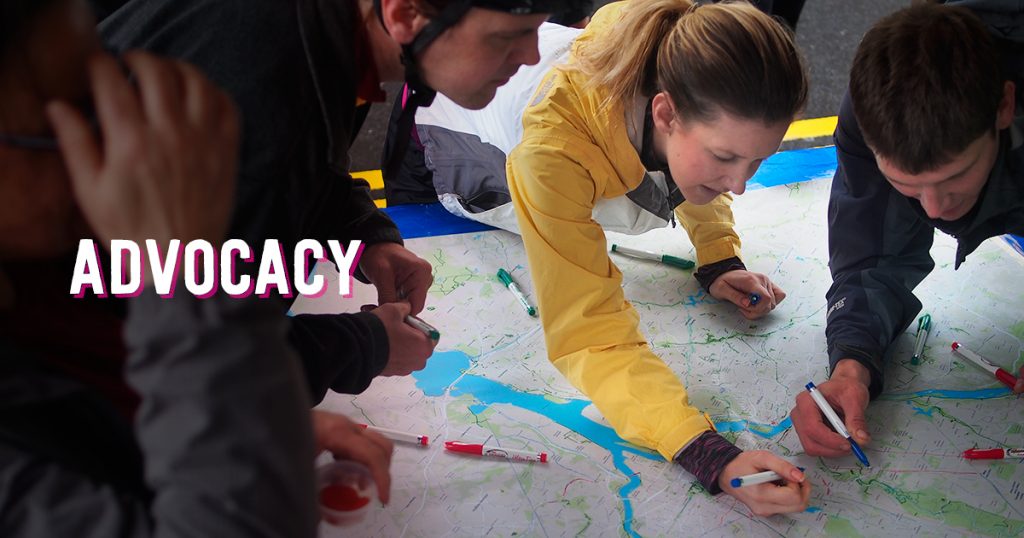 ---
Welcome to our February Advocacy Roundup! Before we dive in, we wanted to let you know that we recently received an honor for our work: Bike Law, a national network of bicycle crash attorneys, awarded WABA its
Advocacy Win of 2016.
Now, here's that roundup:
Bike Laws and Policies
Maryland Legislative Session:
The Maryland legislature has several technical but extremely important bills on its agenda this session. These bills would:
Legalize the use of hybrid pedestrian activated beacons or "HAWK" signals in MD,
Ensure that bicyclists riding in crosswalks are legally entitled to the right of way,
Give Montgomery County the authority to lower speed limits on certain roads, and
Create a task force to study bicycle safety on Maryland's Highways.
Read our more detailed analysis
here
, and if you're a Maryland resident, sign
this petition
in support of the legislation.
Virginia Legislative Session:
Virginia also has several bills we're watching: One ensures that towns won't lose state funding for maintenance if they convert travel lanes into bike infrastructure, the others are aimed at curbing dangerous driver behavior. We'll have more details later in the month, but you can read our summary
here
.
The City of Alexandria has made two important decisions recently:
---
Low-Stress Bike Network
Two good options for a short new section of the Anacostia Riverwalk Trail
Buzzard Point Park, a two-block section of waterfront at the confluence of the Anacostia and Potomac rivers, will soon become a part of the Anacostia River Trail network. WABA is pleased to see that the Anacostia Riverwalk (an urban segment of the entire Anacostia River Trail system) was a prominent element of both concepts.
Read more
.
A Safer Trail Crossing of Little Falls Parkway
In January, Montgomery County implemented a road diet and speed reduction on Little Falls Parkway around the intersection with the Capital Crescent Trail. These changes, rolled out quickly with inexpensive materials, dramatically reduce the risk of crashes at this busy trail intersection.
Read more
.
Silver Spring's 2nd & Wayne Ave Bike Lanes
In December, Montgomery County's Department of Transportation shared early designs for the county's fifth protected bike lane project in Silver Spring including what will be the County's first protected intersection.
Read more.
DDOT decides to decide later on a Shaw protected bike lane
DDOT released its final report on the Eastern Downtown protected bike lane project. It's a
long report
, and we're still putting together our analysis, but the short version is:
DDOT will advance two options to 30% design, then decide which (if either) to build. The two options are both two way protected bike lanes, either on 6th St NW or 9th St NW.
A 'no-build' alternative is still on the table.
Assuming a build option moves forward, the timeline for project completion would be in sometime in 2019.
New sidewalk on the Interim Metropolitan Branch Trail:
That steep, smelly section of Fort Totten Drive has a new "climbing sidewalk." Details
here
.
Alexandria Bike Campus Takes A Big Step Forward
A team of volunteers spent an enjoyable morning with crowbars, preparing the space at Jones Point Park for bike campus installation once it warms up enough to paint. Read more
here
.
---
Looking ahead:
DDOT released revised Vision Zero traffic regulations. We're still working on our analysis, and will have an action alert soon. You can read a summary
in the Washington Post
. DC Council Agency Oversight Hearings (
PDF link
) are coming up over the next few months. Keep an eye out for our testimony. We're hosting a regional
Vision Zero Summit
on Friday, March 31st. If you're a policymaker, transportation professional or law enforcement professional, or you know one who might be interested, keep an eye on our
summit page
for more details about speakers and panelists next week. The National Park Service is looking for feedback on the Anacostia Management Plan. You can read the plan and share feedback
here
. WABA will be submitting comments and asking members and supporters to do the same! The deadline for submitting comments is March 18, 2017.
---
Public Meeting Calendar:
DC: Alabama Avenue SE Corridor Safety Study
Saturday, February 11, 2017 | 10 am – 12:30 pm THEARC 1901 Mississippi Avenue, SE DDOT is hosting the first meeting to discuss safety along the Alabama Avenue SE corridor. DDOT aims to identify and address multimodal safety concerns and to improve the overall quality of the network for all users. At this meeting, existing conditions and current traffic/crash data will be shared to capture ideas and suggestions from participants. Alabama Ave is an important bike corridor and would make an ideal protected bike lane corridor.
DC: Tactical Urbanism at North Capitol Street and Lincoln Road
Monday, February 13, 2017 | 6:30 – 8 pm NoMa BID Lobby 1200 First Street, NE DDOT invites you to a meeting to discuss the Tactical Urbanism project at North Capitol Street and Lincoln Road, NE. The purpose of this project is to increase safety at the North Capitol/Lincoln Road, NE intersection through immediate, short-term improvements that will lead the way for a larger intersection safety project. DDOT will present a draft design concept and gather comments from the community at this public meeting. Rapid implementation of safety projects like this are a key part of DC's Vision Zero Action Plan.
DC: VRE Midday Storage Facility Public Meeting
Thursday, February 16, 2017 | 4:00 – 7:30 pm | Presentation at 4:30pm and 6:30pm Bethesda Baptist Church 1808 Capitol Ave NE Virginia Railway Express intends to replace its current storage space leased from Amtrak at the Ivy City Coach Yard in DC with a new storage yard alongside New York Avenue. The project will include planning, designing, and constructing a permanent midday storage facility for VRE trains that travel into the District from Virginia.
Fairfax: Lee District Bike Lanes Meeting
Thursday, Feb. 16 | 6:30 to 8:30 p.m. Groveton Elementary School, 6900 Harrison Lane, Alexandria Fairfax County Department of Transportation will host a community meeting to discuss proposed bike lanes in the Lee District. Representatives from FCDOT and VDOT will present plans for the project, which includes sharrows/shared lane marking, bike lanes, pedestrian improvements and overall safety. More details
here
.
DC: Florida Avenue Multimodal Transportation Project
Tuesday, February 21, 2017 | 6:30 pm – 8 pm | Presentation at 6:30 pm New Samaritan Baptist Church 1100 Florida Avenue NE DDOT will share 30% designs for multimodal transportation improvements along Florida Avenue NE from First Street NE to H Street/Benning Road NE. This project will add new wider sidewalks, bike lanes, new signalized crossings and streetscape improvements for a safer street. In the last project update in March 2016, DDOT's preferred alternative eliminated many of the popular and safety-critical elements such as protected bike lanes and a road diet to curtail speeding. We hope that a year of work has found opportunities to point the project in the right direction.
DC: New York Avenue Streetscape and Trail Project
Thursday, February 23, 2017 | 6 – 8 pm | Presentation at 6:30 pm Gallaudet University's I. King Jordan Student Academic Center 800 Florida Avenue, NW DDOT is in the early stages of planning significant streetscape improvements to beautify New York Avenue from Florida Avenue to Bladensburg Road. The project will study improvements to public space in the corridor, including curb, gutter, streetlights, plantings, trees, benches, public art and other public space improvements. Additionally, DDOT will develop concepts and designs to improve safety and quality of life for people who use New York Avenue, including a new multi-use trail connecting the National Arboretum and Metropolitan Branch Trail, and future transit services throughout the corridor.
Read more at the project website.
---
WABA in the News
Thanks for reading!