Long Bridge needs to be, well, LONGER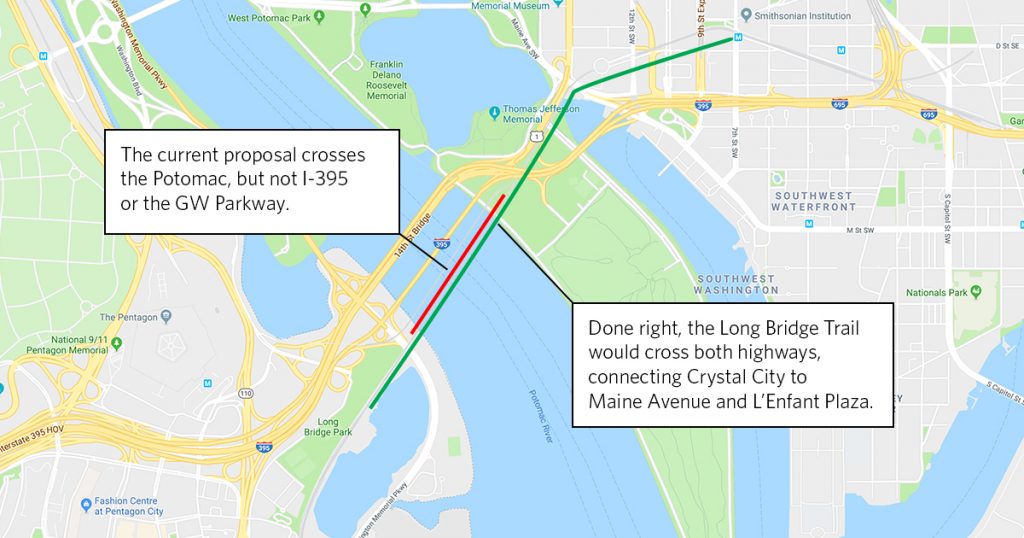 Imagine biking from Crystal City to DC's waterfront along a brand new bike bridge next to the railroad tracks. You'd sail over the George Washington Memorial Parkway and I-395, riding directly from one urban core to the other on a wide, protected trail. Sounds like the best Potomac River crossing in the region, right?
This vision is enshrined in the master plans of DC, Arlington, and the National Park Service, but
the District Department of Transportation (DDOT) is about to pass on the chance to make it a reality.
Long Bridge is the rail bridge you can see from the Yellow Line as you cross the Potomac River.  It carries Amtrak, commuter rail, and freight rail from Arlington over the George Washington Memorial Parkway, Hains Point, and I-395 to L'Enfant Plaza and eventually on to Union Station. It's getting a long planned, much needed upgrade from two tracks to four. This project is an opportunity to attach a biking and walking trail to the new bridge, creating a continuous non-motorized connection between Arlington and DC.
It's a once in a century opportunity that DC, Arlington, and the National Park Service have been discussing for years
, but the current trail designs only go halfway—
from the Mount Vernon Trail to Hains Point.
DDOT can do better, but they need to hear from you
.
The current proposal treats the river as the only barrier that for people who bike and walk, ignoring two major highways and the tangle of dangerous intersections, congested sidewalks, and freeway ramps that separate DC from Arlington.
DDOT is going through the environmental impact statement process for this project, so now is the time to speak up for better bicycling connections.
Comments close on January 16, so it's important to act on this now!
Contact DDOT and ask them to:
Make the Long Bridge bicycle and pedestrian connection continue across the George Washington Memorial Parkway to connect to the Long Bridge Park (Arlington County's Long Bridge Park Master Plan has long called for a connection from the park's multi-use esplanade across the George Washington Parkway to the Mount Vernon Trail),

Make the Long Bridge bicycle and pedestrian trail connect directly to Maine Avenue, instead of requiring an indirect, congested or outdated connection across the Washington Channel.  This is called for in both DC's MoveDC plan and State Rail Plan,

Leave space for a future trail connection across Maine Ave to Maryland Ave and Hancock Park, and

Build the bicycle and pedestrian infrastructure simultaneously with the rail span, not as a separate project.
Read more about the status of this project in our Dec. 2017 blog post.
Want to get into the weeds? Here are our (really detailed) comments from October 2016.
Find additional information on the Long Bridge Project website.