Ready to learn a new trick?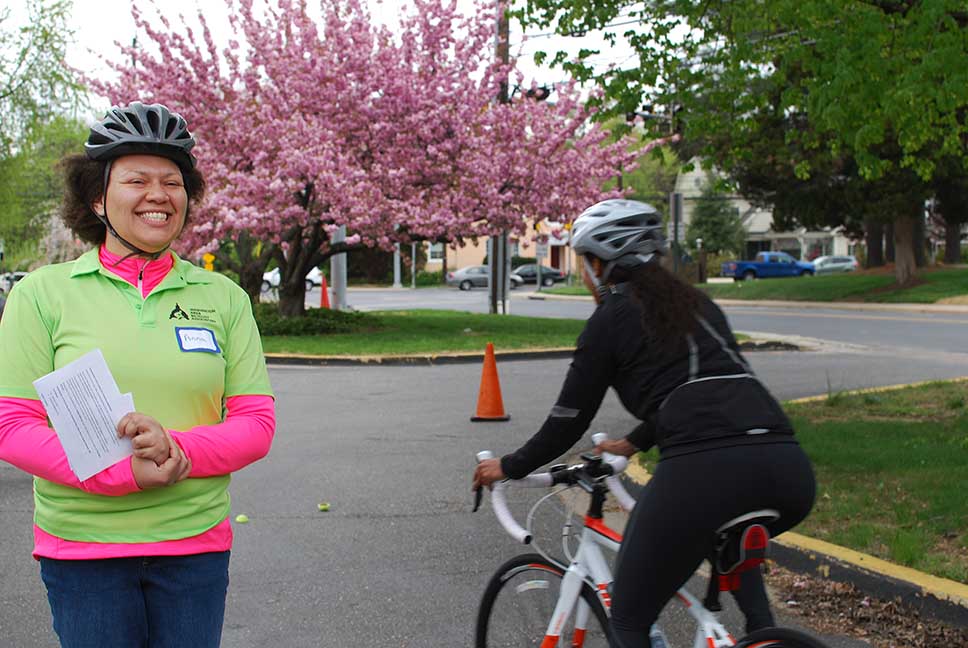 You've
read the headlines
—more people than ever are bicycling in the Washington, DC region. If you're already one of them, great!
But if you're not riding yet, WABA is here to help. The
Everyday Bicycling Team at WABA offers a variety of classes
designed to get you out on the bicycle for the first time or for the millionth time.
In a
WABA City Cycling class
you'll learn bike handling tips and tricks that leave you feeling more confident, competent and comfortable, whether you're riding on the beautiful recently extended
Anacostia River Trail
or on a hectic and busy downtown street like
Florida Ave
.
City Cycling classes are 3 hours long and tons of fun. In the beginning you meet all of the participants and share why you're at the class and what you want to get out of it. Then, you get to choose between the "fundamentals" group or the "confidence" group. Both groups learn a lot and get the chance to practice new skills before going out on a ride. No matter which group you choose, you'll leave more confident and capable on your bike.
On a
Community Ride you will take a leisurely spin
with others to explore new parts of the region. This spring we are preparing to take in tulips, baked goods, urban farms and more. Community rides are short and slow on purpose. We stop a few times along the way to talk about different road designs or infrastructure challenges and sometimes also to eat tacos.
If you don't know how to ride a bike yet; or know someone that wants to learn, then
WABA's Learn to Ride class is the place to go
. Our Learn to Ride class is 3 hours long and uses a tried and true method to help adults learn to ride a bicycle. Last year we taught more than 450 adults to ride. This year classes are being offered throughout the region.
Every class is taught by
League of American Bicyclist certified
League Cycling Instructors
.
.
All of our classes are supported and funded by local government agencies: Montgomery County Department of Transportation, DC Department of Transportation, Arlington County, Alexandria County and the city of Falls Church, VA.
Please bring a friend and
join WABA this spring
to pick up a trick or two on your bicycle and be one of the new bicyclists we see on the streets or trails enjoying your ride!