What's going on with the Louisiana Avenue protected bike lane?

Since June 2015, the District Department of Transportation (DDOT) and the Architect of the Capitol (AOC) have been working on plans for a Louisiana Ave protected bike lane to fill a gap in the downtown bicycle network between Union Station and Pennsylvania Ave NW. Three years later, planning is stalled and Louisiana Ave remains a dangerous speedway, leaving many asking why.
Despite support from a wide range of stakeholders in DC and on Capitol Hill, the delay is due to a familiar obstacle: car parking. Adding protected bike lanes to Louisiana Ave will require repurposing a handful of curbside parking spaces in the half-mile between Pennsylvania Ave and D St. NE and a few more spaces in the center median of the final block near Union Station. Each of these parking spaces are reserved exclusively for Senate staff. And the Senate Sergeant at Arms, whose office manages the parking supply for the Senate, is apparently unwilling to relinquish any of the spaces needed for this project to proceed.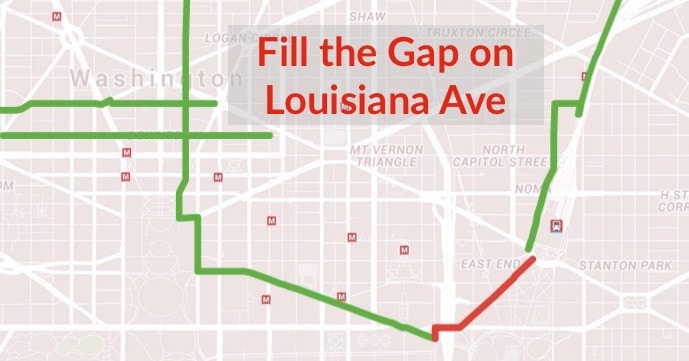 In a January letter, Congresswoman Eleanor Holmes Norton asked the Senate Sergeant at Arms, Frank Larkin, to reconsider his office's opposition and allow construction to commence. "Losing a few parking spaces," she wrote, "is a small price to pay to ensure public safety and help alleviate congestion near the Capitol by encouraging alternative modes of transportation." Read the full letter here.
According to the Architect of the Capitol, who manages the Capitol buildings and grounds, a number of large campus construction projects planned and underway will substantially reduce available parking for the next few years, putting additional demand on existing parking.
But, to place the parking situation in context, there are reportedly as many as 5,800 parking spaces on the House side of the Capitol alone and perhaps an equal number on the Senate side. Two Metro stations, MARC, VRE, more than a dozen bus routes and a handful of regional trails serve the Capitol Complex, giving staff unparalleled transportation options. There may never be a convenient time for this project. A few more years is too long to wait for a safe, bikeable, and walkable Louisiana Ave.
The Louisiana Ave. project has vocal support from Congresswoman Eleanor Holmes Norton, the Congressional Bike Caucus, DC Mayor Muriel Bowser, Ward 6 Councilmember Charles Allen, Advisory Neighborhood Commission 6C and the Regional Council of Governments. DDOT has devoted considerable resources to design work, and plans to fully cover construction costs with local funds. And last year, Congress passed an omnibus bill that included language calling for construction of the Louisiana Avenue bike lanes without delay.
Last month, Frank Larkin retired and Michael Stenger became the new Senate Sergeant at Arms, creating a new opportunity to engage. Please sign our petition to ask him to reconsider his predecessor's objections and to allow this needed safety project to move forward.