600+ speak up for Louisiana Ave protected bike lanes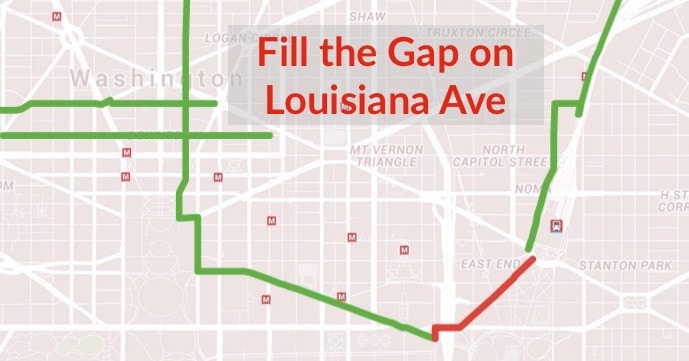 After more than three years of plans for a Louisiana Avenue protected bike lane bouncing between DDOT, the Architect of the Capitol and other Capital grounds departments, WABA started a petition in May to reinvigorate planning for the project. The petition called on US Senate Sergeant at Arms Michael Stenger, one of the many stakeholders for the Capitol grounds, to work proactively to implement this project without further delay. When we delivered the petition earlier this month, 610 people had signed on!
The Louisiana Ave protected bike lane project is a key connector for downtown DC's low-stress, protected bicycle network. DDOT's concepts envision a continuous protected bike lane connecting the Pennsylvania Ave lanes to First St. NE via Constitution Ave and Louisiana Ave. It would link the Metropolitan Branch Trail to the National Mall, filling a key gap in the Capital Trails Network and the East Coast Greenway. It would be a tremendous improvement for thousands of daily bike commuters, Capital staff, and visitors.
Though Louisiana Ave is a relatively short road, making changes to it is complicated due to an intricate web of overlapping ownership and interest. The Architect of the Capitol, National Park Service, Senate Sergeant at Arms, the District government, Congress and more all have a say in what happens in this space. The good news is that the key stakeholders, including the Sergeant at Arms, Architect of the Capitol, DDOT and Congresswoman Eleanor Holmes Norton are now all at the table talking through a path forward. And while there is nothing concrete to report today, we hope to share some news soon.
You can read our letter to the Sergeant at Arms here.