Let's talk about Louisiana Ave Protected Bike Lanes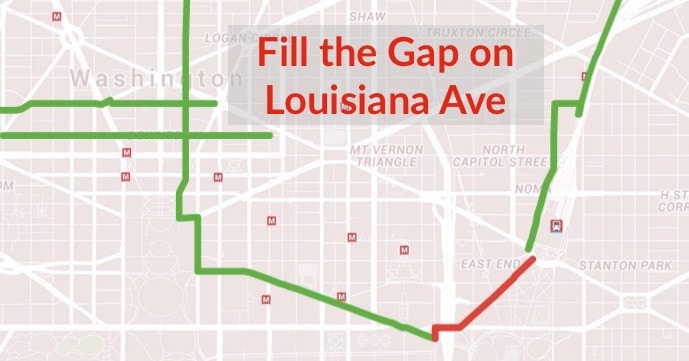 After more than three years working to fill a gap in Downtown DC's protected bike lane network on Louisiana Ave, the project is moving forward. Better yet, preliminary plans are done and ready to share!
On Wednesday, October 24, Congresswoman Eleanor Holmes Norton is hosting a community meeting and panel discussion with the District Department of Transportation to introduce this project to the public and get feedback on current plans. This is our chance to stand up as a community and say "we want this project!" Will you join us?
Louisiana Ave Protected Bike Lane Community Meeting
Wednesday, October 24
6:00 pm – 7:00 pm Open House
7:00 pm – 9:00 pm Community Meeting & Panel Discussion
Rayburn House Office Building
45 Independence Avenue SW (Room 2253
Click here to RSVP
Bringing this project to this point has not been easy. It has taken the combined will of neighborhood commissioners, councilmembers, members of Congress and hundreds of people like you. So join us on Wednesday to see the plan and keep the pressure up!
See you on Wednesday.