We're hiring: are you WABA's next Events Coordinator?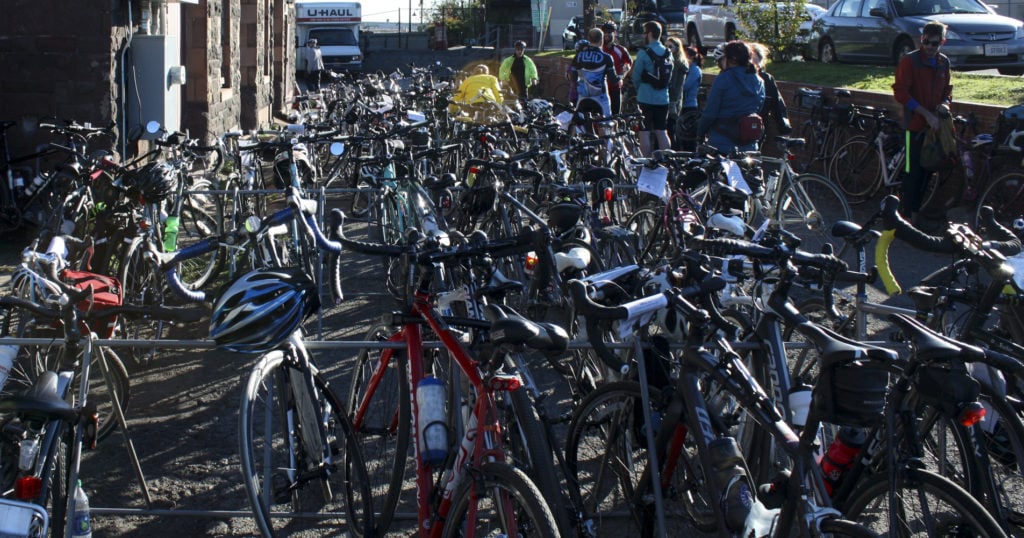 The Washington Area Bicyclist Association (WABA) seeks an impeccably organized, enthusiastic Events Coordinator to execute and grow WABA's signature events portfolio: the Sprouts Ride, the Sweet Ride & Shindig, the 50 States Ride, WABA in the Wild, the Cider Ride, and the Bicyclists' Choice Awards.
We seek a process-oriented fundraiser with sincere people skills and someone with enthusiasm for WABA's mission. There is space for the right candidate to creatively reimagine and reshape our events portfolio with an eye towards revenue growth.
The Events Coordinator reports to the Development Director and works closely with WABA's development team and collaborates regularly with other staff. Like all staff at this smaller nonprofit, this person is required to assist with general organization-wide/administrative duties and at major events, including those which they don't manage.
Responsibilities

The Events Coordinator plans, organizes, and implements six high-quality events annually, with 150 – 750 attendees, to meet a revenue goal of $175,000+:
Coordinate all event logistics, including but not limited to:

Scouting and mapping routes;
Securing venues;
Securing and organizing event supplies;
Tracking event budgets (revenue and expenses);
Overseeing volunteers and staff during the event; and
Managing all day-of event logistics and execution.
Drive event registration in collaboration with the Communications team, which includes drafting clear, concise, and exciting content.
Work closely with WABA's Business Partnerships Coordinator to secure event sponsors and ensure a quality experience for them, from promotion to event activation to wrap-up.
Ensure a quality attendee experience by:

Planning and creating a welcoming, inclusive space for bicyclists of all abilities to enjoy our events; and
Responding to event queries by email and phone in a timely manner.
Cultivate a community of WABA supporters surrounding events, including but not limited to:

WABA in the Wild riders and alumni (who spend several months fundraising for WABA before enjoying a supported tour on the C&O Canal Towpath);
Host committee volunteers; and
Event volunteers, who are the backbone of WABA's rides.
Assist the development team with additional tasks or responsibilities as needed to achieve the team's—and the organization's—short- and long-term goals.
Qualifications
The ideal candidate will have some of these qualifications, but they're not required:
Demonstrated success in—and a passion for!—fundraising;
An enthusiastic commitment to WABA's mission;
Experience organizing large-scale, outdoor recreation events; and
Experience with Salesforce, Raiser's Edge, or other CRM tools.
Desired competencies include:
Strong project management skills;
A deadline-oriented approach to work;
The ability to balance multiple tasks and priorities simultaneously;
Computer literacy skills with experience using the Google Suite and Microsoft Office (graphic design skills a plus);
Enthusiastic, sincere interpersonal and communications skills, both verbal and written;
Comfort bicycling about 30 miles in the city.
The job also requires:
A current driver's license, clean driving record, and the willingness to occasionally drive and parallel park a 19.5-foot cargo van;
The ability to lift 40 pounds to un/load event supplies in and out of a truck;
A flexible schedule surrounding events, including occasional nights and less frequent long, weekend days (with compensatory time);
A willingness to jump in and help out the team; and
A commitment to being a safe and exemplary bicyclist if and when you ride.
Employment Details
This position is full-time. All employees are expected to work some evenings and weekends with compensatory time in exchange. Expected salary range is $38,000-$42,000. The position is based in the WABA Office in Adams Morgan, Washington, DC.
Benefits include health/dental insurance (WABA covers 100% of the premium for full-time staff); flexible work schedule; vacation and sick leave; committed colleagues; fun working environment; optional voluntary accident/disability insurance; WABA's 403(b) retirement program; indoor bike parking; and surprising amounts of ice cream.
WABA is committed to providing equal employment opportunity for all persons regardless of race, color, religion, national origin, marital status, arrest record or criminal convictions, political affiliation, sexual orientation or gender identity, disability, sex, or age.
Apply
Send a compelling cover letter and resume to jobs@waba.org. Please include "Events Coordinator" in the subject line. Applications accepted on a rolling basis until the position is filled. No phone calls or visits, please.
About WABA
The Washington Area Bicyclist Association (WABA) is working to create a healthy, more livable region by promoting bicycling for fun, fitness, and affordable transportation; advocating for better bicycling conditions and transportation choices for a healthier environment; and educating children, adults, and motorists about safe bicycling.
WABA's programs, from youth education to grassroots community organizing, engage residents in Prince George's County, Montgomery County, Alexandria, Arlington County, Fairfax County, and Washington, DC. Six thousand dues-paying members and thousands more generous supporters have helped WABA transform bicycling in the region again and again over its 47 year history.
WABA is building a region where, in 2020, we'll see three times the number of people riding bikes. And, by 2035, every single person will live within one mile of a dedicated safe place to bike. We envision a region in which bicycling is joyful, safe, popular, and liberating; supported by the necessary infrastructure, laws, activities, and investments; and where bicycle ridership mirrors the incredible diversity of our communities.