Long Bridge Bike-Ped Crossing Moves Forward
The Long Bridge Project, which will replace an aging rail connection between DC and Crystal City, includes a brand new bike-pedestrian bridge over the Potomac River. As they finalize plans and funding sources, DC government officials need to hear from you: the bike-pedestrian crossing must remain in the plan.
I support the bike-ped crossing!
The Long Bridge has the potential to be the best crossing of the Potomac River for people who ride, and will support the transportation and environmental goals of DC, Arlington and Alexandria. The entire project will only be a success if the bike-pedestrian crossing is included.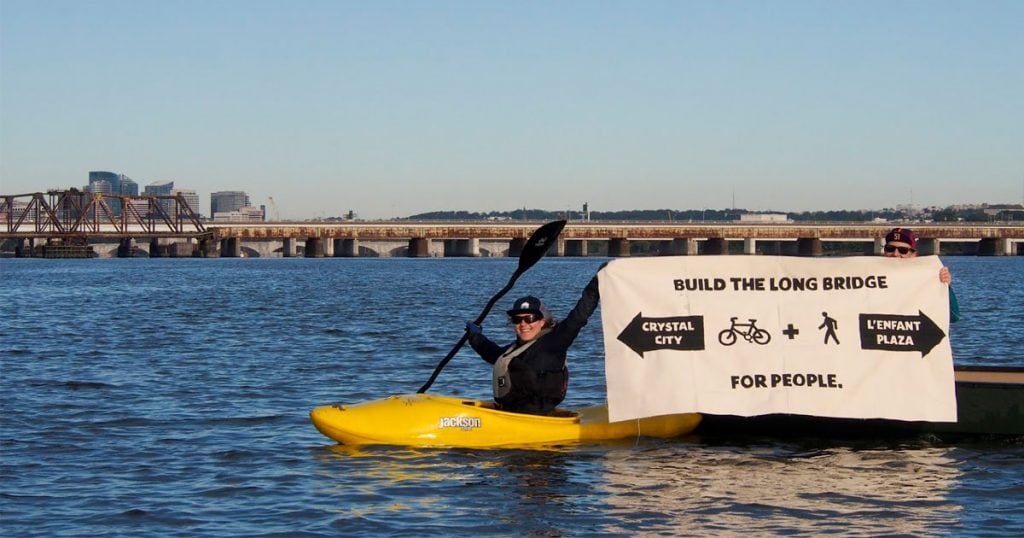 Northern Virginia, particularly Crystal City, is expecting significant growth in the near future. Wise transportation investments like the bicycle and pedestrian bridge associated with Long Bridge, will ensure that personal mobility can be prioritized without the negative impacts of increased traffic congestion or air pollution.
The Long Bridge Project is a once in a generation opportunity to transform our regional transportation network by adding freight and passenger rail capacity, connecting major regional bicycle and pedestrian trails and providing new, direct links to two of the fastest growing areas of our region. You can read more about the details of the Long Bridge Project here.
In September 2019, District Department of Transportation published the Draft Environmental Impact Study (DEIS), and included the bike-pedestrian crossing as a mitigation measure for the rail components of the project. This is great news! It also shows that the 1600+ people who spoke up in support of the connection (thank you for taking action!) made a difference in the project.
The project managers are accepting public comment until October 28. Will you speak up in support of the bike-pedestrian crossing?
Great infrastructure doesn't just happen. It takes all of us standing up and asking for better bike connections, better trails, and better river crossings. Help this great project by submitting your comments right now.
Another opportunity to comment is at the public hearing on Tuesday, October 22.
What: Long Bridge Project DEIS Public Hearing
Date: Tuesday, October 22, 2019
Time: Open House between 4:00 p.m. to 7:00 p.m. Presentations (same presentation at both times) will be at 4:30 pm and 6:30 pm. Public comment will follow the presentations.
Where: DCRA Building, 1100 4th Street SW, Washington, DC 20024 Room E200 (Bring your ID and leave time to go through security!)
Whether you show up in person and testify in support of better biking connections, or write in to show your support, please stand with us to show that there is tremendous demand for this bike-pedestrian bridge.