Meet this year's Winners of the WABA Awards (and vote for more!)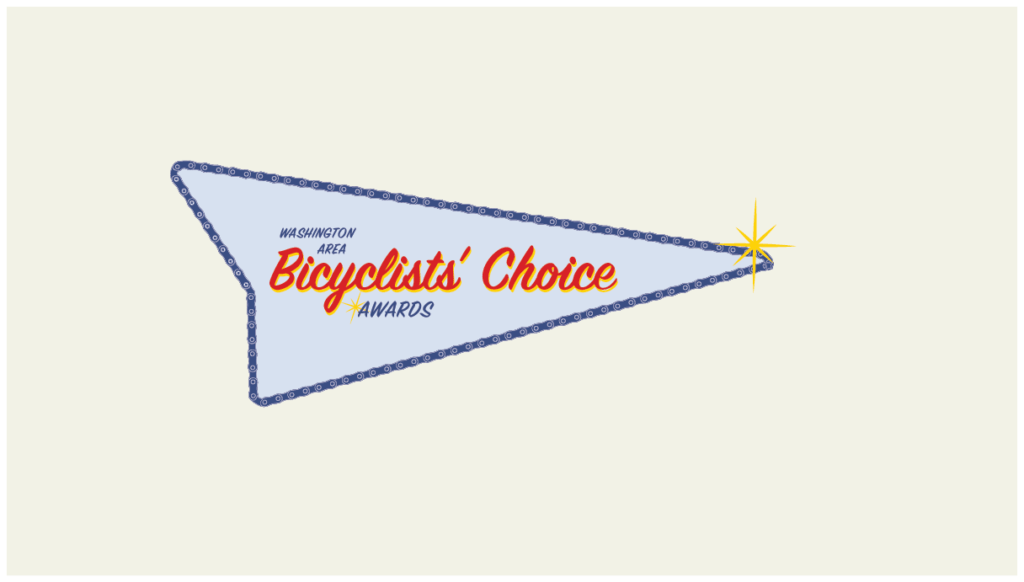 2019 was a heck of a year for bicycling in the region. We've seen new protected bike lanes, Capital Bikeshare expansions, trail-improvements…and more!
At the 2019 Bicyclists' Choice Awards on February 26th, the WABA community will honor the winners of the Choice Awards, voted on and awarded by you!
You can vote on Best Improvement: Maryland; Best Improvement: Virginia; Best Improvement: DC; and Best Social Ride here — and RSVP for the BCAs so you don't miss the awards.
At the Bicyclists' Choice Awards, we also recognize winners of the 2019 WABA Awards, honoring individuals whose dedicated work for better bicycling has made our community stronger, our streets safer, and brought us closer to our vision of a region where everyone can get where they're going on a bike.
These awards are selected by WABA's board and staff.
Winners of the 2019 WABA Awards:

2019 WABA Super Volunteer Award
Monica Morin, for her dedication to selling merchandise at WABA events, showing up to volunteer nights, making year-end phone calls, and overall being an incredible cheerleader for WABA everywhere she goes.
---
2019 WABA Public Leadership Award
Emily Dalphy, for her work as an innovative public servant who listens responsively to community needs, and going above and beyond in supporting communities who need safe streets now.
---
2019 Community Advocate Awards
Sean Neal, for his leadership organizing the site visit at South Capitol Street to demonstrate the need for safe crossing at Xenia Street— a much-needed safety improvement.
George Tobias, for his leadership encouraging elected officials to attend the Ward 8 Traffic Safety Meetings, where we organized around the need for safer routes to school, better sidewalks, and speed control in Ward 8 neighborhoods.
---
2019 Trail Champion Award
Ravi Ganvir, for his work moving countless trails, walking and biking projects around the District forward this past year, including the Arboretum Bridge and Trail.
---
2019 Heart and Soul Award
Christy Kwan and Faith Cole-Hall, for their leadership in establishing the DC chapter of Families for Safe Streets, giving our community a place to support one another, remember and grieve those lost to traffic violence, and organize for action.
---
2019 Vision Zero Award
Evan Glass, for his leadership on issues facing vulnerable road users across Montgomery County— including hosting a Vision Zero town hall and meaningfully engaging with Maryland State Highway and Montgomery County DOT.
---
2019 Youth Leadership Award
Amir Goodman, Oliver Krupa, and Siddharth Kravetz, for their courage in giving testimony at the DC Council Vision Zero hearing last October. 
---
2019 Educator of the Year Award
Carol Ann Pisciotta, for her enthusiasm and leadership in making the youth bicycle education pilot at Excel Beyond the Bell at Oakview Elementary a reality.
---
2019 Biking for All Award
Fionnuala Quin for her leadership as a champion of bike and pedestrian education, including her work to implement traffic gardens at DC and Alexandria elementary schools.
Congratulations to all of these champions of safer streets— and thank you for all of your work in 2019.
Don't forget to vote for your picks in the Bicyclists' Choice Awards— and RSVP for the event to join in celebrating all we accomplished together in 2019.