Park Space for People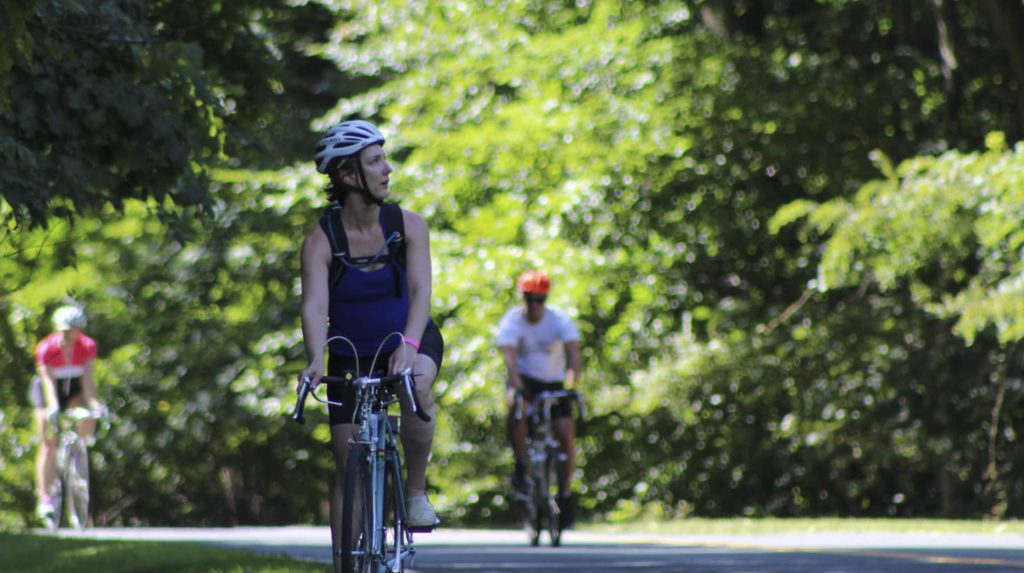 With COVID-19 cases still rising and experts telling us that the end of the crisis is still months away, most of us are looking at a lot more time at home. But we also know that "stay indoors until July" is not a viable plan. Public health experts agree that people need access to outdoor space, fresh air, and exercise to maintain mental and physical health. It's clear that our region's narrow trails and sidewalks are just not wide enough to give everyone that access.

That's why we are thrilled that the National Park Service and Montgomery Parks are leading with park roads. NPS is extending weekend closures on Beach Drive to weekdays, closing off roads in Anacostia Park and Fort Dupont Park, and widening sidewalks around West Potomac Park, so that more people across DC have space for essential exercise. Montgomery Parks is closing portions of Sligo Creek Pkwy, Little Falls Pkwy, and Beach Drive Fridays through Sundays to ease crowding on busy trails. This is a huge first step!
Right now, all across the region, people are awkwardly navigating narrow trails and sidewalks, trying to maintain a safe distance. As the weather improves and the weeks stuck at home wear on, this is not tenable. The solution is simple: trails are narrow, roads are wide. We need emergency action to make space for people on roads.
Park roads are an easy first step here—they are already in places where people seek out recreation, and especially now, can be closed to cars with minimal disruption for people driving to essential tasks.
We thank the the National Park Service, US Park Police, and Montgomery Parks for their leadership in this public health crisis. Opening park roads to people to create safe spaces for essential exercise is critical for long term mental and physical health.
But people need access to outdoor spaces across the region, so these steps must be just the beginning of a larger effort. We call on each National Park Service unit and parks department in the Washington area to close park roads to cars and open them for safe, distant, essential exercise. Closures can be accomplished using existing gates, mobile barriers, limited signage and minimal staff effort. At a time when traffic volume is so low, road space, especially in parks, is needed more for people.
We call on the National Park Service and US Park Police to take the following actions:
Rock Creek Park

Explore using temporary barriers to close Beach Drive to Shoreham Drive to relieve crowding on the Rock Creek Park Trail
Explore lane closures or complete closure of the Rock Creek Parkway to relieve crowding on the Rock Creek Park Trail

National Mall & Memorial Parks

Use existing barriers to close Ohio Drive around East Potomac Park
Use temporary barriers to close Jefferson & Madison Drives

George Washington Memorial Parkway

Explore lane closures on the George Washington Memorial Parkway to  relieve crowding on the Mount Vernon Trail in Arlington, Alexandria, Belle View and Fort Hunt
Use temporary barriers to close the Fort Hunt Park Loop for further crowding relief on the Mount Vernon Trail
Other regional park and trail adjacent roads are too numerous to list, and we encourage people to contact state and local transportation and park agencies directly with specific suggestions, but here are some examples:
Watkins Regional Park (in Prince George's County) features a wide, redundant road next to a fairly narrow trail. 
Eisenhower Ave (Alexandria) has excess lane capacity that could be repurposed to add space to the Holmes Run Trail.
Suitland Parkway parallels the Suitland Parkway Trail and with a full or partial closure could be an excellent space for excercise
Plans already exist for expansion of the Trolley Trail along Route 1 in Hyattsville.
Lanes on Crystal Drive and Eads Street in Crystal City can be repurposed as temporary trails to relieve congestion on the Mount Vernon Trail.