Safe Biking & Walking on Lincoln Road NE Now!
This action is no longer active. Please visit our action center for current actions you can take.
Lincoln Road NE needs a two way protected bike lane to ensure the safety of pedestrians, cyclists, drivers, and scooters. A steep hill, a blind curve, a narrow sidewalk, and a pattern of dangerous speeding make Lincoln Road an unappealing and unsafe place for getting around. This creates a hazardous situation for both drivers and cyclists as they share a narrow lane. It also forces pedestrians to share the sidewalk with cyclists and scooters who are seeking a safe alternative. To rectify this situation, a two-way protected bike lane is being proposed for Lincoln Road, which will make it safer for everyone involved. Lincoln Rd NE needs a two way protected bike lane! Please sign our petition!
Lincoln Rd NE is an important connector between the neighborhoods of Brookland, Eckington and Bloomingdale. Running along the Glenwood Cemetery, it connects the major thoroughfares of Michigan Avenue NE (via 4th Street NE) and North Capitol Street (via R Street NE). A protected two way bike lane on this busy road will make it the safe connecting road for all that it should be! It will allow children, families and everyone else to bike to school, the brand new Edgewood Recreation Center, as well as connect the neighborhoods of NE DC. Sign our petition and ask DDOT to get the Lincoln Road bike lane built!
More Details
In 2019, DDOT prioritized the installation of a cycletrack, which is a two way protected bike lane on the eastside of Lincoln Road NE, on the yearly work plan. 2019 came to an end without this much needed bike lane and the 2020 plan does not currently include the lane. WABA's 20×20 campaign (20 miles of protected bike lanes by the end of 2020) includes Lincoln Road in the vision for a connected, protected network throughout the District. Learn more here!
A two way bike lane on Lincoln Road NE would serve to connect the neighborhoods of Brookland, Edgewood, Eckington, and Bloomingdale, and the busy bike lanes on R and 4th St NE. The newly completed Edgewood Recreation Center and the Inspired Teaching Public Charter School are on Lincoln Road and are frequented by many community members, including children. It would also assist Brookland, Edgewood, and other Ward 5 cyclists to safely and efficiently get to downtown DC. Installing a two way protected bike lane on Lincoln Road NE would be relatively easy due to an existing northbound driving/parking lane. It would require very little infrastructure and taxpayer money. Currently, much of the available parking is inconsistently utilized. Bike lanes on Lincoln Road will further strengthen already existing and proposed cycling infrastructure. This network of bike lanes will continue to make our neighborhoods more vibrant, friendly and healthy.
Join us in urging DDOT to take this next step in connecting the bike lanes of Northeast DC, and taking the next step towards a safe commuting future for the District.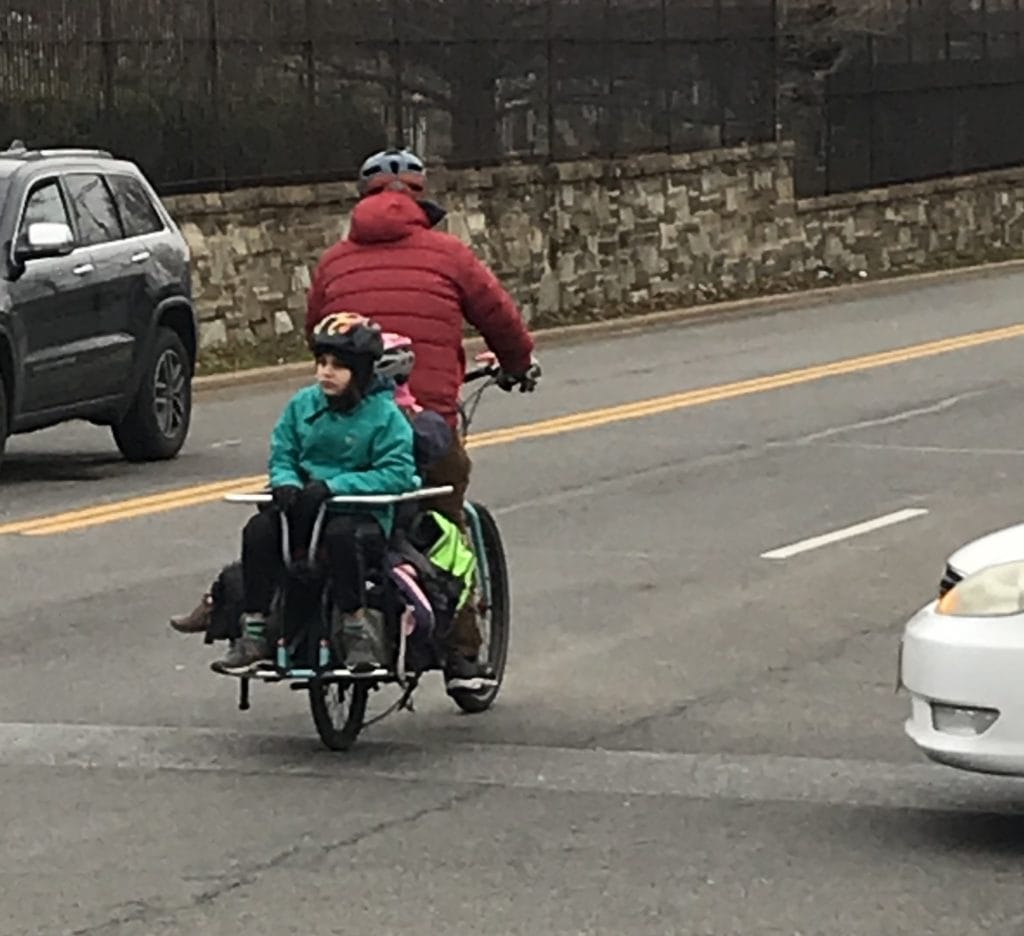 Frequently Asked Questions:
Why protected bike lanes?
Busy streets work best when people driving, walking, and biking have their own space. Protected bike lanes give people on bikes and scooters a space free of the stresses of traffic. Pedestrians can walk freely without competing for sidewalk space. And drivers have fewer interactions with people on bikes sharing the lane. Studies show that protected bike lanes reduce both the frequency and severity of crashes for bicyclists, pedestrians and drivers.
Why Lincoln Road?
Lincoln Road serves as a connecting road between the busy Brookland and Bloomingdale neighborhoods. It runs from 4th Street Northeast to North Capitol Street, through the Edgewood and Eckington neighborhoods and the Glenwood, Prospect Hill and St Mary's cemeteries. In the section of a little less than a mile from 4th Street to Rhode Island Ave NE the road passes by the newly inaugurated Edgewood Recreation Center and the Inspired Teaching Public Charter School, both of which draw people from across the neighborhood and city. In addition, there is a newly completed stretch of bike lanes on 4th Street to Lincoln Road and a heavily used bike lane on R street further down Lincoln. This bike lane would help to connect these bike infrastructures, and eventually will connect to the also pending crosstown bike lanes on Irving Street which will connect to 4th Street NE.
Why is speeding a problem here?
In 2019, there were more than 7,500 speeding violations issued to drivers who were going 11 mph over the 25mph at the intersection of Lincoln Road and Douglas Street NE.. (This does not take into account that numerous of these violations occurred during the school day when the speed limit is 15mph.)
In the last 2 years, 27 crashes were reported on Lincoln Road NE.
Speeding makes crashes more likely. It also makes crashes more likely to result in a death or serious injury.
How does this help pedestrians?
By adding an option for cyclists on Lincoln Road, cyclists will no longer use the sidewalk in this section which is frequently used by bus commuters and walkers, some with dogs, in the Edgewood neighborhood, making for a safer overall environment.
By narrowing the crossing distance, protected bike lanes can make it easier to cross a street on foot. They also slow down the speed of traffic and provide a buffer between moving vehicles and the sidewalk, making more pleasant places to walk.
How does this help drivers?
By taking cyclists out of the traffic going up the hill south bound, this will open up the street for drivers and make the blind curve on Lincoln Road easier and safer to navigate. Going north bound it will also take cyclists out of the traffic lane, especially during busy commuting times.
How does this fit?
Protected bike lanes can take the place of the extra northbound driving lane. They can be installed without expensive and disruptive construction.