It's Time for a Safer 17th Street NW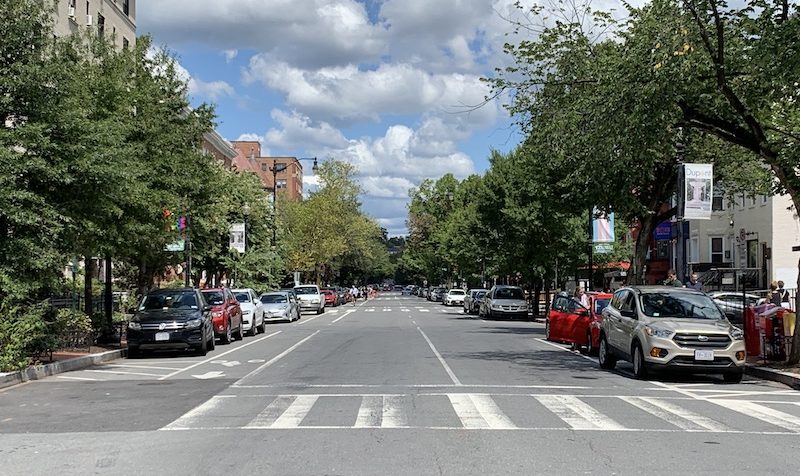 Even before the pandemic, 17th St. NW in Dupont Circle was not working for the people and businesses that rely on it. Frequent near-misses, long pedestrian crossings, insufficient loading zones, and a narrow one-way painted bicycle lane make getting around the retail corridor challenging and often perilous.
In the last few months more people are walking, bicycling, and running in their neighborhoods. Some cities are already going beyond temporary measures and reconfiguring city streets to make more space for people. Let's build on this momentum (and existing city plans) and redesign 17th Street NW from T St. to K St. NW. Protected bike lanes, shorter crossings, and loading zones will make 17th Street safer for cyclists, pedestrians, runners, and everyone supporting the many businesses on 17th Street.
Please sign your name to this petition to let Mayor Bowser, DDOT, and Advisory Neighborhood Commission 2B know that you support this project and demand:
a reconfigured 17th Street streetscape that provides safer, protected infrastructure for bicyclists, pedestrians, and runners
a design that takes into account the needs of 17th Street restaurants and merchants for loading & unloading and pickups & drop offs, while also providing better access to these businesses for bicyclists and pedestrians
that the Mayor and the District Department of Transportation prioritize safety improvements for 17th Street NW for completion in 2020
Local residents and commuters, supported by the Dupont Circle Advisory Neighborhood Commission (ANC), the Washington Area Bicyclist Association (WABA), the Greater Greater Washington community, have been asking for a safer 17th Street NW for many years. 17th Street is subject to frequent near-misses, blocked car lanes, insufficient loading zones, and an unsafe, one-way unprotected bicycle lane.
Draft designs for a safer 17th Street were created in 2017, but did not take into account the unique loading and unloading needs of 17th Street restaurants and merchants. Residents and businesses have provided supportive and critical feedback to the District Department of Transportation (DDOT) to improve the plans. DDOT just issued a Notice of Intent to reconfigure the street with protected bike lanes in each direction, safer crossings and loading zones.
Please sign the petition to show your support!
Safe bike infrastructure on 17th Street is
Read DDOT's Notice of Intent and see the plan here.