Some Big Things Going Right
This summer, our campaign for 20 miles of new protected bike lanes and more livable streets across the District of Columbia marches forward. Thanks to community advocates showing up and speaking up across the city, we have so many exciting projects moving forward at a fast clip!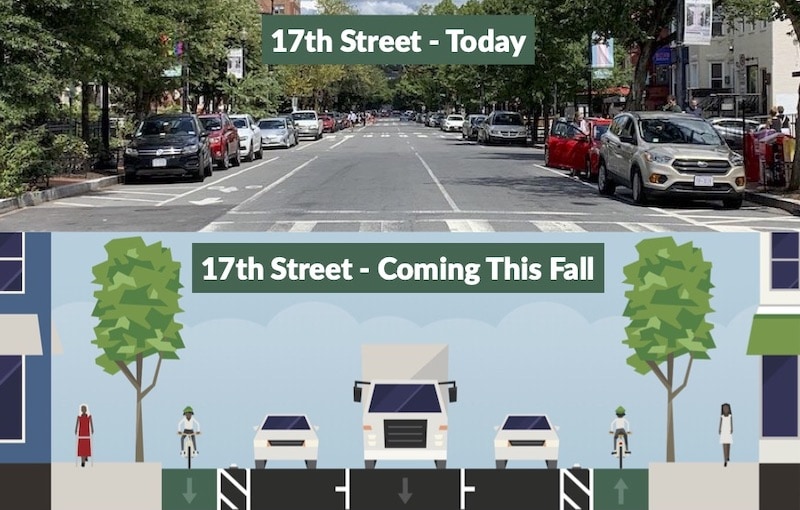 Much to Celebrate
In just the past two months, Advisory Neighborhood Commissions in Wards 6 and 2 gave the green light to 4 miles of new protected bike lanes and traffic calming plans in WABA's 20×20 network! Expect construction later this fall.
ANC 6E voted to support protected bike lanes on K St NW from 7th NW to 1st NE connecting Mount Vernon Square to NoMa (0.8 mile)
ANC 2A and 2B voted to support the protected bike lanes on 20th & 21st St. from Massachusetts Ave to Constitution and insisted that DDOT fill a critical 3 block gap to connect these lanes to the R St. NW bike lanes (1.3 mile)
ANC 2B also voted 7-1 to support the 17th St. NW protected bike lanes from T St. NW to K St NW to finally create a safe northbound alternative to the crowded 15th St. lanes (0.7 mile)
ANC 6D supported the First & Potomac Ave SE protected bike lanes from South Capitol St. to Eye St. SE (0.7 mile) and the 4th St. SW protected lanes from Eye St. to C St. SW (0.5)
When you list them out like that, it looks easy. But behind every vote is between dozens and hundreds of advocates working together, engaging with elected decisionmakers, building trust, earning buy-in, showing up to occasional marathon meetings, and pressing for more bikeable, thriving streets.
Let's also celebrate expansions to Ward 5's protected bike lane network.
The Irving St and Kenyon St. protected bike lanes are transforming the hostile 1 mile Brookland to Park View bike route from a harrowing sidewalk to a low-stress, curb-protected bike lane. Crews have been making steady progress on this project and should finish in August.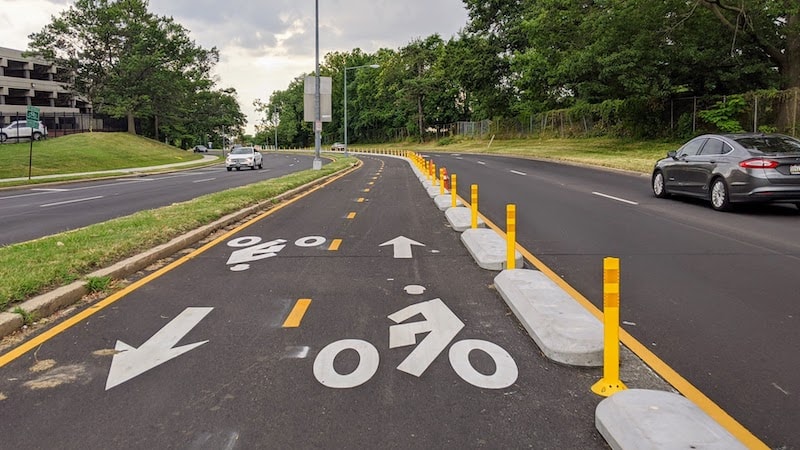 The Brentwood Parkway protected bike lanes, completed in July, extends the NoMa and Union Market network 0.3 miles up to Mt Olivet Rd and the 9th St. NE bridge. This short segment is already curbing speeding, and serves as a good test of an innovative bus stop design. Learn more about the project in DDOT's peppy video.
In a few weeks, crews will install the 0.7 mile G St. NW protected bike lanes in Foggy Bottom to connect Virginia Ave to 17th St. and link the 20th & 21st St. protected bike lanes when they are built later this fall.

Take Action
We're getting things done because of folks like you stepping up and taking action. Here are a few things you can do to help:
Sign a petition in support of:
Send a short email to DDOT in support of new protected bike lane projects. Find details on who to contact below:
Show Up & Get Involved
We have groups of community advocates working in every ward to build support for the 20×20 projects. Getting involved is easy. Sign up here to be the first to hear about actions and updates.
Attend a 20×20 Ward Meeting
Join us for our next meeting in your ward! Find dates, times, and join links at waba.org/fun.
July 28 – Ward 6 6:30 pm (Special Guest Councilmember Charles Allen)
July 29 – Ward 7 6:30 pm
July 30 – Ward 4 6:30 pm
August 17 – Ward 5 7 pm
August 18 – Wards 1 & 2 6:30 pm
August 20 – Ward 8 7 pm
All of this work is made possible by the efforts of our community advocates and the financial support of WABA members. If you are able, consider supporting our 20×20 campaign with a monthly contribution. Give Today!