As the District Reopens, It Needs Resilient Streets
Over the last six months, the COVID-19 pandemic has influenced every aspect of life in cities, including where, how, and how often we move around. As the pandemic peaked in DC, WMATA's rail ridership declined 90%. Despite service returning to near pre-pandemic levels and taking steps to restore rider confidence by promoting public health and safety, Metro's rail system has yet to experience an influx of riders returning to the system.
So where have these riders gone? The number of people walking, biking and riding scooters has soared as people prioritize socially distant, open-air forms of transportation and recreation. The District's own Capital Bikeshare program became a means for thousands of critical workers to continue getting to work, and with the introduction of hundreds of e-bikes this summer, is becoming a top choice for mobility and recreation district-wide. But at the same time, many new buyers are turning to "Covid Cars" as the ultimate socially distant transportation.
The District is at an inflection point for its transportation system: does it stay on track to maintain its ranking as the third most congested city in America, where commuters spend twice the amount of time sitting in traffic than the average American? Or does it embrace resilient streets which support a variety of transportation options, making streets safer and more efficient for everyone– especially our most vulnerable populations?
The first steps for creating resilient streets are already in motion in the District with quick-build temporary street improvements to support social distancing via the Slow Streets program, which closed tens of neighborhood streets to through-traffic and lowered speed limits to make more space for all types of users. DDOT has also expanded Car Free Lanes to promote efficient and reliable bus service and create additional space for bike and scooter travel on some of our busiest corridors.
We need to build on this momentum and take these concepts even further — thinking about permanence, about providing equitable access, and about expanding their reach to not only serve short local trips, but also to provide connectivity for medium-to-long distances for longer commutes.
To point to one example, an obvious place for a resilient street corridor would be the 11th Street bridge connection and the 11th Street Bridge Park, where construction is slated to kick off in 2021. Transportation infrastructure investments along a "resilient street corridor" will be critical to helping people safely and comfortably access the bridge and park, while helping drive economic development in the commercial corridors. Working with local partners and urban design experts at Street Plans, we offer a potential vision for how M Street SE and Martin Luther King Jr Avenue could be reimagined. These working concepts  prioritize space for people by creating bus-only lanes with enhanced bus shelters, protected micromobility lanes for two-wheeled transportation modes like bikes and scooters, plant shade trees for pedestrians, pickup and drop-off zones for safe passenger loading, and new metered parking solutions to help ensure better parking turnover and availability. Together, these features create a rich environment for people using all transportation modes. These are resilient streets.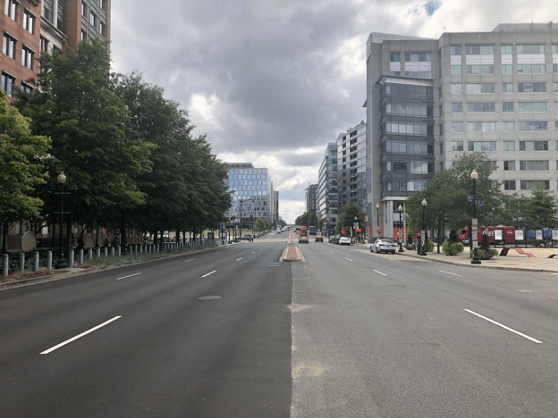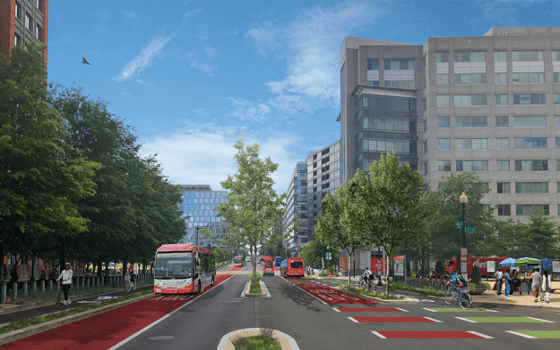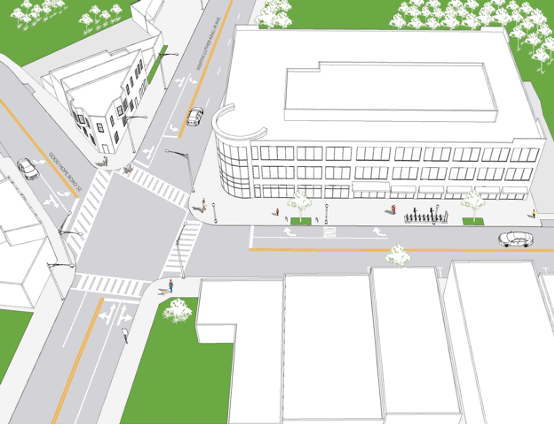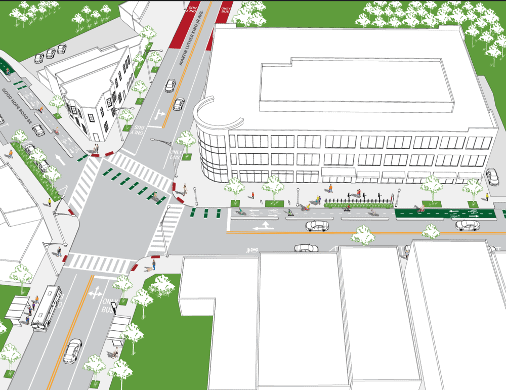 We also worked with Sam Schwartz Engineering to understand the impact that permanent street design and infrastructure changes could have along the corridor to help support walking, biking, scooting, and transit. We found that by making these types of safety and design changes along the corridor leading from Ward 6 to Ward 8, we could have a major impact on how residents and commuters move. With these kinds of resilient street designs, the corridor would accommodate 18,000 sustainable walking, biking trips: avoiding 54,000 of miles traveled via car every day and avoiding 6,000 metric tons of CO2 emissions each year.
Please join us in making these changes a reality by supporting WABA's call to action urging our regional elected officials to start the future resiliency process right away, making sure that D.C. is set up for not only recovery, but for a new normal with expanded access to safe, affordable, and sustainable mobility choices for all street users.
Jeremiah Lowery is the Director of Policy at Washington Area Bicyclists Association; Kristina Noell is the Executive Director or the Anacostia BID; Marisa Rodriguez-McGill is a Senior Public Policy Manager at Lyft Transit, Bikes & Scooters, the operator of Capital Bikeshare.