What is the deal with the Met Branch Trail?
When complete, the Metropolitan Branch Trail (MBT) will be an 8.5-mile multi-use trail from Union Station in the District of Columbia to Maryland's Silver Spring transit hub. With advocacy and concept plans going back 30 years, this rail-with-trail has been a long time coming. So far, about four miles are complete. The remaining pieces can be a bit overwhelming to track, so here is an update on the latest happenings from south to north. For a truly detailed look, you can follow along with this interactive map of the Met Branch Trail's progress.

8th St. NE in Edgewood
Under the Franklin St. bridge, the Met Branch Trail emerges onto 8th Street NE for a half-mile where walkers move to the sidewalk and people on bikes share the road with cars and trucks. WABA, trail advocates, and the local neighborhood commissioner are pushing DDOT to transform this often stressful road with a two-way protected bike lane on the west side. DDOT has drawn up rough plans and aims to install them in 2021. Click here for more information and to sign our petition in support.
Brookland to Fort Totten
DDOT broke ground on this ~1 mile addition in summer 2018 to link the existing trail on John McCormac Dr to the Fort Totten Metro Station along the Metro and freight rail tracks. Though progress has been very slow due to contractor issues, work is in full swing and expected to be complete by May 2021. Find construction photos and progress updates on the project website.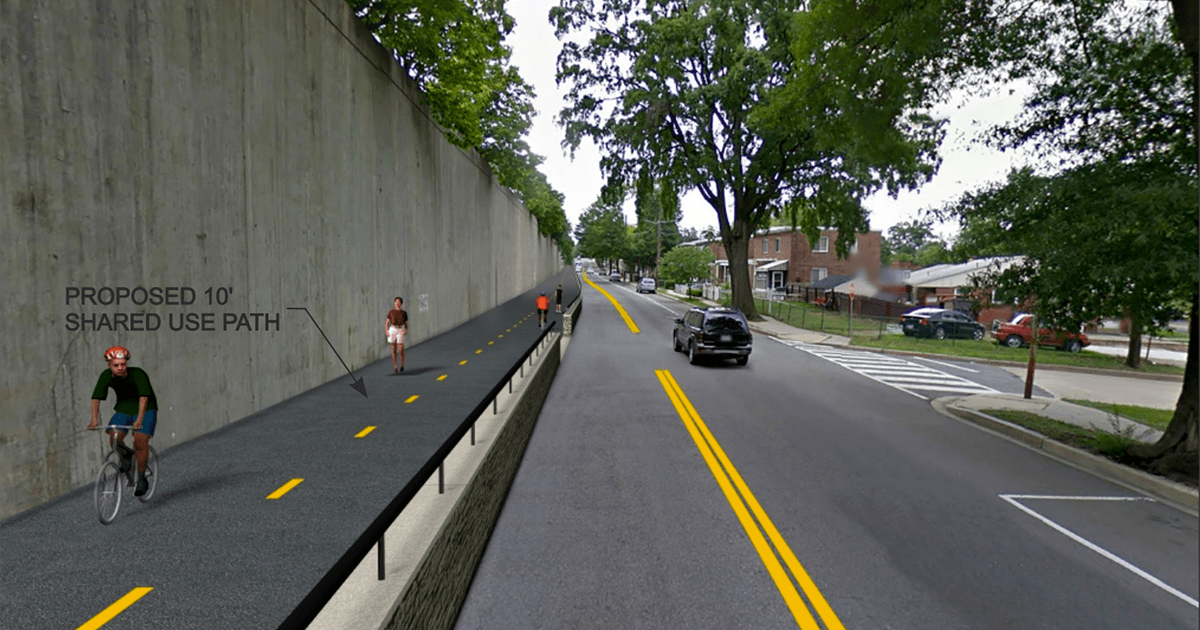 Fort Totten to Takoma
The last long section in DC runs ~2 miles from Fort Totten to Takoma. In 2017, WABA worked closely with DDOT, neighborhood advocates, and Takoma's advisory neighborhood commission to solidify the trail's route along First St. NE, McDonald Pl, and Blair Road NE. In 2020, DDOT began final design, which will be complete by March 2021. Construction is funded and should be done by Fall 2023.
DDOT is holding a virtual public meeting to present and collect feedback on the current design on February 10th at 6:30pm. The trail will run along Blair Road as a wide side-path as it crosses many wide driveways, parking lots, and business entrances. It also includes needed traffic calming and new pedestrian crossings on Blair, so getting the fine points of design right is critical. Please attend to ensure this trail is a great experience for trail users of all ages.
Takoma's Main Street
How to route the trail from Blair Road around Takoma's main street and Metro Station has been a persistent question for the Met Branch Trail since the beginning. The 2011 Environmental Assessment identified two possible routes east and west of the elevated rails tracks in a mix of on-street signed route, protected bike lanes, and off-street trail. The eastern alignment continues the trail at Sandy Spring on Maple, left on Carroll, right on Cedar around the Metro parking lot and up the steep hill on Eastern Ave.
The western alignment takes 4th street to the (now rebuilt) Cedar/Blair Road intersection, squeezes between the building at 343 Cedar St and the rail embankment to meet Spring Street, then right onto Chestnut Street. From here, it either ramps down to the south side of Piney Branch Road or bridges to the north side before joining the existing trail at Eastern Avenue. See this interactive map for more detail.
Until now, DDOT has worked to preserve both routes, while negotiating to add pieces of the trail as part of some recent housing developments. Both routes are still viable, but the western alignment is getting attention first. DDOT has committed to beginning preliminary design of the western alignment starting in Spring 2021.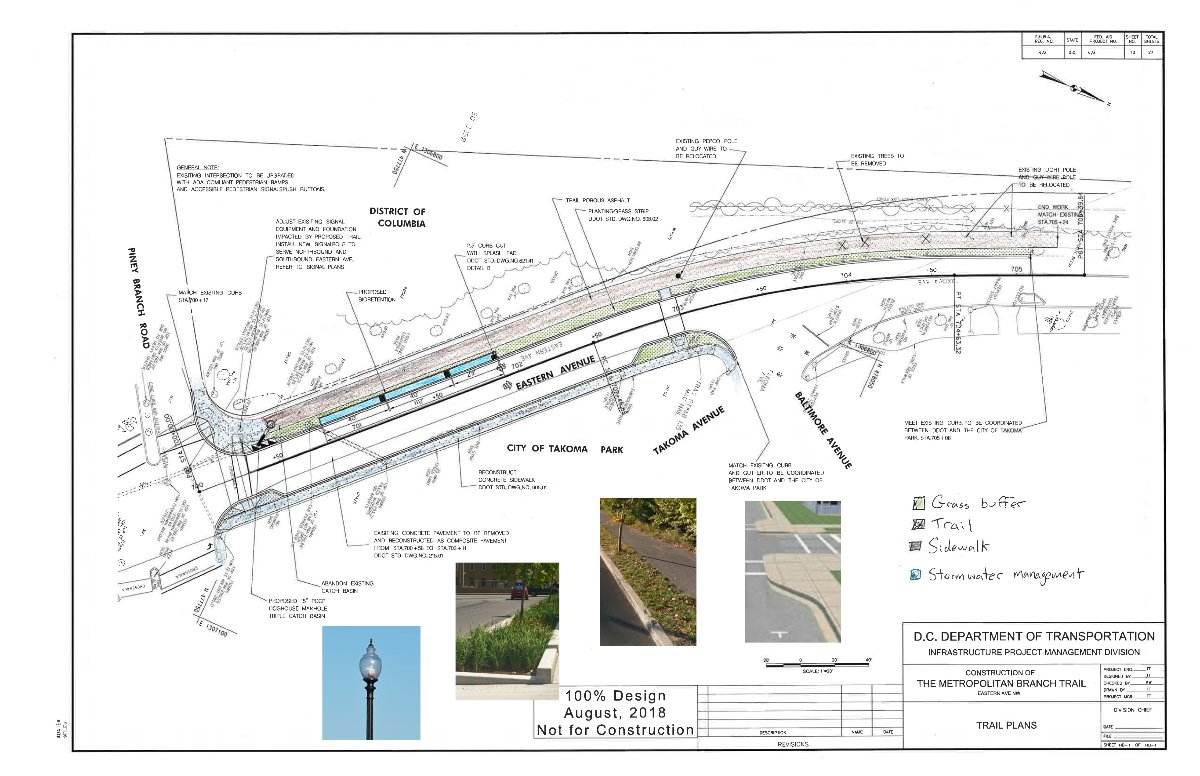 Eastern Avenue
Work is finally set to begin on a short trail segment on Eastern Avenue between Piney Branch Road and the already-complete trail through Takoma Park, Maryland. This project will repurpose some parking spaces to build a new trail, curb extensions for traffic calming and shorter crossings, and bioswales for some extra greenery and stormwater management. DDOT issued a Notice of Intent in December 2020 and work should start in February 2021.
Montgomery County's Section
Montgomery County's ~1.3 miles of the Met Branch are being built slowly but steadily in small segments. More than a decade ago, Takoma Park built it's half-mile piece on Eastern Ave and Fenton Street. This was extended as part of the Montgomery College expansion that built the footbridge over the Metro tracks, and Montgomery County Department of Transportation (MCDOT) extended it to King St. in 2018. The Silver Spring Transit Center brought a large stretch, and another piece, so far disconnected, came with the new Progress Place development.
North of King Street, MCDOT will run the trail along the rail tracks, under Burlington Ave in a new tunnel, and alongside Selim Rd. It will cross over Georgia Ave on a new trail bridge and run around the parking lot of the reconstructed historic B&O train station to connect with the trackside Progress Place Trail. Final design has been complete since 2019. MCDOT is in the final stages of obtaining the final permits and sign-offs to move forward with construction. They are planning to put the project out for construction bid in Spring 2021 and could potentially move forward with construction in Fall 2021. Construction will take about 2.5 years.
The final 400 feet will be built as part of the planned Ripley II mixed-use development project which is expected to finish in 2022. At the Silver Spring Transit Center, the Met Branch Trail will directly connect to the Capital Crescent Trail bridge over Colesville Road when the Purple Line project is complete.
Want to stay up to date on the project status? Be sure to follow us on Twitter @TrailsCoalition and sign up for our quarterly newsletter! You can also sign up to receive project updates and notifications here: http://www.capitaltrailscoalition.org/metropolitan-branch-trail/