WABA Advocacy Update: Spring 2021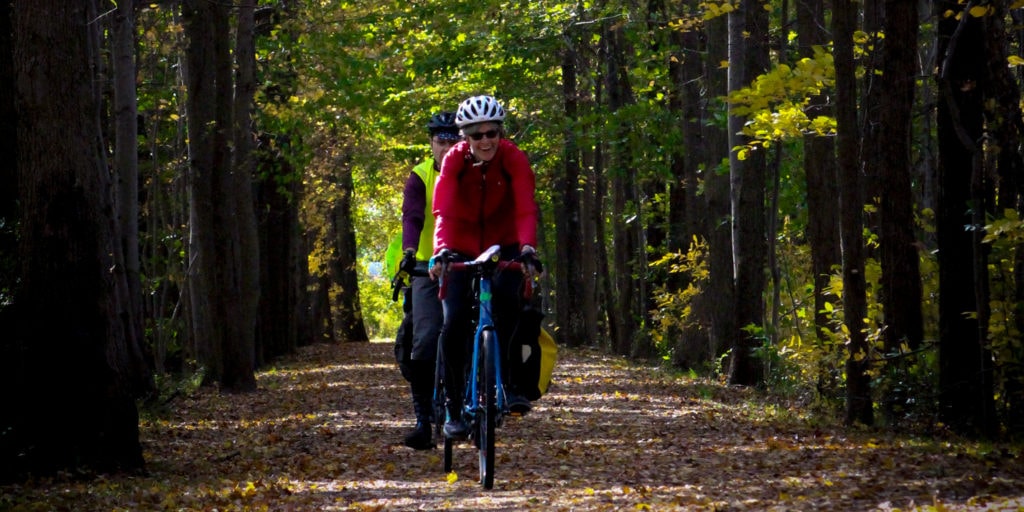 With the support of partners and volunteers, WABA has been busy this spring! Our planning and organizing in the winter is starting to bloom into big next steps this season!
Check out some of the campaigns, projects and events we have been organizing the last couple of months! If you have any questions feel free to reach us at advocacy@waba.org. Enjoy!
Maryland
Montgomery County Families for Safe Streets
Currently, WABA is working with advocates to publicly launch the Montgomery County Families for Safe Streets chapter in the coming weeks. We hope to see the newly developed Montgomery County Families for Safe Streets chapter soon lead local advocacy to achieve vision Zero in Montgomery County. We believe the voices of families and individuals who are impacted by traffic violence should be at the policy making table and we are excited that this project is taking off. If you would like to get involved email advocacy@waba.org.
Montgomery County Budget
WABA will be testifying at the Montgomery County Budget Hearing on April 7th! You can read our testimony here.
WABA is currently monitoring the Fenton Street and Amherst Avenue PBL projects in the Capital Budget process. The Fenton Street design recommended by WABA was approved by Council Transportation & Environment Committee, but additional $4 million funding not yet approved for construction in a specific year; and the Amherst project may also need additional funds.
Thanks to more than 150 advocates who wrote and called their councilmembers, the Council took a step to restore funding for a new Capital Crescent Trail Tunnel under Wisconsin Ave in Bethesda. One final step remains to secure this funding. Read more here.
MD General Assembly
WABA and coalition partners have continued their advocacy on HB 564. It allows Montgomery County to transfer its automated traffic enforcement operations from the County Police to the County Department of Transportation. The bill is supported by all of the Montgomery County State Delegates and the County's Executive and Council. The bill (as of the date of publication of this blogpost) has passed the Maryland House (97-39) and is under review by the Senate Judicial Proceedings Committee. If passed by the Senate, the bill will place automated traffic enforcement with the same agency responsible for making changes on County roads necessary to reach the County's Vision Zero goals.
WABA has been an active member of Bike MD, an organization that has been lobbying the MD General Assembly to pass multiple transportation safety bills. The key priority for Bike MD this year is the Vulnerable Road Users (H.B. 118 and S.B 293). The bill would enhance penalties for drivers who seriously hurt or kill Vulnerable Road Users.
Virgina
Submit a Question for Northern VA House of Delegate Candidates plus General Assembly Public Forum.
WABA, Virginia Conservation Network, Virginia Bicycling Federation will send a candidate questionnaire to all the registered Northern Virginia House of Delegate candidates. Candidates who have registered as a Democrat, Republican, Independent, or 3rd party will receive a questionnaire.
The questionnaire aims to educate the general public about the transportation policy positions of the Northern Virginia House of Delegates candidates. There will be no endorsement of any candidate. We are crowdsourcing suggested questions for the candidates, if you have a question you would like to ask the candidates, click here to submit a question.
Questionnaires will be sent to candidates on April 19th. Candidates will have 2 weeks to complete the questionnaires by May 3rd.
WABA, Virginia Conservation Network, Virginia Bicycling Federation will then host a forum for the general public on May 10th at 5:30pm-6:30pm, to debrief this past general assembly, and discuss strategies for upcoming general assemblies.
We will also examine the collective responses from questionnaires at the forum.
Crystal City Protected Bike Network
Arlington County staff have put forward a draft plan to implement a Crystal City Bike Network over the next 4 years!
This could be an opportunity to create a future Crystal City that includes safe multimodal travel options for everyone. However, the current plans are not good enough and we need to tell Arlington County that these plans need changes.
Sustainable Mobility for Arlington County (SUSMO) has taken the lead on creating an alternative plan and key demands for the County Staff. We sent a letter to Arlington County staff highlighting some of the demands developed by SUSMO. You can read it here. The next public meeting to discuss the plan will take place on April 28th at 7pm. For more information and to register for the public meeting visit the project page here.
Washington, D.C.
ANC Vision Zero Caucus
WABA is starting a Vision Zero Caucus for elected Advisory Neighborhood Commissioners (ANC), a caucus that would meet bi-monthly. The Caucus would be a city-wide vision zero caucus to keep a line of connection and collaboration between WABA and ANC commissioners who champion and advocate for transportation safety issues. The Caucus would collaborate on city-wide issues e.g Movedc, Council Legislation, Budget. We would also share transportation advocacy tips and resources.
Our first caucus meeting is April 19th. If you are an ANC Commissioner who is interested in joining our city-wide caucus, email us at advocacy@waba.org.
Transportation Equity Network Grant Awardees
WABA and our partners on the Transportation Equity Network steering committee awarded micro grants to 5 organizations to support in their efforts to carry out transportation equity related projects! We awarded up to $2,500 to the following organizations:
DC Families for Safe Streets (DCFSS): DCFSS will use grant funding to collect (video) stories from families impacted by traffic violence
Prime Ability Bikes: Will use grant funding to buy bikes for youth at Dunbar High School, they will also hold a transportation related conversation with youths at the end of a scheduled bike ride.
The Future Foundation: The Future Foundation Youth will be using grant funding to develop a transportation equity comic book.
MLOV (Many Languages One Voice): MLOV will host two transportation related roundtables with DC residents who are immigrants. One in English, one in Spanish .
HIPS DC : HIPS DC will use the funding to host a transportation related roundtable with employees and an additional roundtable with clients who are sex workers.
Police out of Transportation working Group
WABA formed a Police out of Transportation working group alongside our partners from Sunrise DC and Metro DSA. The working group is a part of the Defund MPD Steering Committee, and WABA joined the steering committee as a representative of the working group.
The goals of the working group are the following:
Developing an "alternatives for police in traffic" campaign plan
Creating models for decriminalizing traffic violations
Connecticut Avenue Protected Bike Lane
DDOT's year-long study of potential changes to Connecticut Avenue in Ward 3 is nearly at an end! The agency hosted two public meetings to answer questions and get feedback from the public before moving forward!
This is a major project and WABA has been working alongside Ward 3 Bikes to get residents to attend public meetings in support of Concept C, the only option with protected bike lanes to transform biking in this part of the city. You can find more details at the project website and send an email to DDOT with your thoughts to Conn-Ave-revstudy@dc.gov. Comments are due by May 1.
Beach Drive
Since the beginning of the 2020 lockdown, Upper Beach Drive has been closed to cars and open to people for biking, walking, and enjoying Rock Creek Park. We have been working closely with the People's Alliance for Rock Creek and other groups to make the case that upper Beach Drive should be permanently open to people. At a recent DC Council Transportation & Environment Roundtable, more than 30 people showed up to ask for the Council's support for permanent upper Beach Drive Open Streets. Learn more here.
Upcoming from WABA!
Stay tuned for the WABA Awards
Due to the pandemic, we did not hold our annual WABA awards event in person this year. However, we are currently still planning on highlighting the work of advocates throughout the region! Stay tuned for more details to come.
Capital Trails Coalition Impact Report
The Capital Trails Coalition, in partnership with a team of experts, has developed a report that quantifies the economic, health, and environmental benefits of completing the region's 881-mile multi-use trail network.
We will be releasing the report on April 28th at 2pm!
Vision Zero Conference
Last year we held our 4th Annual Washington Region Vision Zero Summit over zoom! This year we will be using the same platform to host our 5th annual Vision Zero Summit. Please save the date for Thursday, June 24th. Stay tuned for more details in the coming weeks.
New Protected Bike Lane Network Campaign in D.C.
WABA is hard at work developing the next stage of our protected bike lane network campaign in D.C! In the coming days, we will be rolling out a new bold campaign that is centered around the energy from our volunteers and supporters.
Official Comments and Testimonies from WABA
Testimony for Council Member Mary Cheh's Roundtable on Transportation After the Pandemic
Letter regarding the Crystal City Bike Network Draft Plans
Letter to the DDOT Director regarding the lack of a Trails strategy in the moveDC Plans
2021 DC Department of Transportation Oversight Hearing Testimony
Montgomery County Operations Budget Hearing Testimony
Submitted Sign-on Letter from Environmental Organizations regarding the Connecticut Avenue Protected Bike Lane
WABA Comment regarding moveDC goals and strategies
Petition in support of Lincoln Road NE Protected Bike Lanes and Traffic Calming
WABA Office of Unified Communications Oversight Hearing Testimony
Also Check out:
Stay up to date on what the Capital Trails Coalition is working on by reading their February newsletter here.
Join Congresswoman Norton for a Surface Transportation Roundtable and share your ideas about surface transportation (buses, Metro, bikes, trains, scooters, and pedestrian safety) in the District! WABA's ED Greg Billing will be speaking on a panel during the event. The event will take place on April 8th at 6pm, please email NortonEvents@mail.house.gov for the zoom link.
To view all of the budget hearings throughout the region, check out this link.
Center for Smart Growth Research and Education (NCSG) at the University of Maryland (UMD) is seeking to understand the transportation experiences of Maryland residents and employees throughout the COVID-19 pandemic in partnership with the Maryland Department of Transportation (MDOT). Click here to take their survey before May 1, 2021.
Active Fairfax Transportation Plan: The ActiveFairfax Transportation Plan will establish a vision and a roadmap for implementation of safe, convenient, and enjoyable streets, sidewalks, bike facilities, and trails in Fairfax County. To provide your input and participate in the development of the ActiveFairfax Transportation Plan, click here. Community input will be accepted through Saturday, May 1, 2021.
Alexandria released their Draft Transportation Master Plan. Comments due by April 30. Click here to submit feedback.
City of Fairfax is seeking public comment on the final draft of their new bicycle plan, Bike Fairfax City. The public comment period is open through April 23, and they invite you to review the plan online and provide feedback via email at bikeplan@fairfaxva.gov. The full draft plan and an executive summary are available to review online: www.fairfaxva.gov/bikeplan.
The next Maryland Pedestrian and Bicycle Committee (MBPAC) Meeting will be held online, Friday, April 23, 2021 at 9 am (EST). Additional information, including a draft agenda, will be available on the MBPAC website.